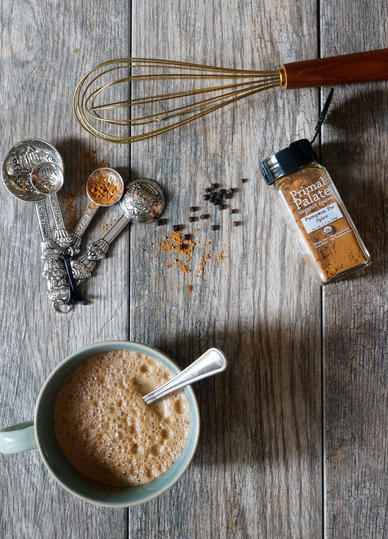 Okay, I'll admit I've never had a PSL. In fact, I didn't know what that acronym meant for the last 3 years. I know what PYT stands for (Pretty Young Thing, thanks MJ). So I assumed PSL was some reiteration of this. It is not. If you didn't catch on, it means Pumpkin Spice Latte.
I am positive this is properly explained in Urban Dictionary.And this version is more spicy than what I assume the overly-sugared, garbage-coffee original is from Starsucks. Their coffee LITERALLY TASTES LIKE BURNT GARBAGE. Literally. 
So my old man husband was on a text chain with my brother-in-law and me (who are both the same age). He did not get my reference to the classic Instagram-worthy shot so many PYTs post of their PSLs. "Why don't you go take an Instagram picture of just your hand holding a warm mug of pumpkin spice latte while donned in an off-white cable knit sweater and sitting in a trendy coffee shop with a succulent on the table, ya betch!"
This is the problem when you marry someone more than a decade younger than you. I don't get his early 80's movie references, and he's never heard of Now & Then. The travesty, by the way. 90's classic.
So after seeing twelve too many Instagram posts from friends this month of their cozy little cable-knitted upper extremities gently wrapped around a steaming mug of something frothy, I decided to see what all the fuss was about. They are really dang delicious, dang it. Millenials 1 and Anti-Everything-Millenial 0.
The latter is myself. If I didn't have a blog, I also wouldn't have an Instagram or Facebook either. If you haven't caught onto my sarcasm & irony yet, then you're probably thinking I'm one giant conundrum. Remember in high school and college when you could reel in the boys just by confusing them, which was never really that hard anyway?
I'm really glad I'm taken in 2016 because apparently (this is what I'm told) that Tinder and the like … you're given ONE SHOT. Like you screw it up or say something about your dead grandma on the first date, and you're toast. Seriously, my first date with my husband was ridiculous. He would never have asked me on a second if we had met on Tinder. "Who is this tiny girl making me eat vegan sprout pita pockets & walk around a modern art museum?"
Actually, I sound like the perfect woman for one of Austin, TX's fine bean burrito-loving men. I missed my chance. Well this post has really just taken a turn for the worst. Probably way up there in the second or third sentence too. Grace is napping and I have nothing else to do except ramble pointlessly and about absolutely nothing until she wakes up. I guess I could nap or shower. Or shall I be a filthy, exhausted human instead?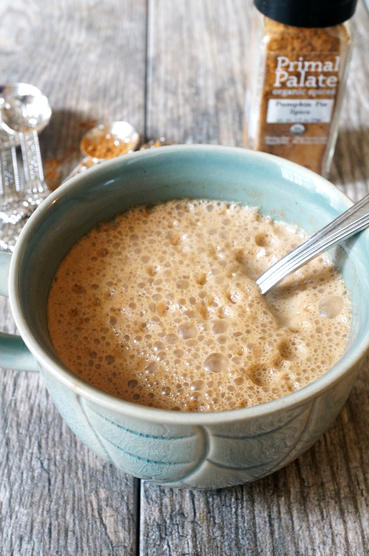 Keep toasty warm + full of holiday cheer with this spiced homemade latte!
Spicy Pumpkin Spice Latte (Paleo)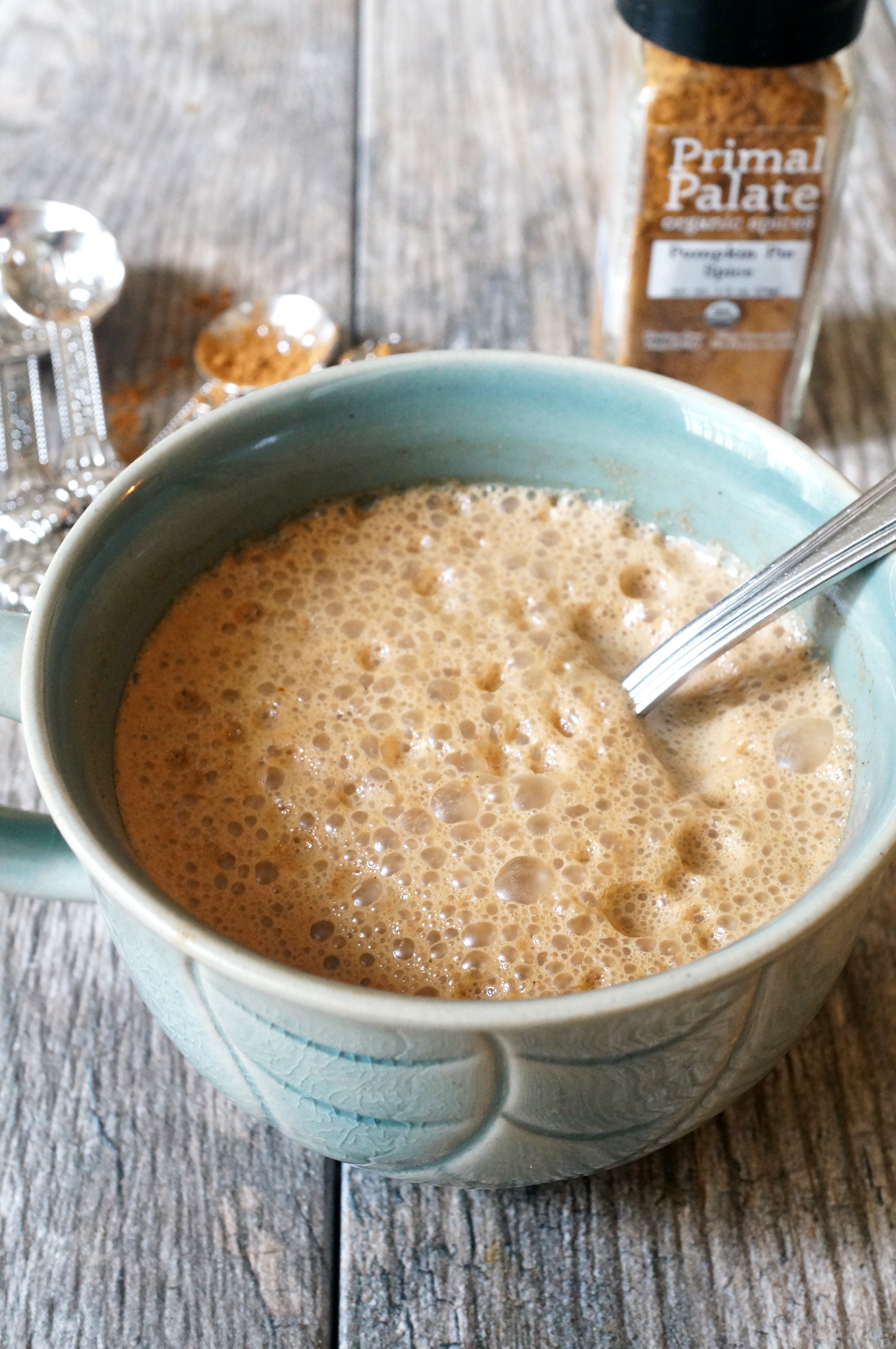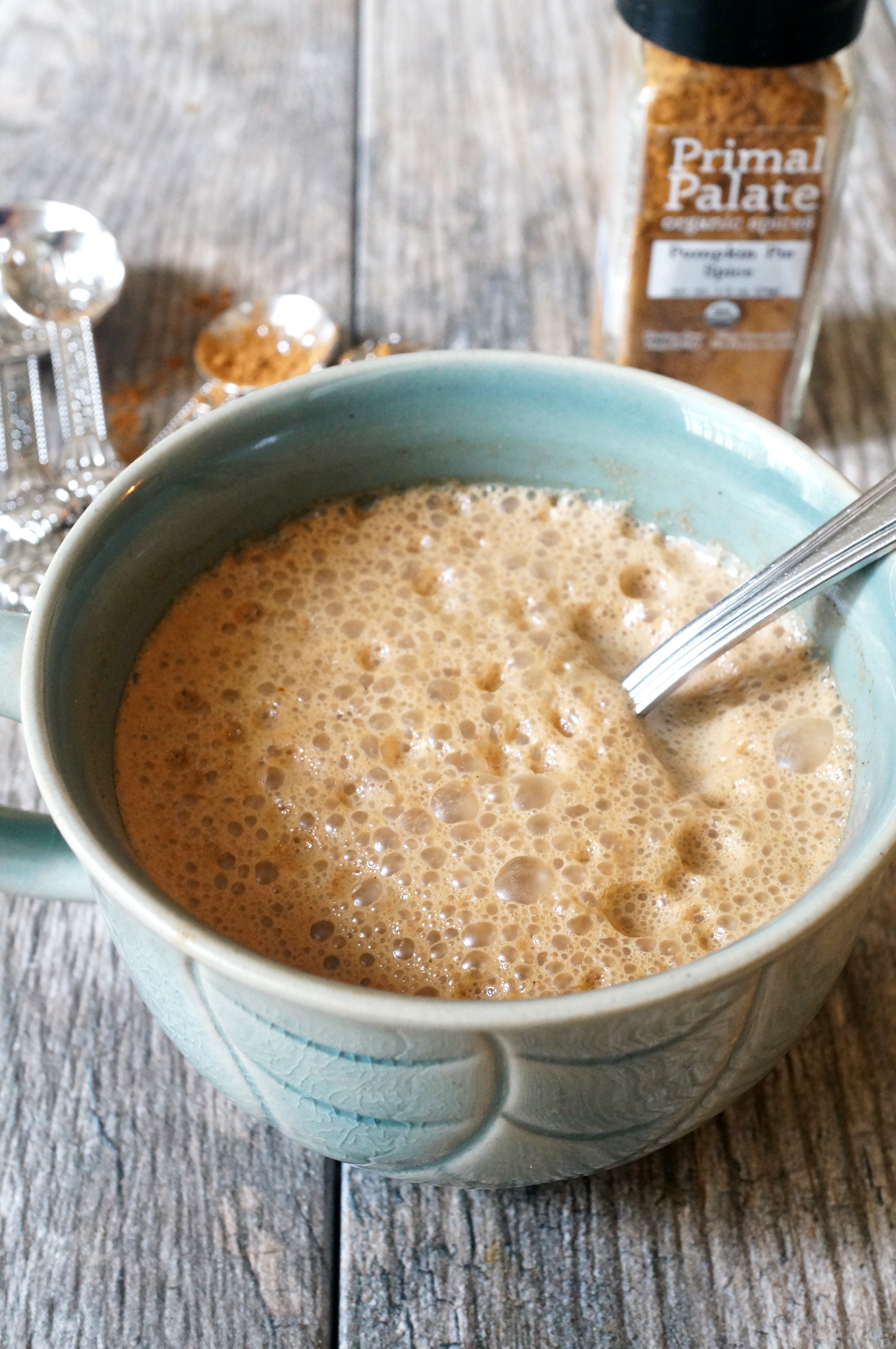 Ingredients
1/2 cup Chameleon Cold Brew concentrate
1/2 cup coconut milk
1/2 cup water
4 whole black peppercorns
3 whole cloves
1/2 teaspoon vanilla extract
2 teaspoons Primal Palate Pumpkin Pie Spice
1 tablespoon Vital Proteins Collagen Peptides
1 tablespoon maple syrup
pinch sea salt
Directions
1.
Whisk
cold brew,
coconut milk
, water, peppercorn, cloves, and vanilla extract together in a small saucepan. Cover the pan partially with lid and turn heat to medium low.
2. As soon as liquid starts to boil, turn heat to low and whisk. Cover and let simmer for 5 minutes, being sure it does not overflow. Transfer to a high speed blender, including peppercorns and cloves.
3. Add Pumpkin Pie Spice blend, collagen, maple and sea salt to blender. Blend on high for at least 30 seconds until smooth (this will break down the peppercorns and cloves). Pour into a mug and serve warm or if you would refer an iced latte: cool at room temperature then serve over ice!