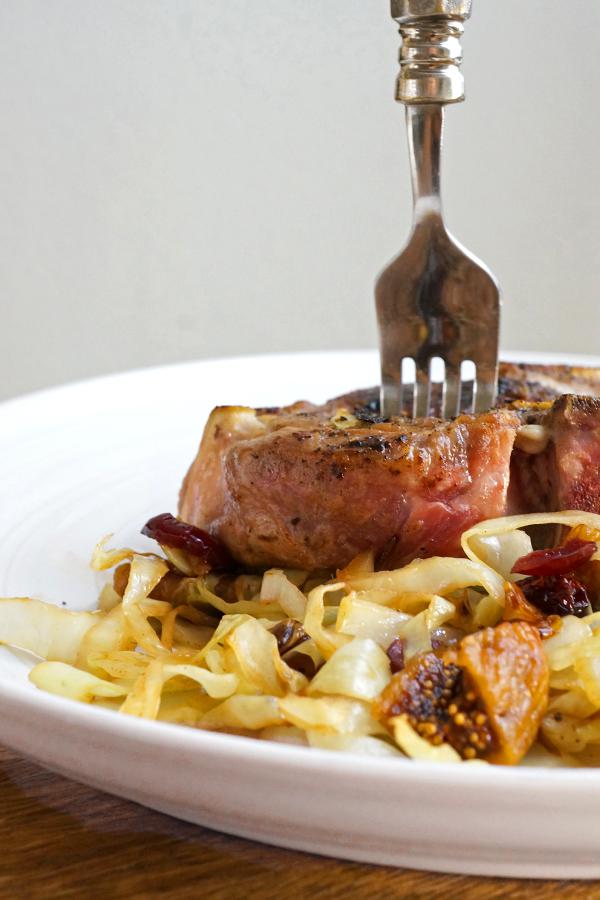 Even with the boom of American food culture in the past decade (thank you Buzzfeed, Yelp, Instagram, and Food Network), lamb still does not hold a place in our country's heart like it should. I could pull a Jimmy Fallon and ask 100 random people on the street if they have ever eaten lamb, and I think the majority would say either "Ew no" or "No, but Lamb Chops was my favorite creepy puppet show from the early 90's."
Lamb meets my three D criteria: decadent, drool-worthy, and damn tasty. It's loaded in fat (the healthy omega-3 rich kind thanks to our friends Down Under perpetuation of grassfed animals), flavor, B vitamins, and selenium. All happy, nutritious, inflammation-fighting, and baby-making qualities we look for in our dinner.
I purchased a couple grass-fed bone-in lamb chops from Sprouts this weekend without a plan. I also happened to pick up dried Turkish figs (the big soft light brown ones) and dried cranberries. I had a leftover 1/2 head of cabbage in my fridge that needed to be used up, so I thought why not combine some of my favorite things into one dish. It can't go wrong. And it certainly didn't. I've spoken before about my introduction into cooking at age 15 spurred by an obsessive tendency to re-read my Food & Wine subscriptions over and over until I picked up on every nuance of a cooking skill I could from each recipe. When I cook for myself and my husband, I often imagine creating a recipe for F&W that would actually make it into their publication. Another recent meal I made would certainly make the cut: chicken thighs cooked using Jacques Pepin's technique, garnished with lemon juice, fried capers, salt-cured olives, and fresh parsley. My horn is a-tootin'. And I don't care. It's my one skill.
This meal would be equally as good for date night, and quite a romantic one at that. There's something about the rich smell and taste of seared lamb that is intoxicating and reminds me of cozying up in our favorite Chicago restaurant listening to jazz and dining on lamb and filet on a snowy night. One of my favorite memories of the city (which I miss terribly!) from our time there. Instead, I sweated my buns off in my Texas kitchen to prepare this meal for you and me, so I could at least pretend that eating at my countertop alone in silence was just as romantic.
If you enjoy wine, a bright and fruity red would go amazingly well with this meal! Cider lover? Try a sweet and light cider made from organic apples and nothing else.
Restaurant-worthy dinner on your table in 30 minutes!
Print Spiced Lamb with Caramelized Cabbage, Figs & Cranberries
Author:

Prep Time:

10 minutes

Cook Time:

20 minutes

Total Time:

30 minutes

Yield:

2

1

x
---
Scale
Ingredients
1 1/2

pounds bone-in lamb shoulder chops, 1-inch thick (

2

large chops)

1/2 teaspoon

dried rubbed sage

1/2 teaspoon

sea salt, plus additional to taste

1/4 teaspoon

garlic powder

1/4 teaspoon

ground cinnamon

1 tablespoon

olive oil

1

large clove garlic, peeled and halved

3 cups

quartered and thinly sliced green cabbage

6

dried Turkish figs, quartered

1/3 cup

dried cranberries

1 teaspoon

lemon juice
---
Instructions
Remove chops from refrigerator to countertop 30 minutes prior to cooking.

Rub chops on all sides with mixture of sage, salt, garlic, and cinnamon until evenly coated.

Heat olive oil in a large skillet over medium-high heat until hot.

Sear chops for 4 to 5 minutes per side for medium doneness. You want a crust on the bottom before you flip. Boneless chops will take shorter to cook; decrease cooking time by 1 minute per side if using boneless.

Remove chops to a plate and rub with the sliced garlic clove on each side. You will see the garlic almost "melt" into the meat. Discard garlic clove. Let lamb chops rest tented in foil while you prepare the cabbage.

In the same skillet, cook cabbage in the rendered lamb fat until caramelized and tender, about 4 to 5 minutes. If not enough fat has been rendered to coat the cabbage, add one tablespoon to the pan prior to adding the cabbage.

Add figs, cranberries and a pinch of sea salt to the pan, cooking for an additional 2 to 3 minutes until the figs and cranberries have deepened in color and are tender. Sprinkle lemon juice on top and stir briefly to combine. Remove from heat.

To serve, divide cabbage mixture onto two plates and place lamb chop on top.
---