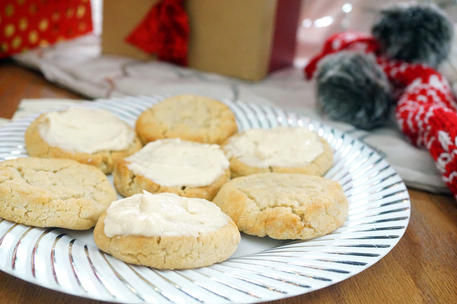 Oh my gosh these cookies are sooo sooo sooo good! A certain someone asked me the other night for Christmas cookies and when I questioned what kind, I was disappointed they didn't say chocolate chip. Damn it, I don't have a recipe for grain-free sugar cookies! So I had to make one, and I don't call myself a baker. You couldn't get me drunk enough to call myself a baker. But I did it, and I'm proud of myself.
These are the nice, fluffy soft sugar cookies that I grew up eating but the cookie dough tastes like Slice & Bake cookie dough and it doesn't contain eggs so you really have no excuses to not let your kids eat the dough!
Or yourself. Because I totally saved up a cookie's worth of dough from the "ends of the roll, who would want that?" It's up to you if you want to frost them. They are delicious either way, but I think it would be super fun to frost and decorate them with your family. If you know of any non-offensive organic sprinkles or food coloring, please let everyone know in the comments section! That would be so awesome of you – I did a search and couldn't find anything I was terribly comfortable purchasing myself. But there may be another brand out there that I didn't come across!
Speaking of comments, thank you everyone who took the time out of your day to give me some encouragement after my blog post yesterday.  It was truly heart-warming and gratifying to read that my recipes and blog do have some positive impact and that they are appreciated by you. It really does give me the confidence to keep putting content out there in this wild world of information-overload. In my personal life, I've been toiling over my life passions, especially since having Grace and the thought of being away from her 40 hours a week makes me incredibly sad.
I know so many moms return to work because they do what they have to do. I'm fortunately in a situation where I can take an extended maternity leave for which I'm so grateful for. This girl is my best friend and my everything, and when she goes down for her naps, I miss her so much. I think the pediatrician will have to be more worried about my separation anxiety than her's when she goes to preschool.
So 2017 is going to be another year of newness for me. I'm going to put my focus on really narrowing in on my passion and where I see myself growing from here. If it means returning to work as planned in January, so be it. But I'm going to continue to pray that my "meaning in life" comes along sometime in the first half of the year so I can put all my focus on that and her.
I do love occupational therapy, but I also feel incredibly conflicted at times when I know how much my patients would benefit from lifestyle and dietary healing versus just covering up or bandaging their symptoms. It's a deep internal conflict, and I think a lot of people who work in healthcare and who also lead a holistic lifestyle can relate to. At the end of the day, if you're working in healthcare, you still are helping someone, and that is to be celebrated. 
Sugar Cookie FAQs
Do I have to use cream of tartar? I don't own any.

Cream of tartar acts along with the baking soda to form a Paleo-friendly baking powder. Baking powder acts as a leavening agent to help these cookies rise and become the soft, luscious cookies that they are. You can try adding another acid in it's place such as 1/2 teaspoon apple cider vinegar. I have not done that in this recipe but I've tried it in other baked goods. It works, just not as well as cream of tartar. This is the brand I use. 
Can I replace the almond flour with another flour?

I do not recommend that. Paleo baking flours are so finicky and the only ones that can really be interchanged in small amounts are arrowroot and tapioca. So in this case, you could use tapioca in place of the arrowroot. I personally have a immune reaction to tapioca, which is why you don't see me baking with tapioca or cassava flour on this site. 
Can I use coconut oil in place of the palm shortening?

This is also something I don't recommend since your cookies are more likely to spread rather than maintain their shape when using coconut oil. I also find cookies end up more chewy and less fluffy with coconut oil, and these soft sugar cookies are meant to be more like cake cookies. You can find palm shortening on Amazon or at most health food stores. 
What is the nutritional content of these cookies?

Each cookie is roughly 200 calories and 5 grams of sugar. One frosted cookie is definitely enough of a treat & the batch could be easily shared for a holiday party. These cookies are ones you can DEFINITELY share with non-Paleo eaters and they will never know they're eating grain and dairy free cookies! You can feel confident knowing you are not serving cookies full of wheat, soybean oil, canola oil, and bleached flour which are the ingredients of Pillsbury brand sugar cookies!
Print Grain-Free Soft Sugar Cookies
Author:

Prep Time:

20 minutes

Cook Time:

8 minutes

Total Time:

28 minutes

Yield:

10

to

12

1

x
---
Scale
Ingredients
Cookies:
2 cups

almond flour (finely ground)

2 tablespoons

arrowroot starch

1/2 teaspoon

baking soda

1/4 teaspoon

sea salt

1/4 teaspoon

cream of tartar
tiny pinch ground nutmeg (TINY!)

1/2 cup

palm shortening, room temperature

1/4 cup

maple syrup

2 teaspoons

vanilla extract
Frosting:
1/2 cup

palm shortening, room temperature

2 tablespoons

coconut butter, room temperature

2 tablespoons

raw honey*

1 tablespoon

coconut oil

2 tablespoons

arrowroot starch
pinch sea salt
---
Instructions
For the Cookies
Preheat oven to 325 degrees. Line a light colored baking sheet with parchment paper.

In a medium mixing bowl, whisk together the dry ingredients. Add wet ingredients to the bowl and use a hand mixer to combine into a cookie dough.

Place cooking dough on the parchment paper and use the paper to assist you in rolling a log that is about 6 inches long so you will be able to form 12,  ½-inch thick cookies. Place the cookie dough wrapped in the parchment paper in the freezer for 15 minutes while you make the frosting.

Remove cookie dough from freezer and slice into ½-inch thick slices. Place flat on parchment lined baking sheet and use your hands to round them into circles.

Bake in preheated oven for 8 minutes until the edges just start to turn a light golden brown. Keep an eye on them since oven temperatures and hot spots vary.

Let cool completely before frosting using the frosting recipe below.
For the Frosting
In a medium bowl, beat together the shortening, coconut butter, honey and coconut oil until smooth.

Stir in arrowroot and salt with a spoon or rubber spatula. This frosting will harden if refrigerated since it contains coconut oil. Frost cooled cookies with room temperature frosting.
---
Notes
*For a true sugar cookie frosting, you can also use organic confectioner's sugar but that is not considered Paleo. But really sugar is sugar, so if you are okay with it for special occasions, this is one time when it makes sense to use it! I really like Wholesome brand.
---