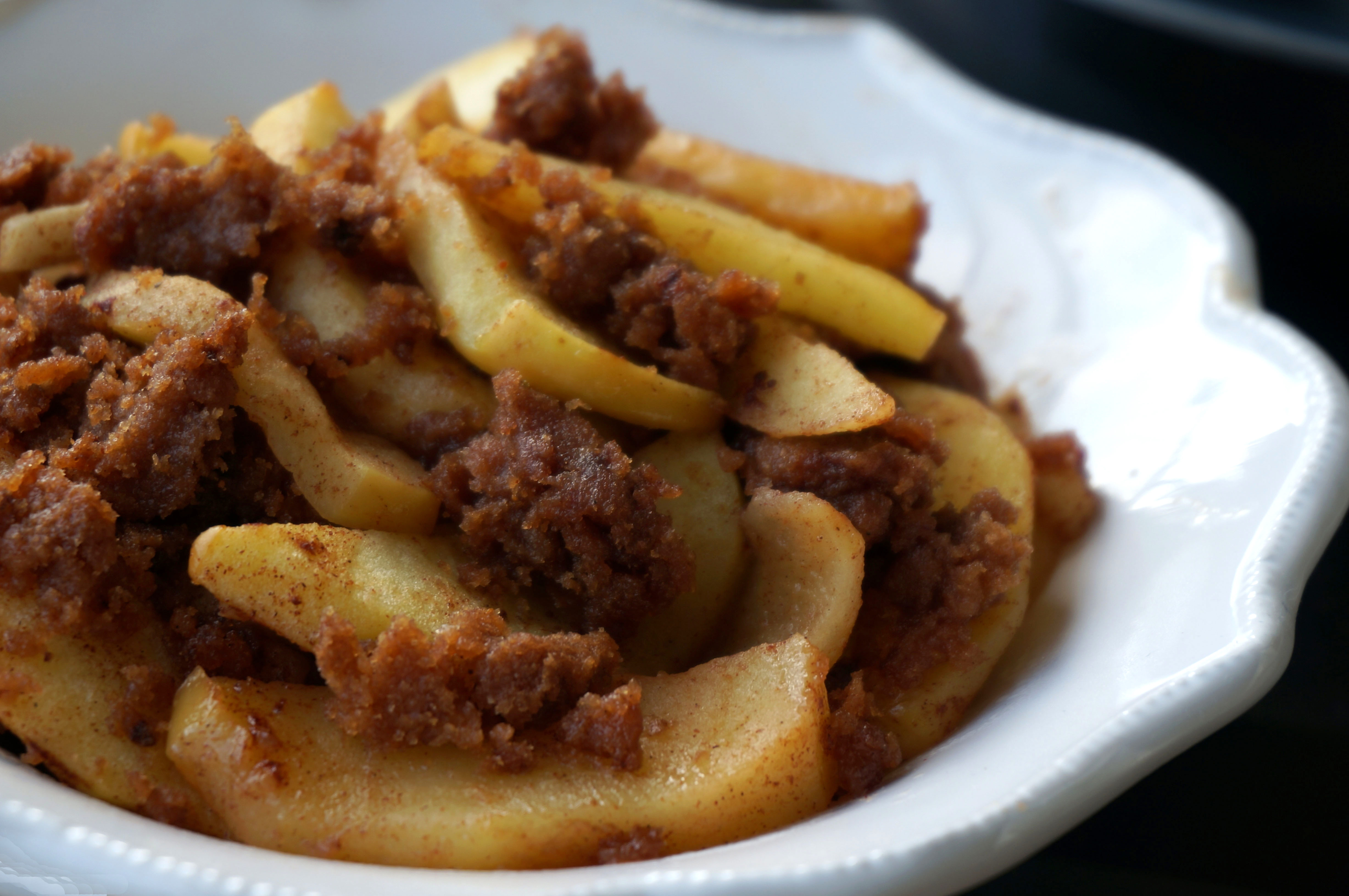 Do you enjoy things that are *expletive* amazing? Then do yourself a solid and get on it. It rivals the best of the best apple pie without the grains, sugar, and hour-long baking process. If you do not want to purchase Anti Grain Apple Flour (link in recipe) then you can try placing a bag of crunchy apple chips in a food processor until finely ground and use in place of the flour in a 1:1: ratio! This is my favorite brand of apple chips and does not contain any preservatives.
I made this twice in 12 hours for my husband because he was so thrilled about it <– and because I needed photos for the blog, let's be real. I suggest spooning it into a bowl, topping with some coconut milk ice cream, and sharing it with your best friend, boy toy (Channing Tatum?), sister, or yourself (Just eat it while staring into a mirror.)
Skillet Apple Crumble [AIP/Vegan/Paleo]
Serves 2-3 | Prep Time 10 minutes | Cook Time 20 minutes
3 Organic apples, small-medium in size
3 tbsp Coconut oil, melted, divided
½ cup Anti Grain apple flour
1 tsp Cinnamon, divided
¼ tsp Ground Mace
¼ tsp Sea salt
Preheat the oven to 350 degrees Fahrenheit.
Peel and slice apples into ½-inch thick slices.
Sautee apples in 1 tbsp coconut oil over medium heat in an 8-inch skillet until softened but not mushy, about 8-10 minutes. Stir in ½ tsp cinnamon and sea salt. Remove from heat.
Whisk together the remaining 2 tbsp coconut oil and ½ tsp cinnamon, apple flour, and mace in a small bowl. Spoon on top of the cooked apples.
Bake for 10 minutes until the crumble is crispy.