This Roasted Sweet Potato and Black Bean Salad recipe includes a quick Ginger-Lime Dressing. An excellent dish to bring to a BBQ or make on Sundays for sides or lunches during the week.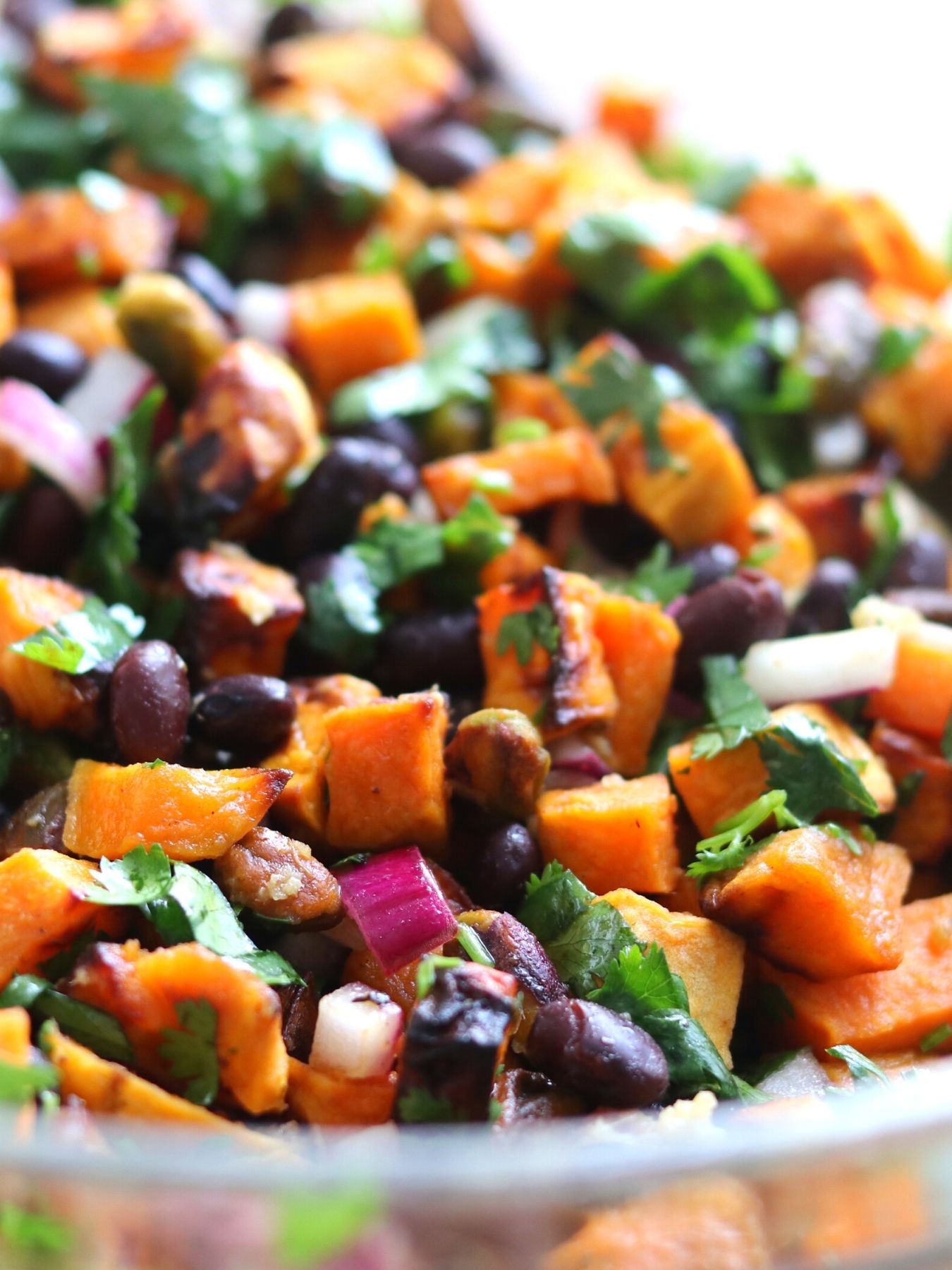 This Labor Day Weekend I needed a quick BBQ side I could bring to a friend's house with just a few hours to spare. I've always loved the combination of warm and cold in salad and according to Traditional Chinese Medicine practices, most of us should be consuming our salads room temperature or warm anyways!
This salad combines hearty, filling and fiber-rich ingredients for a flavorful side dish:
Roasted Sweet Potato Cubes, roasted until lightly crisped

Black Beans, canned, rinsed and drained

Cilantro

Red Onion

Roasted Pistachios – you can use pepitas too

Olive Oil

Lime Juice

Fresh Ginger

and just a touch of Maple Syrup
You will love the combination of sweet, tangy and spicy flavors you get when you toss everything in this quick homemade Ginger Lime Dressing!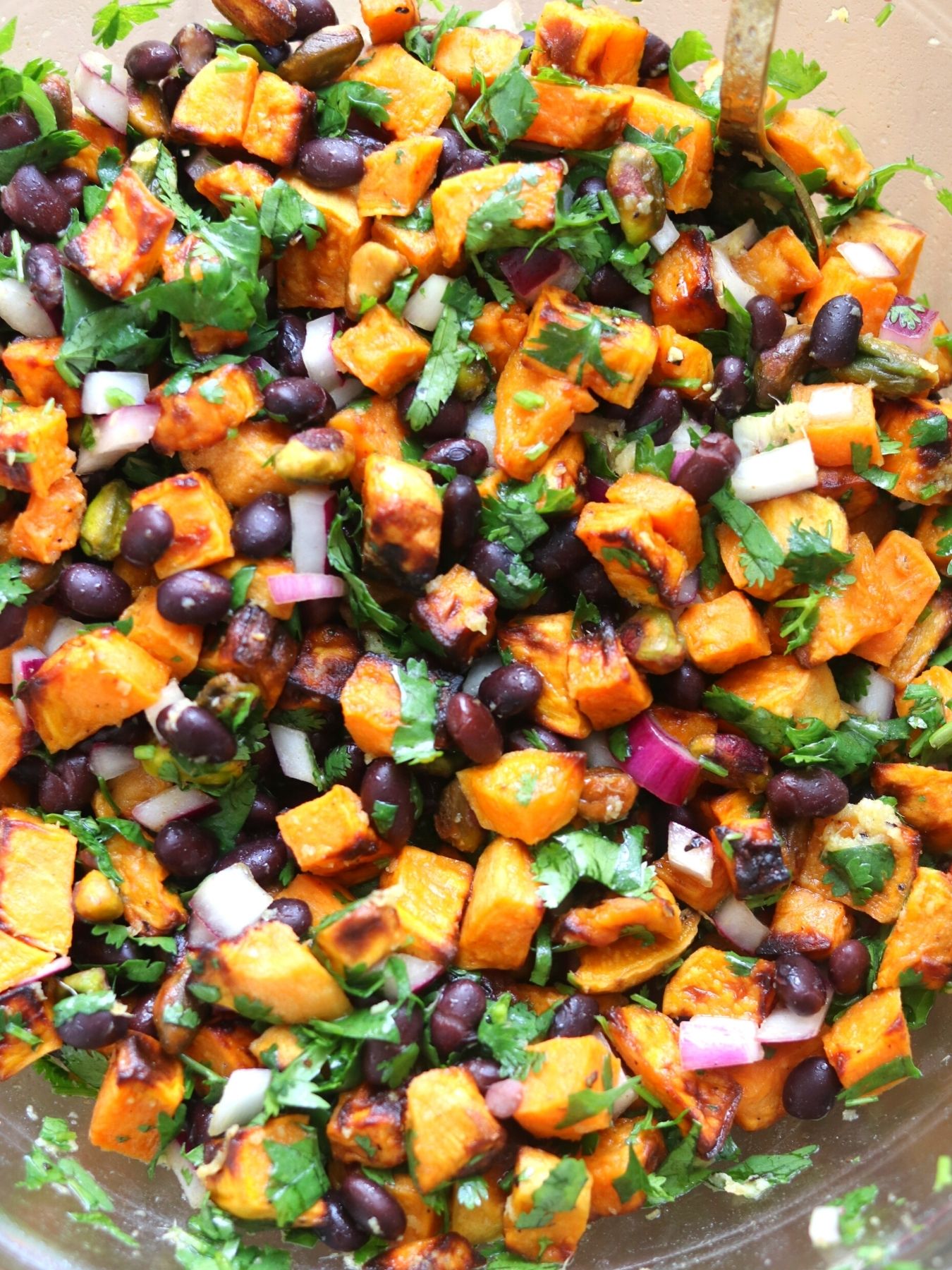 I recommend serving it a few different ways: 
As a taco filling with shredded chicken and cheese (or keep it dairy-free)

In a bowl with cooked rice, your protein of choice and some guacamole

Alone for a still hearty vegetarian and vegan meal
You can roast your sweet potatoes in the oven, convection oven or even your Air Fryer like me. I just ordered the Cuisinart Convection Toaster Air Fryer Oven – it does ALL those things.
I upgraded from my GoWise Air Fryer because we have been air frying two to three times a day for the last four months. Air Frying speeds up cooking time by using circulating hot air and decreases cook times by up to 25%.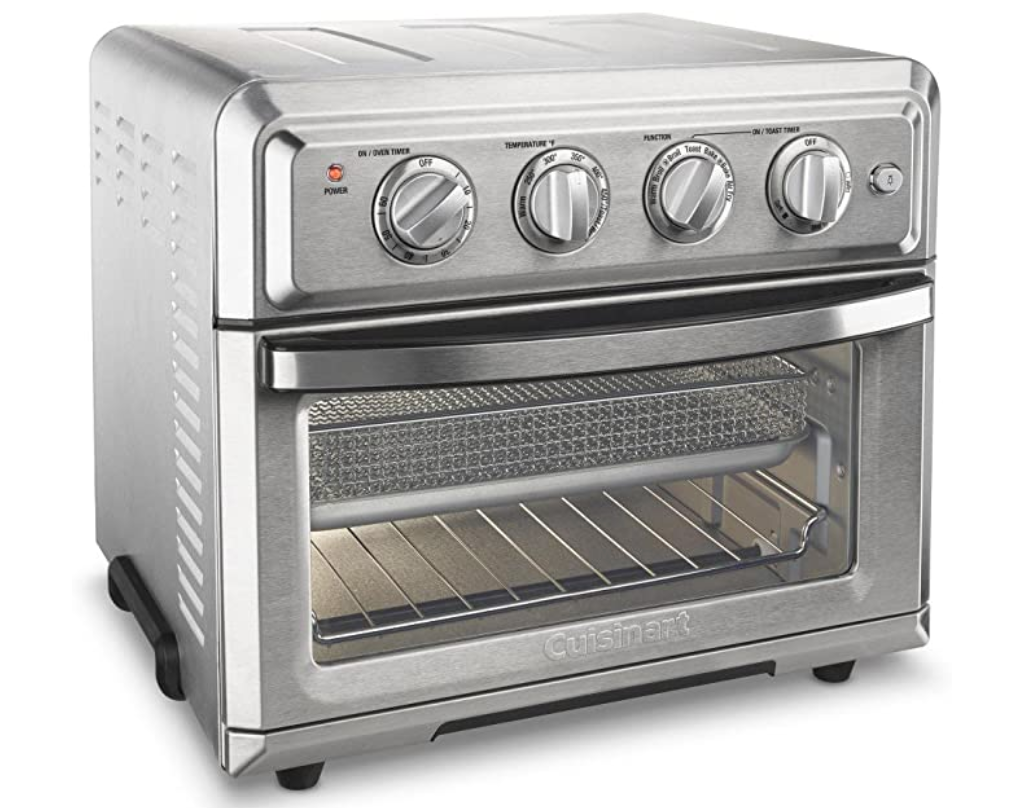 What I love most about this Air Fryer is the modern look and how it's all stainless steel. I wasn't ready to purchase this $200 Air Fryer until I knew I liked this cooking method. Now that I know I LOVE it – it made sense to upgrade to a better quality appliance.
Enjoy this recipe, and if you'd like to try another veggie-heavy salad, check out my Spicy Sweet Potato and Pineapple Salad!
Print Roasted Sweet Potato and Black Bean Salad with Ginger Lime Dressing
Author:

Prep Time:

15 min

Cook Time:

20 min

Total Time:

35 minutes

Yield:

6 servings
---
Ingredients
• 8-9 cups peeled and cubed sweet potatoes (1/2 inch in size)⁣
• 1 tablespoon extra virgin olive oil
• 1 tablespoon maple syrup⁣
• 1/2 teaspoon ground cumin⁣
• 1/2 teaspoon sea salt⁣
• 15 oz can black beans, rinsed and drained⁣
• 3/4 cup diced red onion⁣
• Scant 1 cup cilantro chopped, loosely packed⁣
• 1/2 cup roasted and salted pistachios
Ginger Lime Dressing
• 3 tablespoons lime juice⁣
• 2 tablespoons EVOO⁣
• 1/2 tablespoon maple syrup ⁣
• 1/2 teaspoon sea salt⁣
• cracked pepper⁣
• 2 teaspoons grated fresh ginger⁣
---
Instructions
In a large bowl, toss the sweet potatoes with the olive oil, maple, cumin and sea salt until evenly coated.⁣
Roast or Air Fry at 400 degrees for about 18-20 minutes, tossing halfway through, until crisp and lightly browned. Let cool 10 minutes before adding to salad below.⁣
In your serving bowl, combine the beans, red onion, cilantro and pistachios. Stir in the cooled sweet potatoes.⁣
In a measuring cup, whisk together the Ginger Lime Dressing then pour over the salad and toss. Taste and adjust seasoning, if desired.⁣
Serve room temperature and store leftovers in a sealed glass container in the fridge. ⁣
⁣
---