A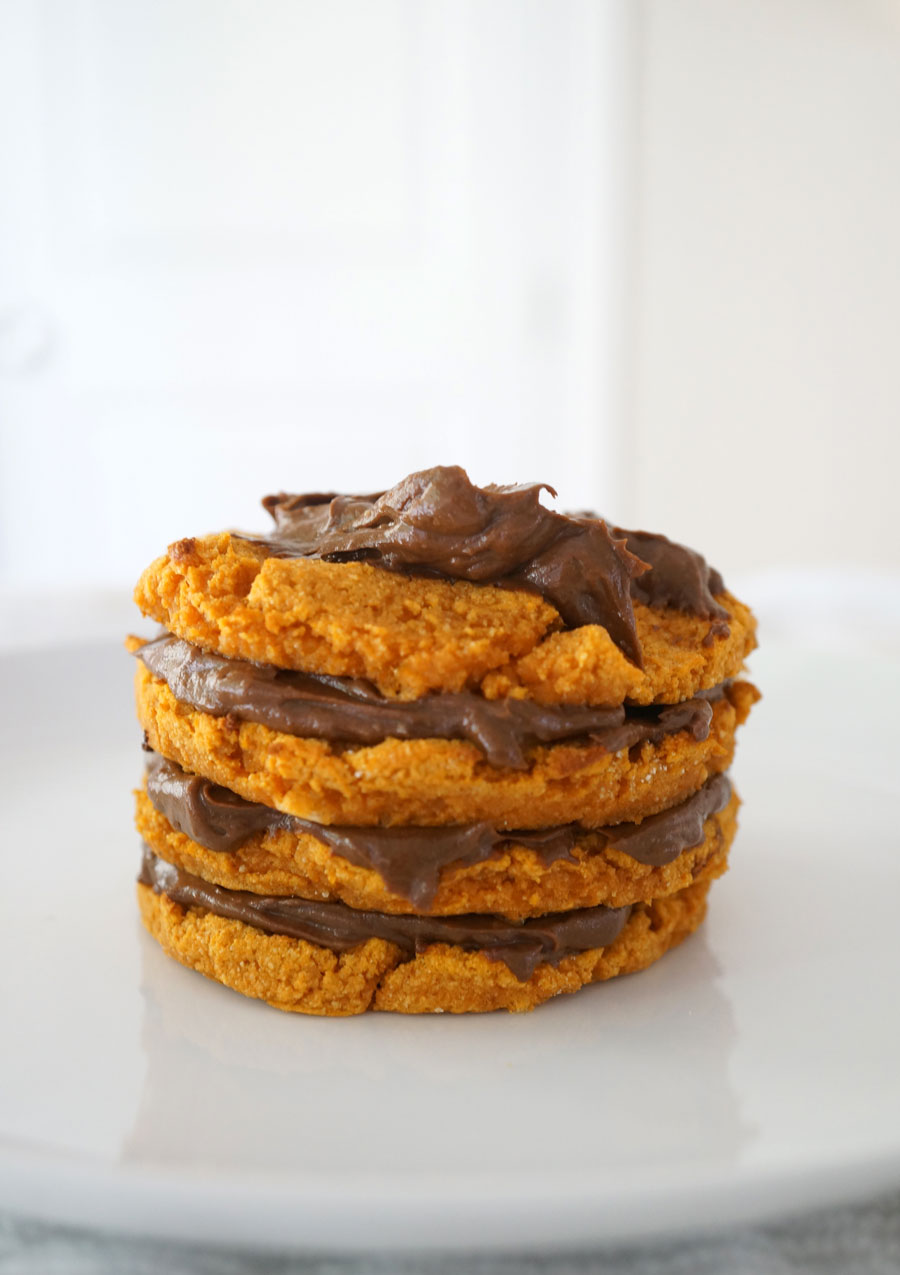 How cute is this Paleo Baby Birthday Cake made from sweet potato, beef tallow, carob, avocado and coconut flour!? It's free of all grains, dairy, nuts and sweeteners which means it fits the bill for any real food baby, toddler or adults big day!
I cannot comprehend how my baby girl is going to be a one-year-old next month. My pre-baby life seems like an eternity away but only 365 days will have passed. They have been filled with emotions at every extreme and not a ton in the middle. Lots of laughing, smiling, heart-bursting joy but also my fair share of tears, frustration, anger and fatigue.
Motherhood is by far the hardest journey I've ever been on inclusive of my journey with Hashimoto's and infertility. I spent many nights of my pregnancy up with anxiety about how I would be able to be the 24/7 guide for another life form. It's just as hard as I thought it would be, but you take the good with the bad and you let the good keep you going.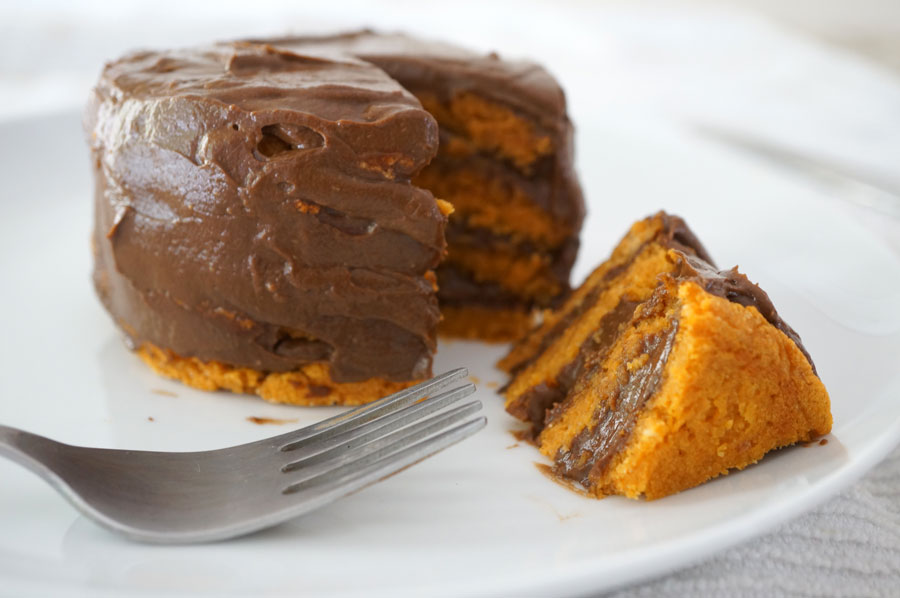 I wanted to take some time today to reflect on what I've learned in the last year. You can skip ahead to the recipe if you'd like; this will just be my form of self-therapy.
Having your heart beat outside of your chest and inside the body of another human being is the scariest, most gut-wrenching feeling I can imagine. Every time I hear her cry my cortisol shoots up and I get a pit in my stomach. I know I can't protect her from everything but I sure wish I could. Watching the news is near impossible for me now, traveling by airplane is a feat, and I've had to unpack a lot of post-partum anxiety lately. I know it's normal, especially for someone who defaults on the anxious side, but it still needs to be addressed lovingly.
She makes me smile so wide and for so long, my lips are actually chapped by the end of the day. I thought high school and college were fun, but parenthood has me smiling and laughing more than ever before. She has taught me that my heart is a bottomless basket of love, care and pride. I wish I had more videos of the two of us interacting, but we are home alone so much that I'd have to set up a hidden camera to catch it all. Actually that's not a bad idea
Part of me wishes that being a mother was my 1 and only purpose here on earth, but it's not. It will always be my #1 purpose but I also am realizing I need to expand some of my love and attention to other areas of my life like my marriage, my career and my friendships. None of those things will ever give me the same type of joy and pride that she does, but they all make me a happier and more complete human
I am intrinsically terrible at asking for help. I really need to work on that (but I've come a long way since she was a newborn). Even though I'm a stay-at-home mom right now, I have a nanny who comes 6 hours a week so I can go work at a coffee shop, go to the dentist or get a pedicure. This has been extremely beneficial for my mental health. I've also started asking my husband for more help around the house. In fact, he vacuumed and steam-cleaned all the floors yesterday (amen, thank you to my incredible hub).
I'm not afraid to tell people no anymore. I used to say "yes" to everything that was asked of me, whether or not it benefited me or not. I am a giver and a helper by nature, and I also have an easily ignited guilty conscience (hello, kindling for autoimmunity and flares). Now if my gut tells me that a particular commitment is going to add stress to my life in an unproductive way, I say no and don't feel bad about it. The book "Non-Violent Communication" has REALLY helped me with this. If someone is offended, disappointed or pissed off, oh well. Life is too short and modern life is too stressful already to constantly cater to others' needs before your own.
There are no words for the love you have for your child. I cannot even attempt to describe the immensity of my love for my daughter. The fact that Hallmark tries to capture a mother's love in a 100-word card baffles me. NO WORDS.

Okay let's talk PALEO AIP BABY SMASH CAKE!
Now that all my sappy emotions have escaped my fingertips, here's a little valuable information on this adorable 4-layer Baby Smash Cake! I was actually going to forgo birthday cake all together for her first birthday because
1) I didn't think I could come up with a suitable cake that doesn't have any grains, dairy, eggs, nuts or sweeteners (even natural ones like maple).
2) I wasn't sure how I felt about getting her started on treats this early. What changed my mind: I didn't want to regret not having an adorable, messy photo shoot of my daughter going ham on some cake. It's an iconic photo!!
My first attempt included a similar birthday cake that was made with sweet potato, avocado and banana but the banana constipated her severely, so that was a big no-go! I landed on this version made from sweet potato (which adds sweetness, moistness, density & acts as a binder), beef tallow (healthy fat and it gives the cake its "donut" taste!), coconut flour (to help hold it together), cinnamon (adds a little sweetness without sugar), baking soda (for fluffiness) and an egg replacer (your choice: chia "egg" or gelatin "egg"). The frosting has the consistency of pudding and is made from a whole avocado, carob powder (a 'chocolate' flavor without the caffeine), coconut milk and a touch of coconut oil. The coconut oil helps thicken the frosting once it is refrigerated so that is goes on smoothly.
The texture of this cake is great for babies because it is soft, squishy and sort of melts in your mouth. I can only closely describe it to a pudding cake, if you've ever had one of those! The frosting in between each layer adds moisture too. I was concerned about making a cake that was too dry, her grabbing a giant bite and choking on it on her birthday. Again, still working on that new mom anxiety (eek).
This Paleo birthday cake is mom-approved in taste, ingredients & cute factor!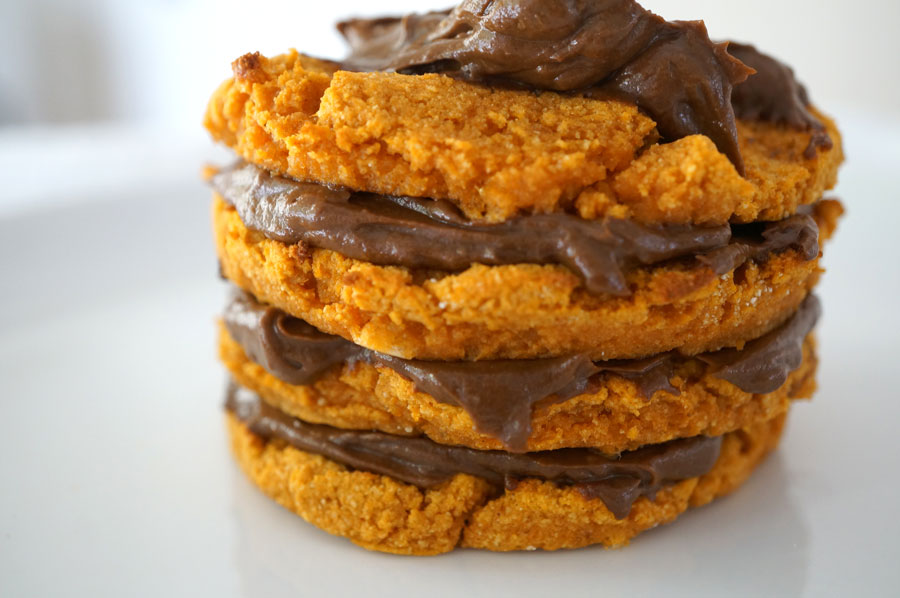 Please tag me in your messy baby birthday cake photos on Instagram or Facebook!
A NOTE ON SUBSTITUTIONS
I don't recommend many substitutions here! All ingredients have a purpose. For example, the beef tallow is what gives the cake it's fried donut taste (pre-cheap industrial oils, donuts and french fries were fried in delicious tallow!) If you replaced it with another solid fat like lard, it would definitely change the taste. For a baby, they won't notice, but if you want to pick at the leftovers you may not enjoy it as much! I don't recommend adding sweetener, it's not necessary. If your baby does well with eggs, you can definitely use an egg in place of the gelatin or chia "egg". No other grain-free flour will work here. Coconut flour has unique binding and moisture-absorbing properties. I would not use tapioca or arrowroot in its place of you'll get a very gummy cake. You may leave out the cinnamon if your baby has an intolerance to it; the flavor will be slightly altered and it won't be as sweet or donut tasting. You can replace the avocado in the frosting with coconut cream most likely in a 1:1 ratio. I prefer avocado because of the fiber and other nutritional properties that make it easier to digest than something as high in fat as coconut cream.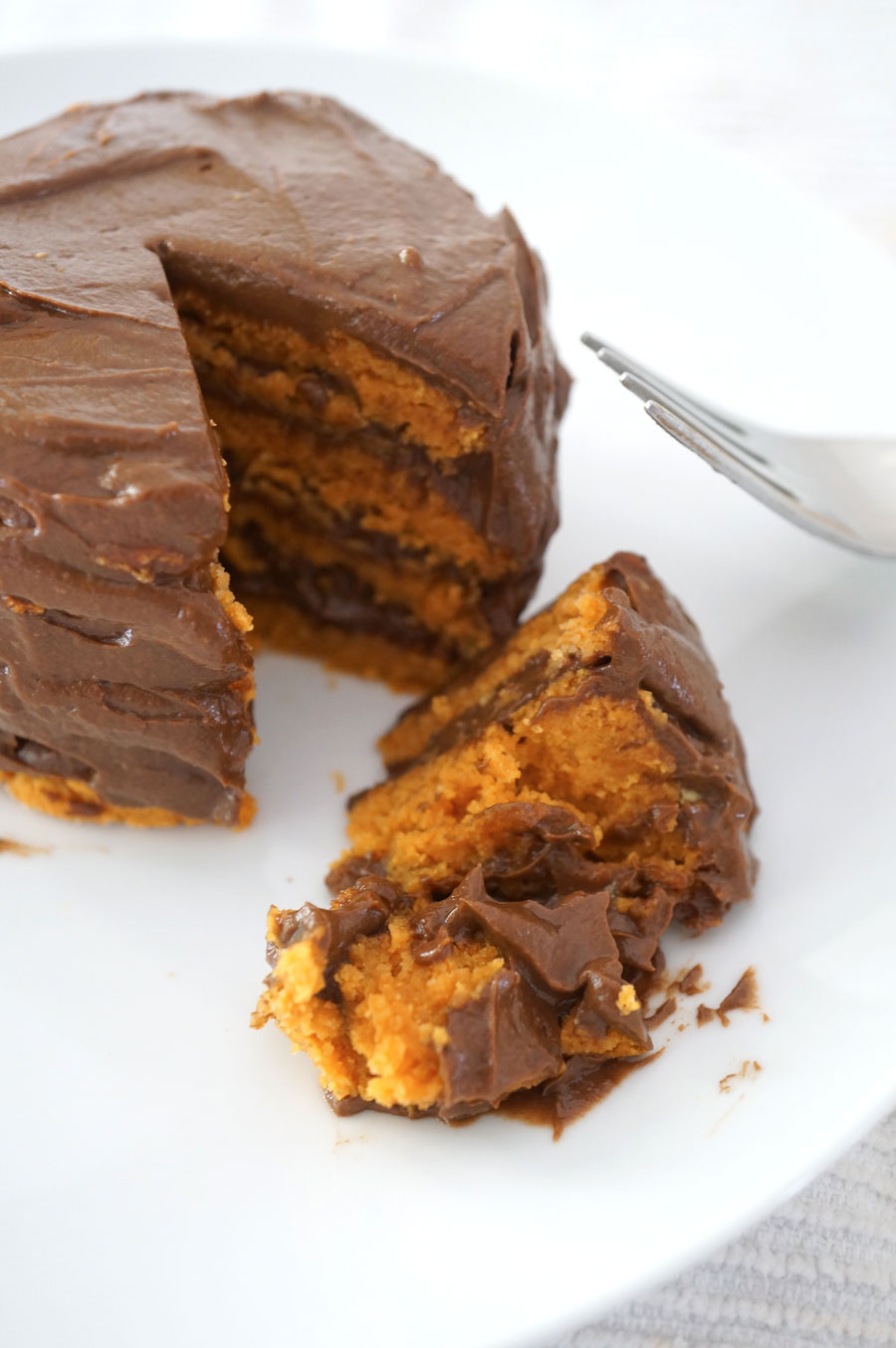 Happy Birthday, Baby! Get as messy as you want with this allergy-friendly sweet potato & "chocolate" cake!
Print Paleo Baby Birthday Cake
Author:

Prep Time:

15 minutes

Cook Time:

15 minutes

Total Time:

30 minutes

Yield:

1

-

4

1

x
---
Scale
Ingredients
For the cake::
1

large baked sweet potato (

1 cup

mashed), cooled

1/4 cup

Bob's Red Mill coconut flour

2 tablespoons

beef tallow, melted (measure before melting)

1/2 teaspoon

baking soda

1/2 teaspoon

ground cinnamon

1

chia egg or 1 gelatin egg (recipes in notes)

1 teaspoon

lemon juice
For the frosting:::
1

ripe medium avocado, pitted

1/4 cup

coconut milk or cream, room temp

1/4 cup

carob powder

2 teaspoons

coconut oil
---
Instructions
Preheat oven to 350 degrees. Line a baking sheet with parchment paper. Have a 3-inch biscuit cutter handy for easy preparation of cake layers.
Prepare the cake. In a food processor, combine the 1 cup mashed and cooled sweet potato with the coconut flour, beef tallow, baking soda and cinnamon until smooth.
Prepare the gelatin or chia "egg" according to directions in notes below. With the machine running, drizzle in the "egg" along with the lemon juice and combine for 30 seconds until smooth.
Place biscuit cutter on baking sheet. Scoop 1/4 cup batter in the cutter and use wet hands to smooth batter into an even circle. Remove biscuit cutter carefully. Repeat this step 3 more times for a total of 4 3-inch mini cakes.
Bake cake layers for 15 minutes. They will rise slightly and be fairly soft when you remove them from the oven. They will firm up as they cool. Cool cake layers completely on the countertop (don't skip or rush this step or the warmth will melt your frosting!)
Meanwhile, while the cakes are baking prepare the frosting by combining all ingredients in a clean food processor until very smooth. Transfer frosting to a glass bowl and keep in fridge while the cakes cool.
To frost the cake: Transfer 1 layer to serving plate. Apply generous layer of frosting on top using a butter knife or mini spatula. Repeat with remaining 3 layers, ensuring you save enough frosting to frost outside of cake too!
Store cake in fridge until ready to serve! Leftovers can be stored for up to 5 days! I ate her leftovers cold for breakfast and they seriously filled my donut void!
---
Notes
Each recipe below makes 1 "egg" which is what this recipe calls for:
Chia Egg: Grind 3 tablespoons of whole chia seeds in a clean coffee or spice grinder. Measure out 1 tablespoon of ground chia and mix with 3 tablespoons of cool water. Let sit in the fridge for 10 to 15 minutes to thicken.
AIP OPTION Gelatin Egg: Whisk 1 tablespoon gelatin with 1 tablespoon cool water until frothy. Whisk in 2 tablespoons of hot water until thickened. Immediately use your gelatin egg where call for in the recipe.