What is Oil Cleansing?
If you survived the 90s, you're all too familiar with harsh cleansing methods like Noxzema Pads and Clean & Clear. Those products do the exact opposite of what oil cleansing does. They strip away necessary barrier oils that keep skin plump, hydrated and free of breakouts. Contrary to what we believe, stripping away oil from our skin with harsh astringents and acids can lead to MORE breakouts, redness and fine lines.
When you're making the switch to safer products, choosing a face cleanser can be tricky. You want one that removes dirt, oil and makeup but doesn't leave skin irritated. It helps if it feels luxurious, smells amazing & leaves skin looking vibrant. Well, I finally found the cleansing method that works best for me & many other women: OIL CLEANSING!
Let's first discuss, WHY YOU MAY WANT TO START OIL CLEANSING:
Your skin is very oily & you have to use powder & oil blotting sheets throughout the day

Your skin is prone to redness, irritation or eczema

Your skin is acne-prone and seems to over-produce oil in certain areas

Your skin is dry, lacking in plumpness and seems lifeless
What are the benefits of oil cleansing methods for my skin?
Heal skin's barrier so it is less prone to irritation, eczema and breakouts

Balance skin's oil products so it is less prone to dryness, acne, large pores and blackheads or milia

Remove makeup, dirt and oil without the use of harsh abrasives & acids

Restore hydration to skin so it is firmer, fuller & less prone to fine lines and wrinkles
My history with oil-cleansing began many years ago. I would use coconut oil to remove my makeup. Yes, it did the trick, but my skin was rough and red and my pores were always clogged. It works for some people, but for those of us with specific skincare concerns, there are better oil cleansing options.
I came to find out coconut oil is MAJORLY COMODOGENIC (it clogs pores!)
Instead of using the standard coconut oil cleansing method you've seen a million times, I'm giving you my top oil picks for all skin types! You can use any of these 3 methods in place of your AM or PM cleansing routine!
---

Primally Pure's Cleansing Oils
FOR NORMAL, OILY OR DRY SKIN
Primally Pure has a collection of 3 oil cleansing blends designed for Normal, Oily or Dry Skin. I personally use the blend for Oily skin since my T-zone gets shiny by lunchtime & I tend to get breakouts around my nose and chin. Primally Pure's products are not only gorgeous, come in glass bottles and are fairly affordable ($18 for 2 ounces which lasts me 3 months), but are made with really simple ingredients.
WHO'S IT GOOD FOR:

All skin types including normal, oily and dry skin! 
HOW TO USE IT:

Massage a quarter-size amount of oil into your skin, avoiding your eye area, for 60 seconds. Steam away with a warm cloth until dissolved. Follow with toner and moisturizer of choice. I love Primally Pure's Beauty Cream. At first, it caused me breakouts but I've reintroduced it during dry winter months & I'm doing great with it! I use it in combination with the ACTIVE ingredient products in my routine below!
NOTE: Primally Pure explains on their website that you should allow 2 weeks for your skin to adjust to their oil cleansing method to allow for detoxification. Our skin is our largest detoxification organ & if we've been clogging up those pathways with harsh abrasives, comodogenic products and chemicals, we need to allow some extra time for it to adjust. 
---

Beautycounter's Cleansing Balm
THE CADILLAC OF OIL CLEANSING
Beautycounter's Cleansing Balm is the Cadillac of oil cleansing. It contains not just a few plant oils but over 10! In an independent study, 100% of women using this Cleansing Balm reported more hydrated skin within 8 hours.
Beautycounter's Cleansing Balm contains apricot, sunflower, jojoba, avocado, raspberry seed, davana, chamomile, sweet almond, grape seed & joy tree perfume oils.
This high potency mix of plant compounds is blended into a smooth balm with mango and shea butters. It's thick, rich and decadent and removes heavy makeup like a CHAMP.
WHO IT'S GOOD FOR

: ALL SKIN TYPES, ESPECIALLY SKIN PRONE TO DRYNESS, REDNESS, ECZEMA, PERIORAL DERMATITIS
HOW TO USE

: A little goes a long way with the Cleansing Balm! A jar lasts me at least 6 months! Massage a pea size amount into skin (avoiding eyes if you are prone to irritation, but I personally use this to remove eye makeup). Steam off with a warm wash cloth several times. Apply Toner & Moisturizer of choice.
OTHER USES:

Beautycounter's Cleansing Balm can be used for multiple skin concerns including: sunburns, dry knuckles, elbows, knees and soles, as an overnight mask for very dry skin, as a cuticle balm, and a deeply hydrating hand cream. For an at-home foot softening treatment, rub a quarter-size amount of Cleansing Balm on feet and cover with cotton socks overnight.
NOTE: Beautycounter has an amazing 60-day 100% refund policy on new and used products! You can try these products for a couple weeks to see how your skin does, and then decide whether or not you want to add them to your skincare routine!
---
Store-bought oils like jojoba & emu oil
FOR THE BUDGET-CONSCIOUS WITHOUT SPECIFIC SKINCARE CONCERNS
Coconut oil can be comodogenic for some people, meaning it is likely to clog pores and make breakouts worse. I do not recommend coconut oil for most people with acne-prone skin. In fact, coconut oil ranks FOUR out of FIVE on the comodogenic rating scale (highly likely to clog pores). It can also disrupt the skin barrier, making it more prone to dryness. Yes, even oils can make your skin dry!
If doing a basic cleansing method at home that does not target specific skin conditions, I recommend choosing
Emu Oil

which will not clog pores.
WHO'S IT FOR: 

If you're looking to clean up your skincare routine & don't have any major skincare concerns like severe dryness, eczema or acne, play around with store-bought single oils. My skin doesn't look "WOW!" with this method but it's certainly a budget-friendly way to cleanse skin and remove dirt, oil and makeup. 
HOW TO USE:

 In the AM & PM, apply a quarter-size amount of Emu Oil to your face. Massage into skin for 30 to 60 seconds. Steam off with a warm wash cloth. Follow with moisturizer of choice (my current favorites are below).
---
My Current Cleansing & Moisturizing Routine
Most of my skincare products come from brands I trust like Beautycounter whom I am a Consultant with and Primally Pure. I also use a couple products from Skin Actives & Skin Obsessions (two online skin retailers). I love the transparency of both of these companies and how HEALTH is the forefront of their business model and product development. 
MORNING ROUTINE
Cleanse with Primally Pure Cleansing Oil for Oily Skin – I find it doesn't remove face makeup as well as Beautycounter's Cleansing Balm, but I love how it's made such a difference in my pore size and breakouts.
Moisturize with Countermatch Adaptive Moisture Lotion – this lightweight, all-day moisturizing lotion adapts to your skin's cell structure to match its optimal level of hydration throughout the day. If you tend to get oily by 12 pm, this lotion counterbalances that tendency to keep skin hydrated but not shiny.
If your skin tends to be dry in some areas and oily in others, Countermatch adjusts itself in each of those areas to provide the optimal level of moisture! IT IS INCREDIBLE! I also apply the Countermatch Eye Cream to increase hydration around my eyes and help with puffiness.
EVENING ROUTINE
Cleanse with Beautycounter Cleansing Balm – 

This balm is a nice, thick paste that doesn't absorb too quickly into your skin, so you can really give your skin a good lymphatic massage without it drying up or absorbing! It removes all my face & eye makeup by steaming away with a wash cloth. 
Moisturize with Countermatch Intense Moisture Serum then Adaptive Moisture Lotion & Eye Cream – this serum is even lighter than the moisturizer (didn't think that was possible!) yet provides SO much hydration! Since using this combination, my skin has been free of redness and breakouts and my pore size has decreased noticeably!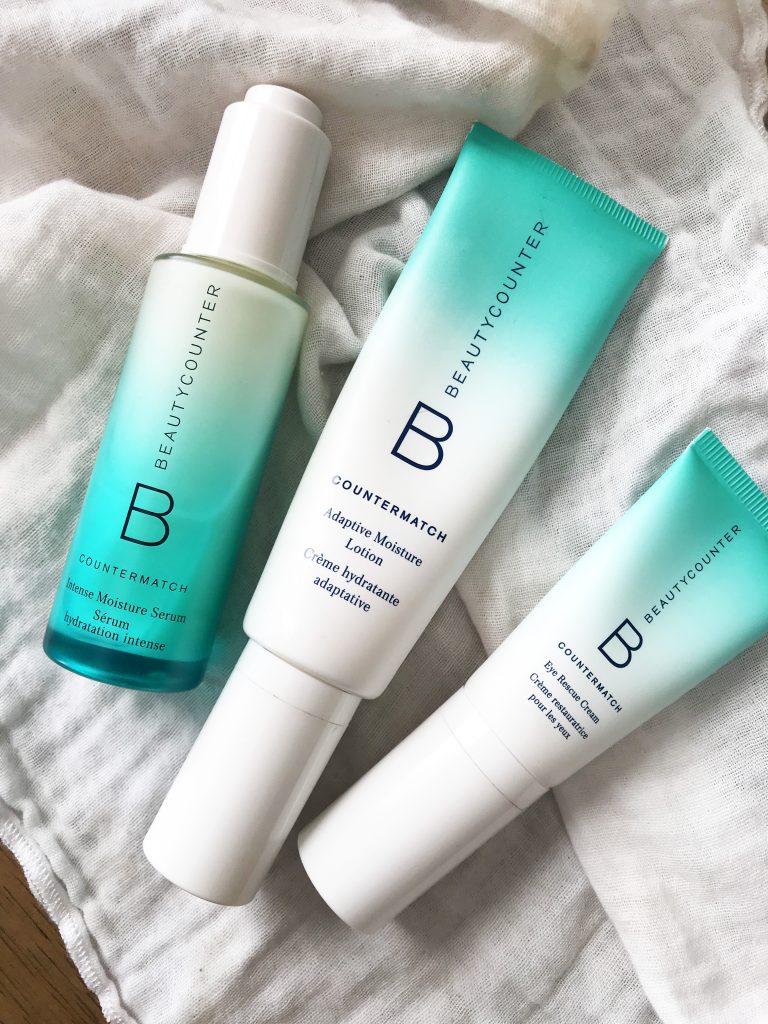 WEEKLY ROUTINE ADDITIONS
Beautycounter No. 3 Balancing + Charcoal Mask