One of my biggest passions in the women's health community is to help educate and inform others about better-for-you and the environment skincare, makeup and household products.
Below you will find (3) easy safer skincare swaps to make over Thanksgiving weekend with the added bonus of free products & shipping!
We often think that just because something is safer to use, it's not as effective. That is simply untrue. We have the research and resources in 2017 to create products that WORK but don't cause a toxin overload in your body. You don't have to be relegated to using coconut oil for everything – especially if you have specific skincare concerns that require more muscle.
For years, I didn't use deodorant or foundation or fancy hair products because I thought I only had two options. Don't use the toxic products lining drugstores and department store shelves OR use them. I didn't know there were other options out there besides making my own products at home.
Honestly, making my own skincare products became pretty exhausting, and I found my skin looking less and less vibrant with my coconut oil, apple cider vinegar, and jojoba routine. Fine lines around my eyes started popping up and vinegar wasn't cutting it for breakouts.
Thankfully, I was introduced to a couple skincare & makeup lines I trust and love for their dedication to transparency and responsible ingredient sourcing.
I'm going to share with you how to swap out some of your go-to toxic products for safer versions that are effective and beautiful!
---
---
SWAP OUT YOUR BABY WASH
Newborns are already born with almost 300 toxins in their cord blood. If that statistic doesn't knock you off your feet, then maybe the list of ingredients in America's most popular baby wash will. Some of the below ingredients are considered safe like citric acid and glycerin but the large majority are associated with health concerns like immunotoxicity, allergies, organ system toxicity and eye irritations.
Johnson's Baby Wash Contains: Water, Cocamidopropyl Betaine, PEG-80 Sorbitan Laurate, Sodium Trideceth Sulfate, PEG-150 Distearate, Glycerin, Polyquaternium-10, Tetrasodium EDTA, Citric Acid, Sodium Hydroxide, Sodium Benzoate, Ethylhexylglycerin, Phenoxyethanol, Fragrance.
EWG SKIN DEEP RATING: MODERATE HAZARD
Beautycounter's Gentle All-Over Baby Wash is safe for even the most sensitive skin and contains a mix of plant-based ingredients and safe synthetic to cleanse your baby without stripping away moisture or adding a toxin load to their bathtime! All of Beautycounter's products are EWG Verified which means they have been screened through the most rigorous standards for human and environmental safety standards.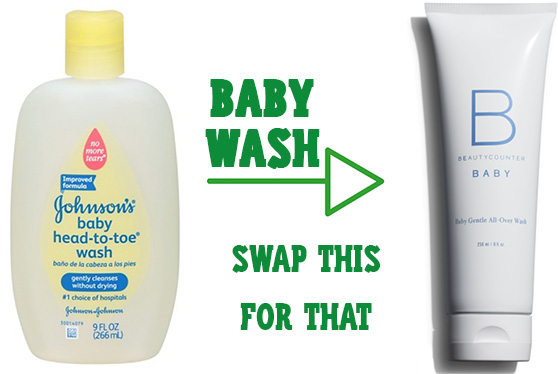 SWAP OUT YOUR FOUNDATION
Foundation is a non-negotiable makeup item for many of us. It adds an extra dose of hydration, hides blemishes, dark spots, scars and unevenness and helps set our blush and bronzers. But many store-bought foundations like Dior Nude Air Serum contain ingredients that are illegal in Europe & Canada, have a high propensity towards allergic reactions & even have legal use restrictions in cosmetics. No thank you!
Beautycounter's Tint Skin Foundation is a medium-coverage, lightweight foundation that gives your skin a luminous glow without looking or feeling oily. It provides buildable coverage so the first layer feels like a tint moisturizer and the second layer has the look of a thicker, high-coverage foundation. It is one of Beautycounter's best-selling products for good reason & one I use everyday to even out my complexion.
Need help choosing your color? Use our FIND YOUR SHADE GUIDE!
SWAP OUT YOUR DEODORANT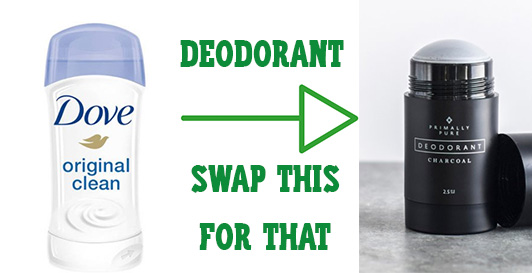 Woo-wee, this is a big one if you are dedicated to leading a lower toxin lifestyle! Conventional deodorant contains a mix of ingredients like carcinogenic aluminum and hormone-disruptors that can be problematic, especially because they are applied directly on our armpit lymph nodes and near breast tissue.
Not to worry! PRIMALLY PURE has just released an updated version of their best-selling non-toxic deodorant (made with ingredients you can eat!) that is even more powerful than their old version! It stops more stink and controls wetness more than the old formula while still being suitable for sensitive skin!
Primally Pure's BRAND NEW Charcoal Deodorant has an impressive list of non-toxic yet effective ingredients including kaolin clay and charcoal to help detox underarms and tallow and coconut oil to moisturize skin. A small amount of baking soda helps stop smell without causing irritation!