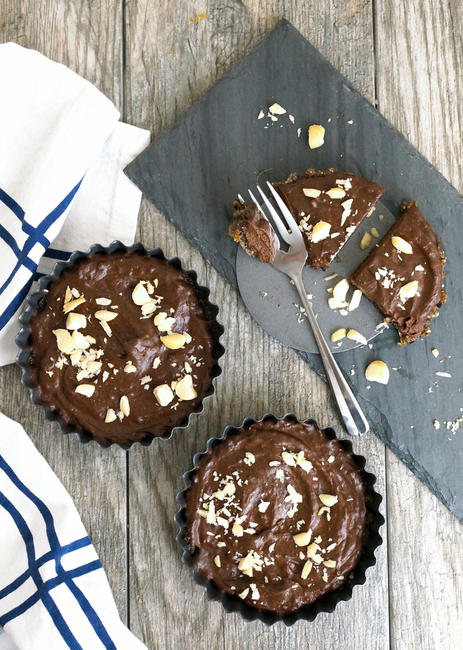 Wowza, two dessert recipes in a row. What's going on with me!? Oh yeah, breastfeeding hormones and hangriness, lack of sleep, and a dependency on chocolate several times a week to give me an energy and dopamine boost. I ain't afraid to admit it. Plus I had a large bag of delicious dates staring at me from the pantry since I made the already-popular Tahini Date Fudge last week and had leftovers.
Damn, that fudge is good. I had to make an eighth of a batch when I ran out just to get me over my withdrawal hump. Fudge is a drug. A drug I'll gladly abuse. JK don't do drugs or eat as much chocolate as I do. Unless chocolate makes you really happy then eat your chocolate and don't feel bad about it. I never feel bad about dark chocolate – it's my "magnesium supplement" and my "natural mood enhancer" all in one.
It's like exercise, but the opposite of exercise. They both make me feel good but only one will help me fit into my old clothes. Eh, I'd rather go shopping anyways. I bought a bubblegum pink silk romper from Anthropologie the other day that has sailboats all over it. Everyone needs a sailboat romper. And I need EVERYTHING at Anthro this summer.
I want it all. It's the only store that turns me into a materialistic shopaholic. There's some really awesome Anthro stores in Chicago, and I used my wedding as an excuse to drop hundreds of dollars on dresses two summers ago. Those dresses are now in storage until the day I can fit in them again, but I'm not willing to give up chocolate to do that so it may be awhile. I have started exercising again post-partum which is AWESOME.
It really lifts my mood, gives me energy to care for baby all day and cook all our meals, and gets me some extra vitamin D. I haven't had an ounce of post-partum mood issues (fingers crossed), which I was a little nervous about since it seems so common. Luckily, my day involves playing with the cutest baby on the planet, eating salmon and chocolate, and walking my dog, which are all excellent mood lifters! I also try to do 1 or 2 self-care days a month such as a facial, massage or pedicure. I spoil myself, but if I didn't, who would? I'm a full believer in taking care of yourself before you take care of others. 
Speaking of others, I actually made this no-bake pie for my husband! I'm not allowed to bake anymore because every time I put something treat-like in the oven it turns into an expensive disaster. I really suck at baking without eggs.
It's incredibly difficult and finicky, and I really don't even like baked goods much. Chocolate and coconut ice cream are all I need. Just a simple girl with simple preferences. How many times have I mentioned chocolate? Enough to make it a game. Every time you read the word chocolate, take a shot of water. You're going to be so hydrated by the end of this monotonous post.
 So this crust is yum – I love the faint hint of coffee combined with salty macadamias. The crust is fairly soft (not crusty at all) like a date energy ball. The filling is super creamy and a little rich like a traditional chocolate pudding and sets into a really nice silky texture with the help of the collagen peptides.
I pretty much add Vital Proteins Collagen to everything, all day. It's amazing. The only supplement I have ever purchased more than twice (I'm on my 10th 20-ounce container in 8 months!!)You could most likely make this into one giant 9-inch pie tart. I didn't do that but given the math of using 4 small tart pans as called for in the recipe, it makes sense. Unlike my writing.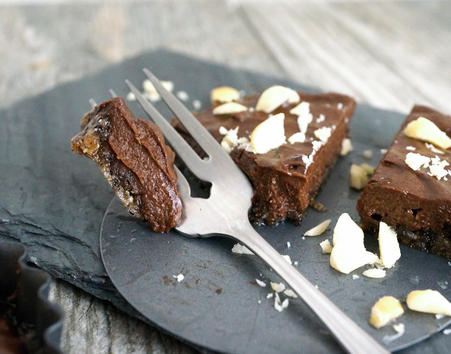 No Bake Chocolate Pie with Coffee Macadamia Crust
Serves 8 | Makes 4 mini tarts | Prep Time 20 minutes | Set Time 6 hours
Coffee Macadamia Crust 
12 soft Medjool dates, pitted 
1 cup dry roasted and salted macadamia nuts (plus extra for garnish) 
2 tablespoons coarsely ground coffee
1 tablespoon melted coconut oil
1 teaspoon vanilla extract
1/8 teaspoon sea salt
Combine all ingredients in food processor fitted with S blade and process for at least 60 seconds until a sticky ball forms. Press 1/3 cup of mixture in bottom of 4 small round tart pans (about 4 inches in diameter).
Chocolate Filling
1 large ripe Haas avocado, pitted
2/3 cup cacao powder
½ cup coconut cream, scooped from top of can of refrigerated coconut milk
2 tablespoons Grade B organic maple syrup
1 tablespoon melted coconut oil
1 vanilla bean, seeds only
1/8 teaspoon sea salt
pinch ground cinnamon
3 scoops Vital Proteins Collagen Peptides
Clean out food processor and combine all ingredients for the filling except the peptides and process for at least 60 seconds until silky smooth and shiny. Add peptides to food processor and process until well combined. Spoon mixture evenly into 4 tart pans and smooth with a spoon or rubber spatula. Refrigerate for 4 to 6 hours until set. Serve cold sprinkled with crushed macadamia nuts.