These paleo AIP mini blackberry tarts were a recipe adapted from AIP Paleo Lifestyle Strawberry-Lemon Tart; they're incredibly delicious and easily adapted for a larger crowd!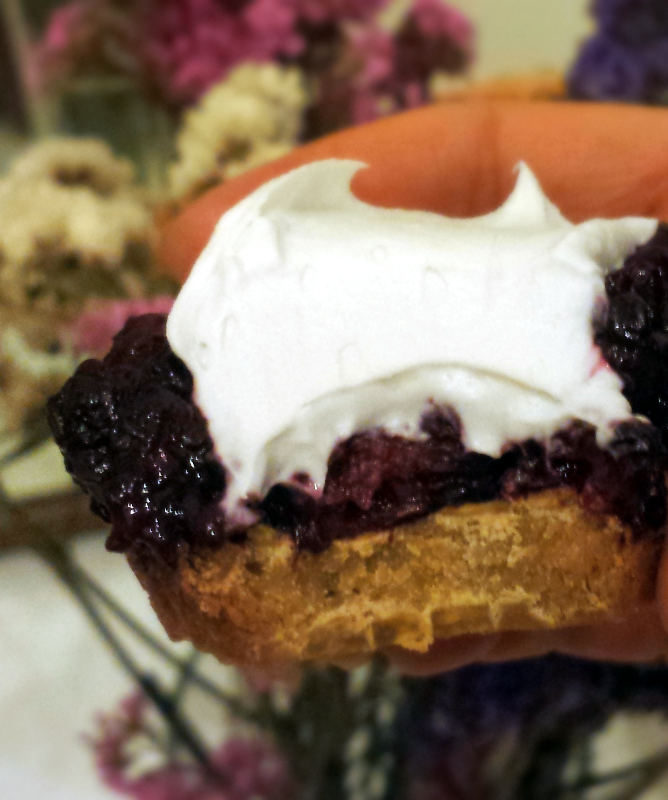 These paleo AIP mini blackberry tarts are ah-mazing with an emphasis on the "ah"… open your mouth real wide for these babies. I adapted the lovely Jessica Flanigan's recipe over at AIP Lifestyle. She makes incredible AIP-only recipes and takes consistently beautiful photos, unlike mine. Frankly, when I took this shot, it was rainy and I wanted to eat the dang dessert. Anyways, I decreased the sugar & time from her original recipe. Bonus.
So we went to the Blues Fest this weekend. Always the best people watching. Two highlights: a drunk adult male in a safari hat with a pouty baby face because we didn't want to be friends with him. Mostly because he was 2 sips of Budweiser away from vomiting on us. The second: My fiance forgot my fork at home (egregious, I know) and I couldn't eat my beef & sweet potatoes, so he yelled 'Does anybody have an extra fork!!!!?' in a crowd of thousands of drunk festival goers. A family nearby donated me their baby's two-prong tiny plastic fork, and I ate my meal with pride. Then wondered if I was swapping spit with a 3 month old. Anything for beef, right?
Paleo AIP Mini Blackberry Tarts (makes 5 mini tarts)
Recipe adapted from Autoimmune Paleo Lifestyle Strawberry-Lemon Tart
Recipe can be easily doubled for a larger gathering
12 oz organic blackberries
1 T honey
1 T lemon juice
1/8 tsp salt
1 tsp lemon zest
1/4 c + 1 T sweet potato flour 
1 T + 2 tsp tapioca starch
2 T + 2 tsp coconut oil, melted
Whipped coconut cream for serving
1. Bring washed blackberries, lemon juice, and coconut sugar to a boil over medium heat in a small sauce pan and let simmer, covered, for about 15 minutes until they thicken and become syrupy. Drain over a strainer to remove extra liquid and set aside.
2. Preheat oven to 350 degrees. Line a muffin pan with 5 silicon muffin liners.
3. Combine sweet potato flour, tapioca starch and salt in a mixing bowl.  Then, stir in lemon zest and melted coconut oil and mix well until fully combined and a moist (sorry) flour forms.Press 1 T evenly into the bottom of the silicon muffin liners and bake on middle rack for 8-9 minutes until lightly golden brown.
4. Top the baked crusts with the strained blackberries and place in freezer for 25 minutes to cool quickly or you can put in fridge for 1 hour, if you have time. Serve your paleo AIP mini blackberry tarts with whipped coconut cream.