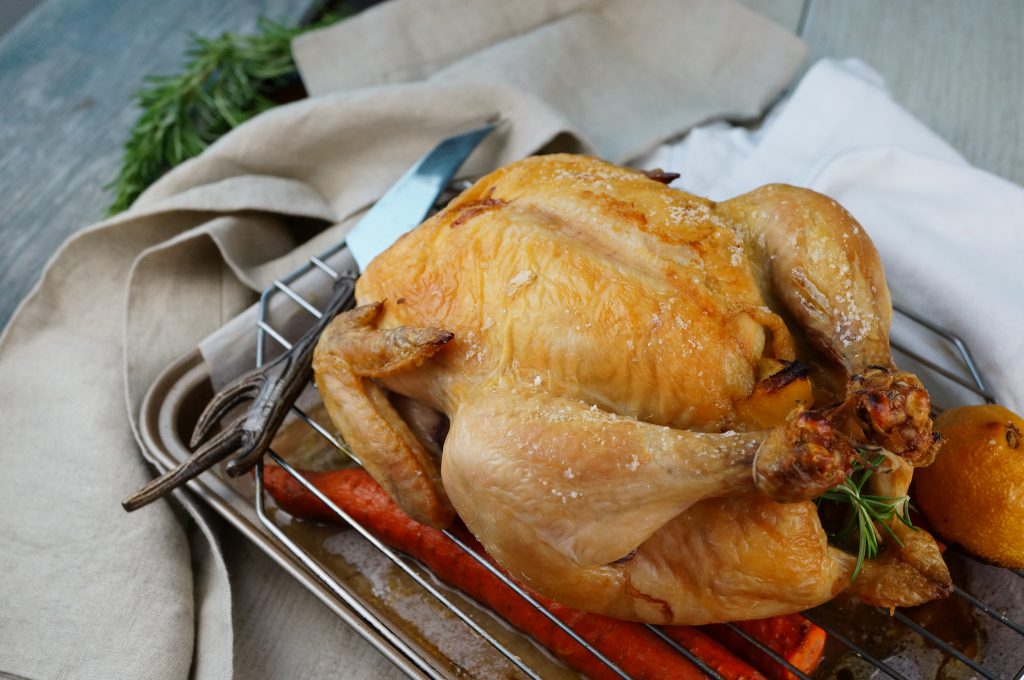 I was crossing my fingers that I would nail this recipe on the first attempt and I did. I think because I have such an emotional connection to this meal from childhood, my limbic system was able to guide my cooking intuition. I explained on Instagram recently that my family didn't do traditional Thanksgiving turkey & stuffing growing up, but a simple Lebanese roasted chicken stuffed with a spiced mixture of beef, rice, onion, pine nuts, cinnamon and allspice. I was hell-bent on making an AIP version of all my favorite "Lebanese Feast" (that's what my twin sister and I call it) dishes so I can enjoy them this year too. Last year, I couldn't eat ANY of the Christmas dinner, and I threw a temper tantrum full of tears and "Why can't  you guys realize that it sucks to have allergies, and that I deserve to eat this food too!!!!" So attractive. I still throw tantrums in my head, but I try not to execute them in front of other humans. That's how you do AIP responsibly.
It was really only after that outburst that my family recognized my need to have that emotional connection to food that they all still get to enjoy. Nobody was going to forgo the rice stuffing or tahini and chickpea hummus just for me though, so I said F it, I'm going to make my own AIP versions and they're going to be even better, starting with this dish! The parsnips add such a nice earthy taste, and you won't believe how awesome ground beef stuffing with a perfectly roasted chicken tastes! The skin will be crispy and the meat very juicy by using my method below. With a squeeze of roasted lemon on top and a heaping scoop of stuffing, you're going to shoot right out of any bland food rut you may have found yourself in lately (it happens to the best of us!)
So for Lebanese Christmas Feast this year, I'll be making both the traditional and AIP versions of these dishes
– Lebanese Chicken & Stuffing (recipe  below)
– AIP Hummus by Me
– AIP Pita by He Won't Know Its Paleo
– Whole Carrot Taboulleh from The Paleo Approach Cookbook
– AIP Kibbeh (recipe to be developed) <– this usually has gluten, pine nuts, and seed-based spices
– AIP Mammoul Balls (recipe to be developed) <– these are traditionally made of walnuts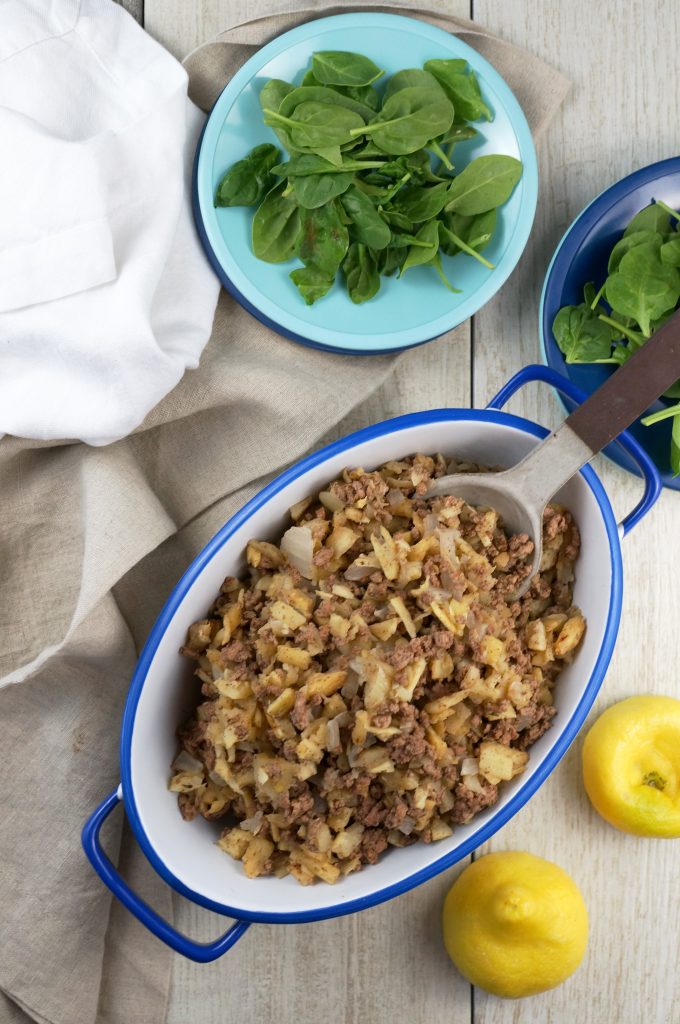 Lebanese Roast Chicken & Stuffing
Serves 4-5 | Ready in
Beef & Parsnip Rice Stuffing
1 lb lean grass-fed ground beef
1 small onion, peeled and diced
6 large parsnips, cut into chunks
1 tsp cinnamon, divided
1/16 tsp ground cloves
1/2 tsp sea salt
1 cup bone broth, divided
1 T lard
2 T dried mint
¼ tsp granulated garlic
2 tsp lemon juice
Optional: 1/4 cup toasted pine nuts (if tolerated – not AIP)
Process parsnips in food processor using the ricing disc, or alternatively pulse in a high powered blender until the parnsip is broken into rice-sized pieces.
Cook ground beef in a large, deep skillet until almost cooked through. Break up with a spoon into small pieces as it cooks. Turn heat off and stir in just ½ tsp cinnamon, cloves, and ¼ tsp sea salt. Set aside in a bowl.
Heat lard over medium heat in the same skillet. Add onions first and then the parsnips, cover, and let cook for 3 minutes until the bottom layer of onions begins to caramelize. Remove lid and stir well. Add just ½ cup bone broth to skillet. Cover with lid again and let steam cook for 3 more minutes until parsnips are cooked through but still tender. Remove pan from heat, stir in mint, remaining ½ tsp cinnamon, remaining ½ cup bone broth, remaining ¼ tsp sea salt, garlic, lemon juice,  the cooked ground beef, and pine nuts (if using). The broth should be absorbed in the meat and vegetables as you stir.
Lebanese Roast Chicken
1 whole pasture-raised chicken (about 3 lbs)
1 T lard
½ lemon
4 sprigs fresh oregano
4 sprigs fresh rosemary
½ tsp sea salt
Remove chicken from refrigerator 30 minutes prior to seasoning.
Preheat oven to 400 degrees. Set a small roasting rack on top of a large baking sheet. This allows the chicken to crisp up on the bottom too. No one likes soggy chicken skin.
Prepare the chicken for roasting: Dry the chicken well by patting with paper towels both on the outside and inside the cavity (very important!!). Rub lard on the chicken, coating evenly. Sprinkle the sea salt evenly over the whole chicken. Stuff the lemon and fresh herbs in the cavity and tie the legs together with kitchen string. You can also bring the wings closer to the breast and secure them tightly with another piece of string.
Cook the chicken: Roast on prepared rack and baking sheet for 55 minutes. Increasing cooking time by 15 minutes per lb (if chicken weighs more than 3 lbs) until breast internal temperature reads 170 degrees Fahrenheit. Turn the oven off and let the chicken rest in the oven for 10 minutes with the door closed. Remove the chicken from the oven and let rest on the countertop, covered, for 10 more minutes before slicing. After slicing, squeeze lemon all over chicken and sprinkle with more sea salt. Serve with warm Beef & Parsnip Stuffing and AIP Hummus!