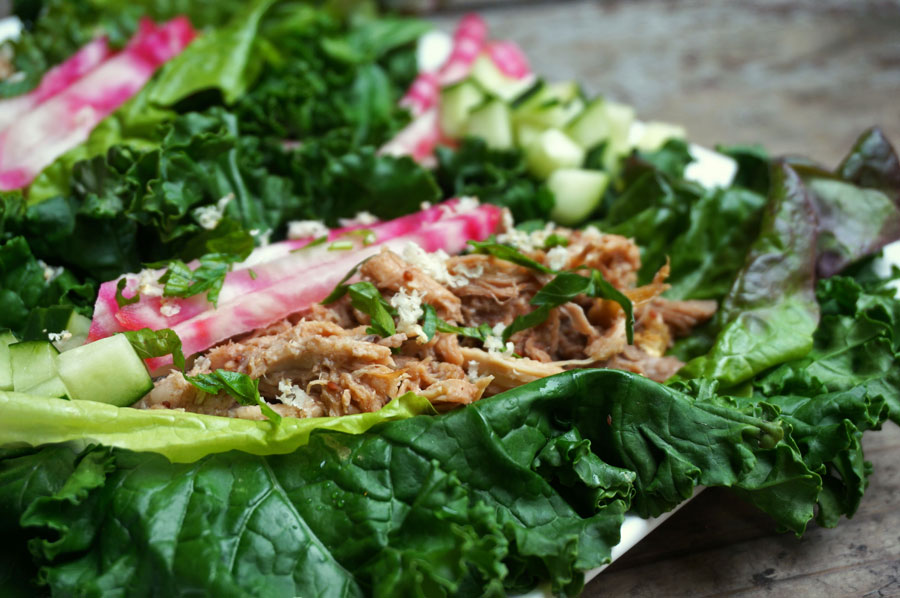 Pulled Pork cooked in cranberries for a tangy, sweet, unique Instant Pot main that will be on the table in a little over an hour!
I've been hitting a funky wall with recipe development lately. All of my creativity is being driven towards work right now… and finding creative ways to not go insane via lack of sleep.
Confession: I totally did some super cool Tae Bo moves in a closed bathroom stall the other day to wake me up. Don't ask me why I didn't stick with a standard wall sit or push-up, but my body just wanted a good ol' Billy Blanks full body workout.
I remember doing his VHS workout tapes in middle school and wondering why the women's abs looked like paper folded into an accordion during their flamboyant high knees. It's because they had somewhere between 3.5 and 4% body fat. Clearly they needed more pork in their life at the time.
I shared on IG this Sunday a picture of my Instant Pot full of broth and rice. Every Sunday night, I pressure cook a large bone-in pork roast with 1-2 cups of water, fresh garlic, dried oregano, and sea salt for about 80 minutes using the same technique as this recipe calls for.
Then I remove the pork, shred it as much as I can, return it to the Pot with 1 T apple cider vinegar for another 10-20 minutes of pressure cooking, and it absorbs all the brothy goodness that has been created via the pork bones. The shredded pork is always extra juicy and flavorful this way, and I'll toss in a variety of dried spices like cinnamon or cloves, fresh garlic, lime juice, or coconut aminos.
The bones don't get discarded. I eat the most crumbly pieces (and share with my dog Rafael) and then I save the rest of the bones for next week's batch to add extra flavor.
I use the leftover broth to cook a large pot of rice for my husband for the week, of which I have been sneaking small bowls in light of my recent reintroduction. I forgot how much I enjoy a few spoons of rice, and it finally doesn't mess with my digestion anymore!
I realize we've exited cranberry season by now, so feel free to use frozen cranberries in this recipe OR change it up and use another kind of fruit. Cherries? Blueberries? Plums? They would all be fantastic here!
Print Pressure Cooker Sweet & Tangy Pulled Pork
Author:

Prep Time:

:10

Cook Time:

1 hour 10 minutes

Total Time:

44 minute

Yield:

6

1

x

Cuisine:

Instant Pot
---
---
Scale
Ingredients
2

lbs boneless pork roast

1 tablespoon

fat of choice

12 oz

fresh or frozen cranberries

10 oz

bone broth of choice

2 tablespoon

chopped fresh herbs of choice

2 tablespoons

apple cider vinegar

1 tablespoon

honey

1/4 tsp

ground cinnamon

1/8 teaspoon

ground cloves
---
Instructions
Set your Instant Pot to the sauté function. Pour fat of choice into the bottom of the pot and spread it around with a spatula. Salt pork generously on all sides and place in hot oil. Sear on each side, uncovered, for 2 minutes until lightly browned.
Set the Instant Pot to the manual pressure cooker setting for 70 minutes. Add cranberries and broth to the bottom of pot, being sure not to "wash away" the salt off the pork. Sprinkle chopped herbs, apple cider vinegar and honey on top and close the lid. Cook undisturbed for full 70 minutes.
Release the pressure using the release valve, remove the pork to a cutting board and use two fork to shred the pork. Place back in the Instant Pot, sprinkle with a pinch more sea salt, and set the manual option for another 10 minutes. This allows the shredded pork to absorb the broth, increasing it's moisture and flavor.
Remove pork and cranberries from the liquid and place in a large serving dish. Toss with the cinnamon, garlic, and cloves and serve warm.
For Tacos: Serve in steamed kale, collard, or chard leaves with crispy sliced lettuce, avocado, cilantro, parsley, diced cucumber, jicama or beet matchsticks, coconut cream, and lime juice.
For Bowls: Serve with all the taco accoutrements over a bowl of cauliflower rice with guacamole & roasted zucchini.
---