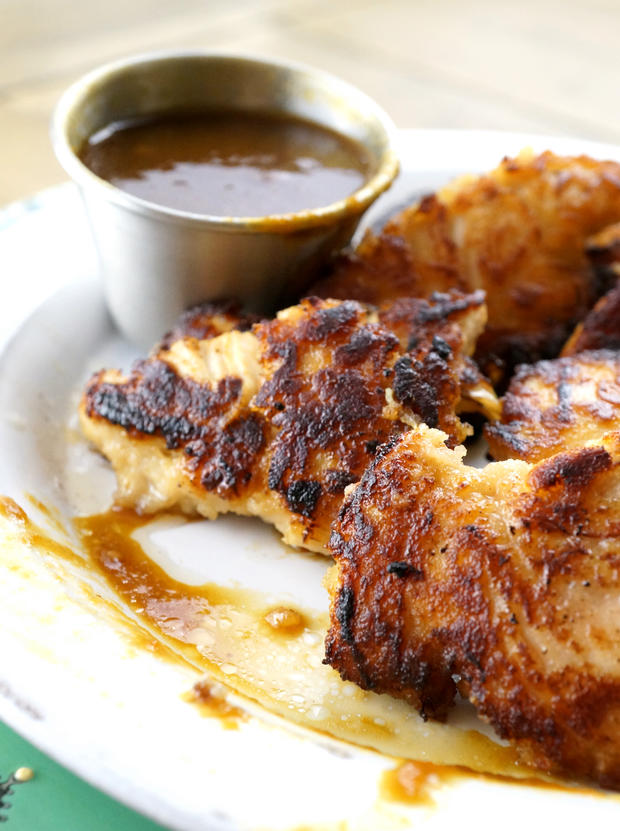 Yay for yummy, easy dinners that will please all palates involved! Lately I haven't been in the mood to make two dinners for us, one AIP for me and one Paleo for my husband. Instead, the dude eats what I can eat or he goes to bed hungry. New house rule. Abide or die. These Honey Chicken Dippers are definite palate pleasers, super easy to prepare, and freakin' delicious with that Pineapple Dipping Sauce from my new cookbook! I made a batch of that sauce yesterday and I have dipped homemade chicken sausages, pork sausages, these dippers, and roasted carrots in it! It is ADDICTING! Worst pun ever. It also takes 3 minutes from the time you decide you want to make the sauce to the time you decide to put it in your mouth.
This will be a short blog post because I need to get to the gym. Too many of my days are spent in front of my computer studying, working, or staring at my screensaver. I know you understand. Enjoy the food, my friends!
Honey Chicken Dippers
Serves 2 to 3 | Prep Time 5 minutes | Cook Time 8 minutes
1 pound boneless, skinless chicken tenders
2 tablespoons honey
3 tablespoons coconut flour
2 tablespoons arrowroot starch
1/2 teaspoon truffle salt or sea salt
1/4 teaspoon each garlic powder and onion powder
Coconut oil, for frying
1. In a medium bowl, toss chicken tenders with honey until evenly coated.
2. Whisk together the coconut flour, arrowroot, salt, garlic, and onion powder in a small bowl.
3. Toss with the chicken tenders until evenly coated.
4. Cover bottom of a large deep skillet with a thin layer of coconut oil. Heat over medium-high heat.
5. Add chicken tenders to pan, being sure not to overcrowd the pan. Cook on each side for 3 to 4 minutes until cooked through and each side is dark golden brown. Turn heat down to medium if the oil gets too hot and the honey starts to burn.
6. Serve with Pineapple Dipping Sauce (below)
Pineapple Dipping Sauce from The Healing Kitchen 
14-ounce can pineapple chunks in juices
1 tablespoon honey
1 tablespoons blackstrap molasses
1 teaspoon fish sauce
Drain pineapple and reserve 2 tablespoons pineapple juice. Add pineapple, 2 tablespoons juice, honey, molasses, and fish sauce to a blender. Blend on high speed until smooth.