Feeding littles one isn't always easy especially if your children have food allergies or intolerances. With these 12 gluten-free & kid-friendly breakfast recipes, you'll be armed with a rotation of nutritious options this school year!
The modern day lunchbox is changing. Food allergies in youth are on the rise. More and more doctors are also recommending healing diets like AIP, GAPS & SCD for children with gut issues, autism, and behavioral disorders. This means "gluten-free" and "dairy-free" are becoming just as ubiquitous as "nut-free" in schools.
I know feeding children with special dietary needs can be challenging. I also feel passionately that children thrive in inclusive environments. Starting in grade school or even earlier, children become aware of differences between them and their classmates. Even though your child may have dietary restrictions, they can still go to school with a breakfast that looks similar to their peers.
The below list includes nutritious and tasty AIP breakfast recipes that can be prepared in advance as a grab n' go option, quickly reheated in the morning or whipped up in 2 minutes or less (like the Instant Breakfast cereal!) I didn't include any smoothies on this list but of course those are great options for kids. I find the blend of pineapple, kale, cucumber, avocado and banana to be particularly kid friendly! You can even add some Vital Proteins Collagen for a boost of protein.
---
12 GLUTEN-FREE BREAKFASTS FOR YOU & THE KIDS
How amazing do these granola bars look!? I'm so impressed with Michelle from Unbound Wellness' recipes and her saliva-inducing photos. These bars feature her grain-free granola and lots of coconut butter full of fiber, healthy fat and no-sugar-added sweetness. Keep on ice if packing for future consumption since coconut butter and oil melt below 75 degrees. Want to add some extra protein to your kid's breakfast? I suggest these AIP-Friendly grab & go options: US Wellness Meats Turkey Jerky, Epic Bison, Bacon & Cranberry Bars and Wild Zora meat bars.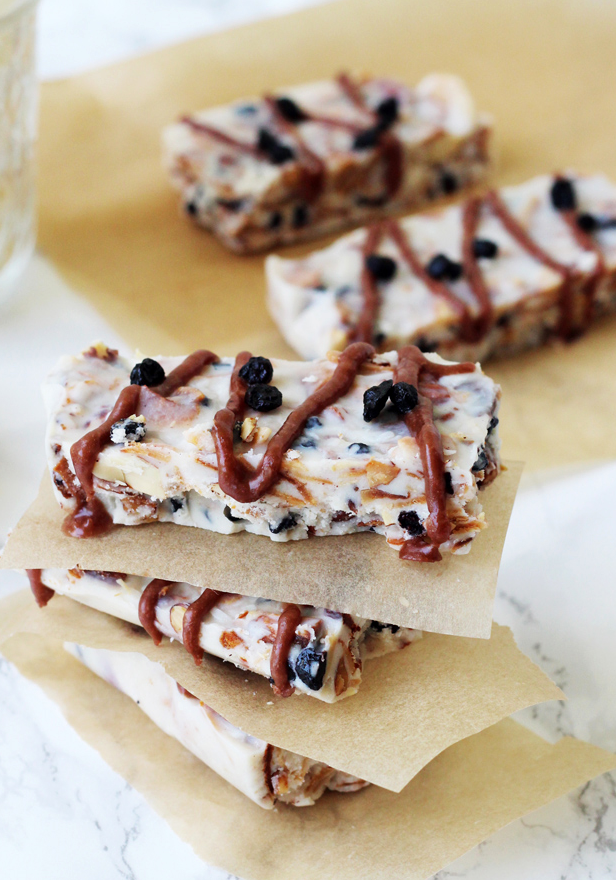 Photo by Michelle Hoover of Unbound Wellness
Energy bites without a date in sight by Mickey Trescott! These bites are made with dried apple rings and apricots – notable kid favorites. They have a little lemon and vanilla twist to keep kids' and adults' mouths happy though! Pack a few of these in a baggie for a quick bite or pair them with some bacon or sausage or a greens & fruit smoothie for a more well-rounded meal.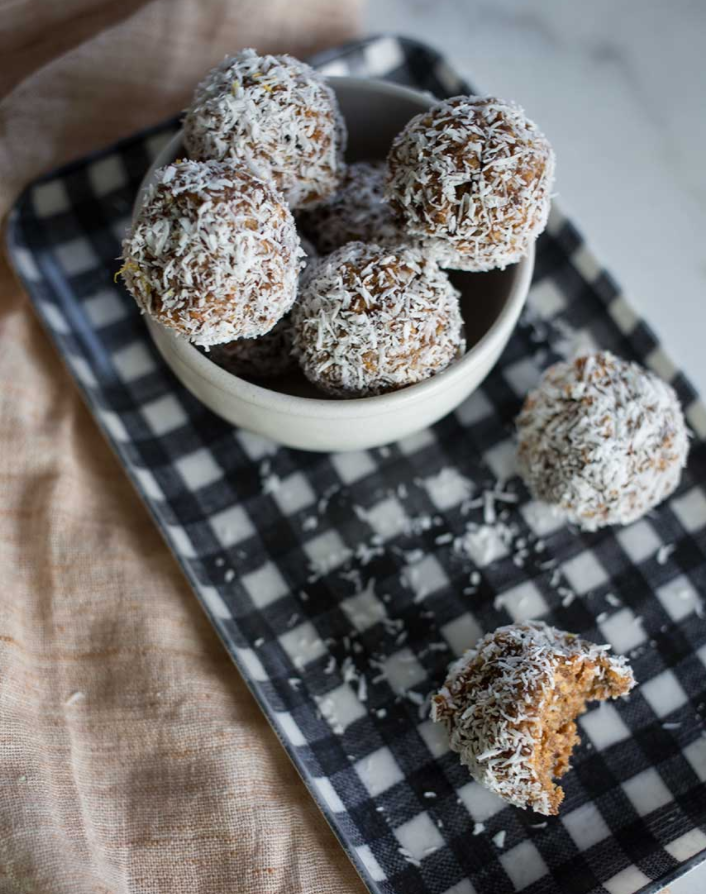 Photo by Mickey Trescott of Autoimmune Wellness
These gelatin-filled protein gummies from Living Loving Paleo have a nice dose of antioxidants from the blueberries to prime the immune system to fight all those back-to-school germs. Gummies should be kept refrigerated or on an ice pack for the best taste, but you can also serve them at room temperature. They'll be a bit less firm though out of the fridge. Does your kid have another favorite berry? You can replace the blueberries with his or her choice. Just avoid tropical fruits like mango, pineapple and papaya which have enzymes in them that prevent the gelatin from thickening.
No recipe required for this easy protein and fat-filled breakfast! Co-Yo is the absolute creamiest, thickest coconut yogurt on the market! They have some incredibly delicious fruit flavors but check the label first to see if your family is okay with some of the additives (not AIP). The plain flavor is AIP-Friendly! Check their store locator to find a retailer near you!
Photo credit: Co-Yo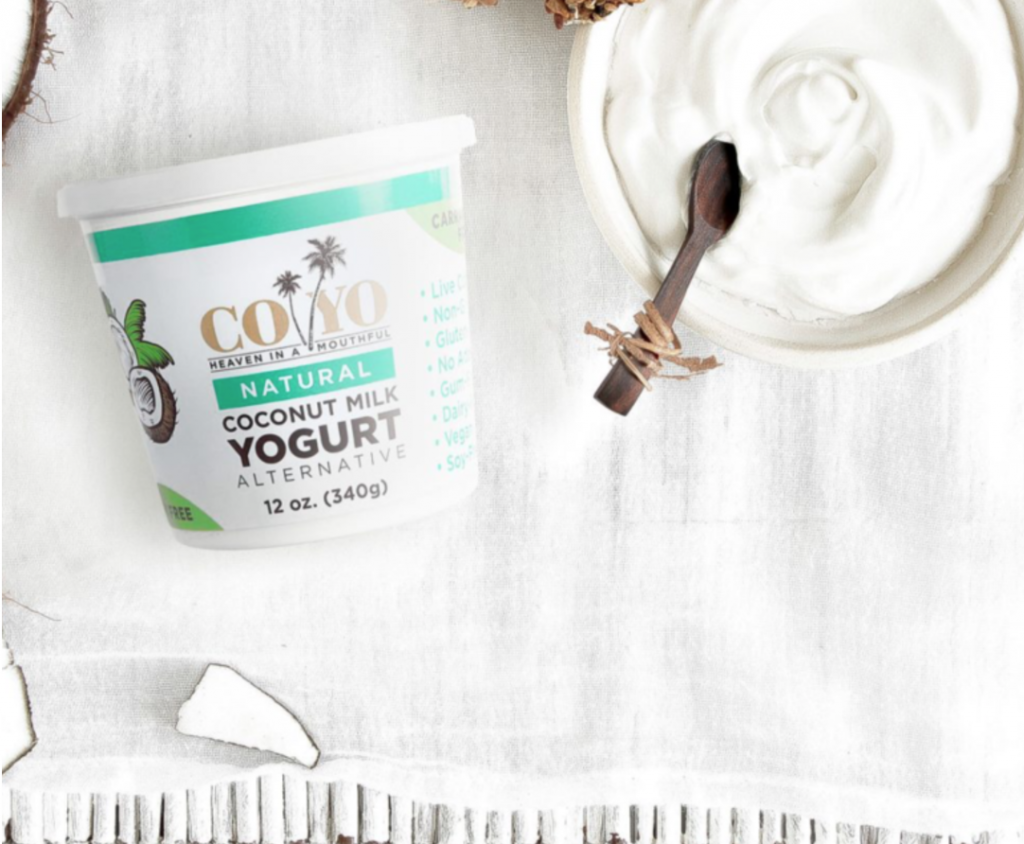 Sometimes making mini versions of foods is all it takes to make them desirable to children. Homemade ground meat sausages are also great options for kids with textural aversion to stringier meats. Michelle from Unbound Wellness has also managed to pack these little poppers with spinach, apple and sweet potato too plus bacon for extra flavor!
Do you have a hard gainer in your house? These coconut-filled and fueled bars will get their taste buds excited! Anne from Grassfed Salsa says these bars are so good they could almost be considered candy! But don't fear – you won't be sending your kid to school with a sugar-spiked nightmare breakfast. In fact, these are low in sugar, high in fiber, protein and fat. If you have a choosy eater on your hands, they may love this handheld breakfast bar!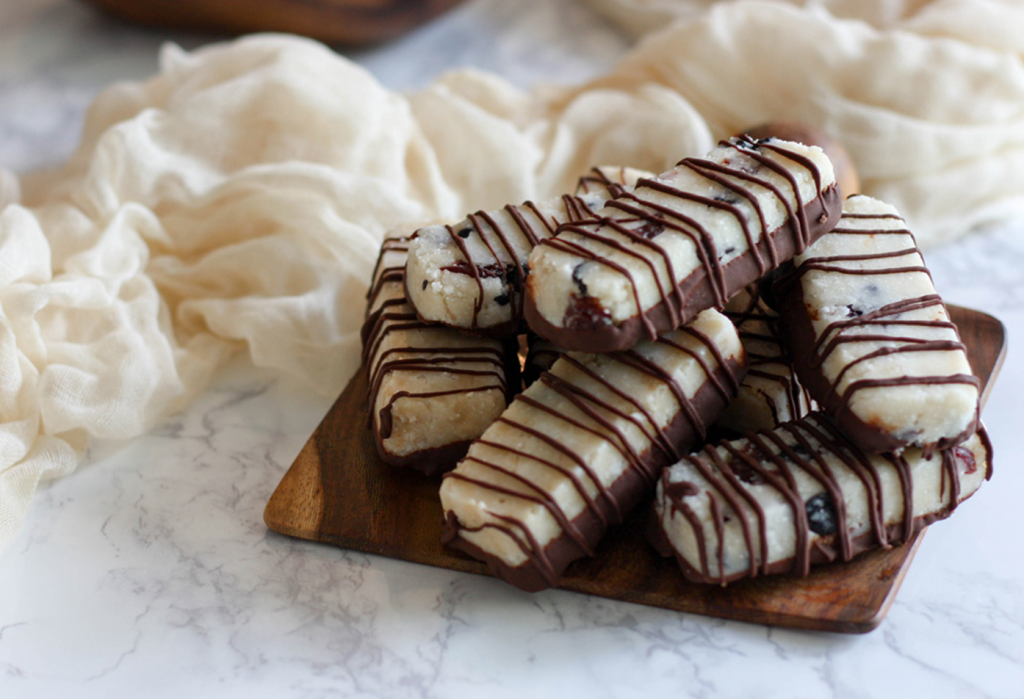 Photo by Grassfed Salsa
Have a crunchy-lover in your house!? You'll be in good company on Meatified's site! And they'll love Mission Heirloom's Yucan Crunch which you can lightly toast in your oven and top with an array of nutritious goodies. Rachael gives you 6 tasty ideas in her post including a nut-free take on PB & Honey! Think of your kid's favorite sandwich topping and stack away on these grain-free crunchy crackers! I lightly toast these in a 350 degree oven for a few minutes. If you really want to pack some nutrients in before 8 am, I highly recommend layering avocado, sauerkraut and bacon crumbles!
You can buy Yucan Crunch on Amazon now! Each pack comes with 4 HUGE crackers (think each the size of the biggest slice of pizza you've ever seen) so a 4-pack comes with a total of 16 crackers. It usually lasts me a couple months.
Meet the world's first AIP cereal… Instant Farina! Made from coconut, fibrous konjac root, tigernuts (not actual nuts, they're tubers) and cinnamon, it tastes super similar to Cracklin' Oat Bran, one of my childhood favorites! Just mix with water or coconut milk, let sit for 2 minutes and breakfast is on the table! Check out my recipe for Warm Banana "Oatmeal"! I find this cereal gets things moving, if you know what I mean, so it may be a good choice if you have a kiddo with chronic constipation. You can get Instant Farina on Amazon or Wild Mountain Paleo.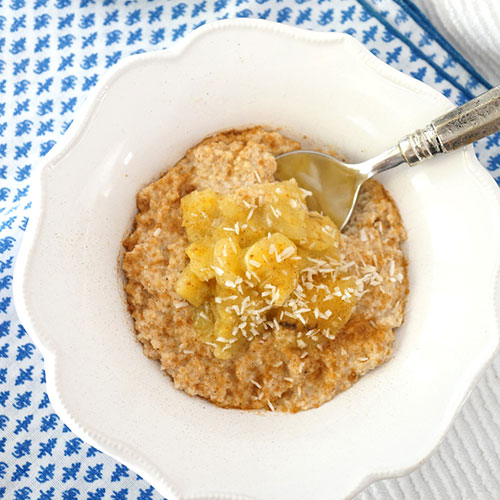 Warm Banana Cereal by Grazed & Enthused
Can't get your kids to eat breakfast at lunch or dinner? Maybe tried some veggie nuggets in the morning! Most kids are obsessed with at least one condiment, right? Serve these with their favorite homemade mayo, ketchup, mustard or avocado dip! It's an unconventional way to get veggies in your kids before 8 am, that's for sure. Another winner from Unbound Wellness!
Little crispy piles of sweet potato goodness by Downshiftology… these hashbrowns are cooked in healthy avocado oil (or ghee if tolerated) and seasoned with salt and pepper. Omit the pepper to keep it AIP compliant. Instead, sprinkle with ground cinnamon to add a little extra sweetness!
Oooh! AIP-compliant waffles by The Sweet Pea Blogger made without plantain or expensive cassava flour! These banana-bread style waffles are made with ripe bananas, coconut milk, coconut flour and tapioca. In my experience, you can substitute arrowroot for tapioca if that's what you have on hand. The baking soda-cream of tarter combination helps these rise and stay fluffy out of the iron.
These plantain-based Paleo waffles have absolutely no added sweetener or flour which makes them a very affordable breakfast option! You can find plantains at your store for usually $1 each (even Walmart carries them) whereas a bag of Paleo flour can cost up to $20 depending on the type! Instead of drizzling these with maple syrup, cook down some blueberries or strawberries in a small saucepan on the stove. This allows them to release their juices and thicken into a jam consistency. The perfect low-sugar gluten-free breakfast for your little waffle-lover.