I was reading a thread on an AIP Facebook group recently, and a few members complained about the annoyance of the recipe introduction on food blogs. My thought was, "What are we bloggers? Recipe pimps? Just give you what you want, quick and dirty, without any personality and for the cheap price of zero dollars!?" 
Blogging is a creative outlet for a lot of people. It's something we spend a lot of our free time doing to most often provide free content to a specific community of people. I started Grazed & Enthused two years ago so I could share flavorful, interesting protocol-compliant food as well as my passion for home cooking. But I also enjoy the two-way conversation I have started with so many of my readers both on the blog and via social media.
I've even made some good, real-life friends this way, and I know that my writing helps personify me before I meet online friends IRL. IRL = in real life. I just learned that last week. So without this platform, I would be a lot more lonely in this healing journey. If you have zero interest in everything but the recipe, scroll on. God forbid you move your finger swiftly over your mousepad for free delicious recipes for an additional three seconds. People complain so much on the internet, and I am complaining about those people. 
Now. About this recipe! I freakin' looooove skillets. They are so affordable and if you bulk them up with vegetables, you can really get a ton of bang for your buck. This skillet could easily serve you six times for roughly $25. That's two days worth of meals for the price of one meal out!
I was low on greens when I made this, but it would be really yummy and even more nutritious with finely shredded kale mixed in when you add the butternut squash. This Cuisinart 12-inch stainless steel skillet with a lid is my favorite skillet for making big hashes and such because you can get really nice browning on meat and vegetables, and it has nice high sides so you get minimal spill-over when tossing everything together.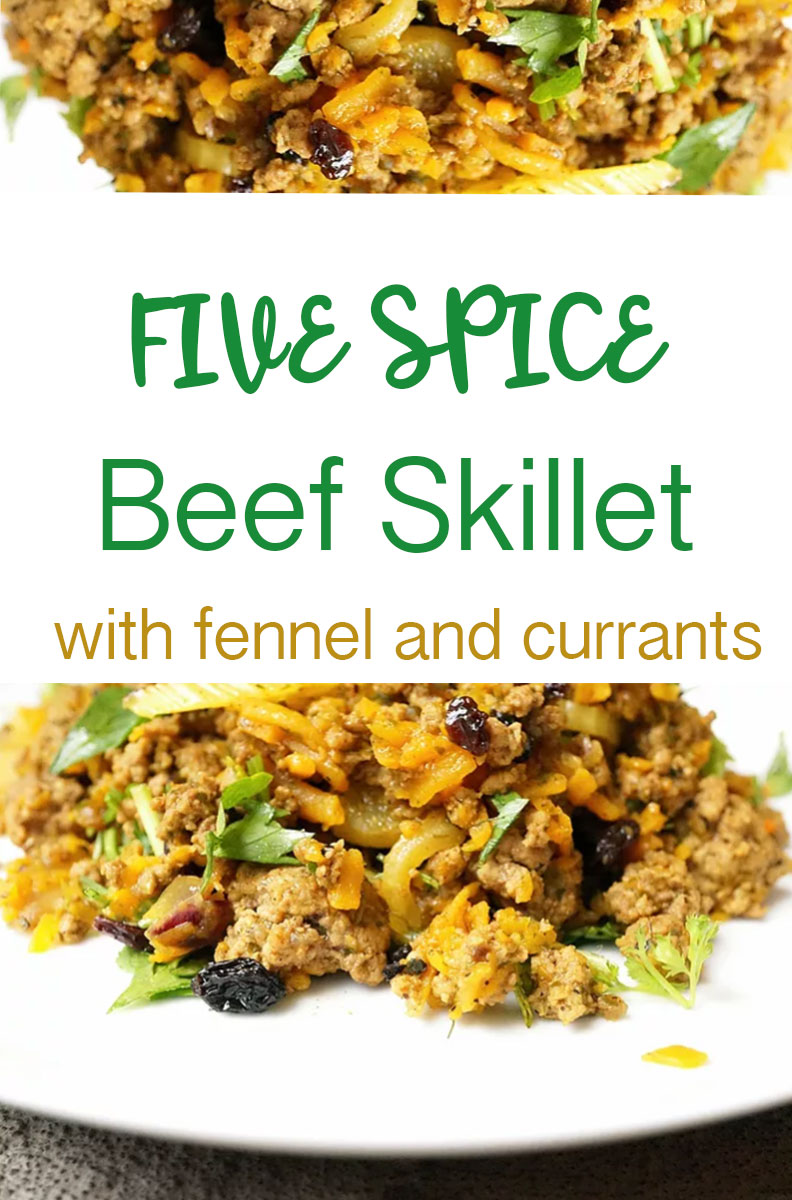 I based the five-spice seasoning off my recipe in The Healing Kitchen but modified it slightly to leave out the mace and changed up the ratios a bit. And added parsley. So it's pretty much not like it at all. There's a LOT of flavor going on in this recipe though, which isn't always apparent on the AIP. I have noticed that all of my Paleo cookbooks are filled with nightshades and it's because they add SO much flavor. Without them things can get a little bland. But not over here on G&E. I promise to never serve you anything bland. 
Enjoy this spiced nightshade-free skillet over cauliflower rice!
Print Five Spice Beef Skillet
Author:

Prep Time:

20 minutes

Cook Time:

15 minutes

Total Time:

35 minutes

Yield:

4

to

6

1

x
---
Scale
Ingredients
1 tablespoon

dried parsley

1 teaspoon

sea salt

1 1/2 teaspoon

ground ginger

1 teaspoon

ground cinnamon

1 teaspoon

ground turmeric

2

pounds grass fed ground beef

2 cups

thinly sliced fennel bulb

1 cup

roughly chopped red onion

4 cups

shredded butternut squash

1/2 cup

homemade beef or chicken broth

1/2 cup

dried currants

2 teaspoons

lemon juice
handful each of parsley and cilantro, chopped
---
Instructions
In a small bowl, mix together the parsley, sea salt, ginger, turmeric, and cinnamon.

In a large skillet, cook the ground beef over medium heat, breaking up with a spoon into crumbled pieces. Once cooked through, stir in half of the seasoning mixture. Transfer seasoned beef to a bowl and set aside.

Add fennel and red onion to the skillet and cook for 5 minutes until the fennel is crisp-tender. If ground beef did not render enough fat to cook the vegetables, add a tablespoon of your fat of choice.

Add butternut squash, remaining seasoning, and broth to the skillet. Turn heat to medium low and cover with a lid. Steam cook the vegetables for 2 minutes until the squash is tender.

Remove from the heat and stir in the ground beef, currants, lemon, herbs, and additional sea salt if desired.
---