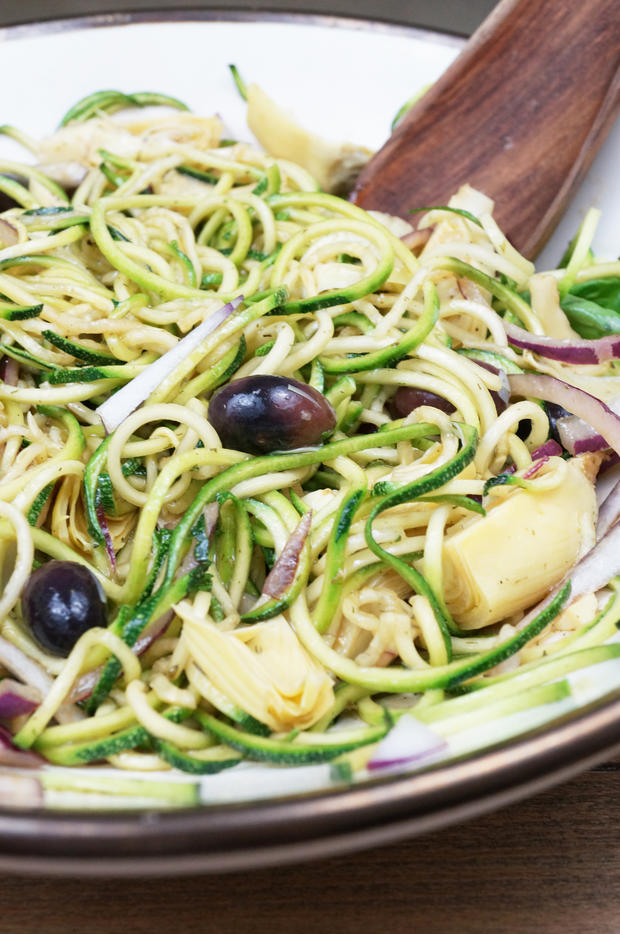 My best recipes always come from necessity: either something is rotting in my fridge and sorely needs my attention or I'm having a world-stopping craving for it and I need to find a way to make it at home immediately. I wasn't screaming from the balcony about how badly I needed deli pasta salad, but I did have a ginormous amount of leftover zucchini noodles that very getting sad and limpy in my fridge, a can of artichokes, olives, and a red onion. Obviously that screams Italian salad in the making, and gosh darn did I deliver in under 10 minutes!
This recipe also fits every dietary style, if you did not notice, which means it would be perfect for a potluck! I would double it fot a potluck of 10 to 12 people, as most people don't usually take full servings of every dish at those. Except when I bring my Bacon-Wrapped Cinnamon Apples – then people take 5 and hide them under the lettuce on their plate. I've seen it happen.
​​
Deli-Style Italian Pasta Salad
Serves 4 | Prep Time 10 minutes
4 cups packed raw zucchini noodles
14 oz can quartered artichoke hearts, drained
1/2 cup pitted black kalamata olives
1/2 cup quartered and sliced red onion
1/4 cup extra virgin olive oil
2 tablespoons balsamic vinegar
1/2 teaspoon dried oregano flakes
1/4 teaspoon dried dill
1/4 teaspoon fine sea salt
In a large bowl, toss together the first 4 ingredients. In a glass measuring cup, whisk together the remaining ingredients to make the dressing. Toss the dressing with the pasta salad until evenly coated. Serve immediately or store in the refrigerator for up to 2 days and serve cold. 
Make it a meal by adding diced cooked chicken, shredded rotisserie chicken, or diced ham to the salad for a boost of protein!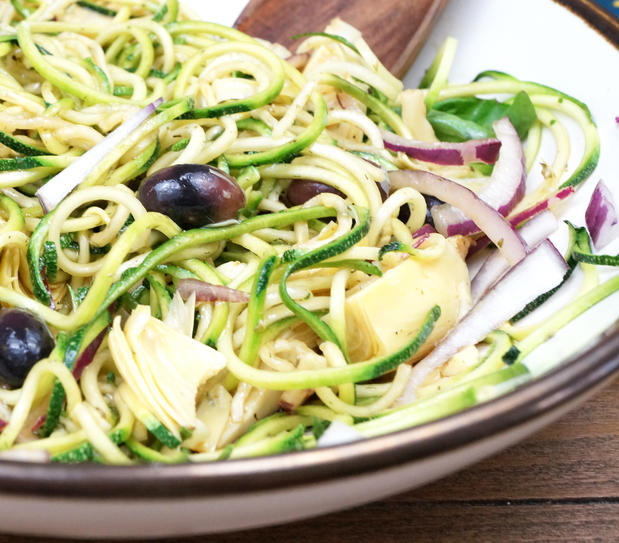 ​