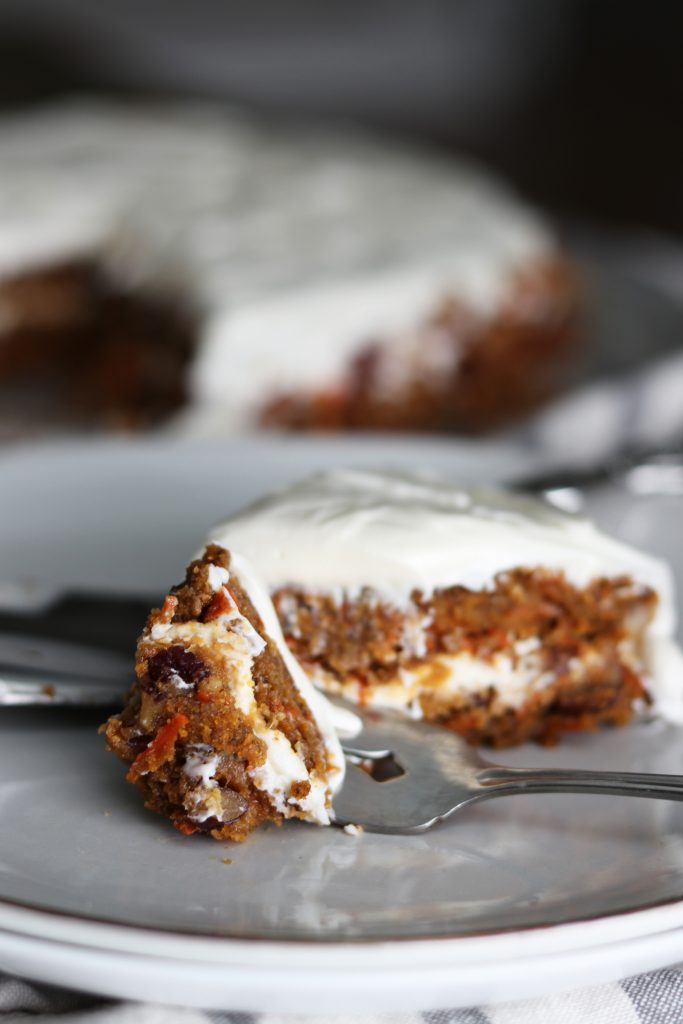 Paleo, grain-free, gluten-free, egg-free, dairy-free, and vegan Carrot Cake that isn't loaded down with sugar is a tall order! I didn't think I could do it but this healthy layered carrot cake with dairy-free cream cheese frosting is moist, dense and just the right amount of sweet!
It's been a solid 5 years since I've wanted to create my own Paleo allergy-friendly carrot cake. I'll be honest – I don't love baking (the rebellious nature of cooking – throwing ingredients together without a plan – is much more enticing to me) but I know a good baked good when I taste one. This grain-free, egg-free, dairy-free AND vegan carrot cake is a healthier take on a traditional classic, and it's much lower in sugar than other Paleo carrot cakes I've seen!
Carrot cake is one of my favorite baked goods, and I've been hard-pressed to find an easy enough egg-free recipe for our family. Five of my family members tried this one and they all enjoyed it – although my sweet tooth husband requested a sweeter frosting. Thankfully, you can easily up the sweetness level with cream cheese frosting by simply adding more corn-free powdered sugar (I love the Wholesome brand!)
What makes this carrot cake healthier?
Instead of processed grain flours, it is made with arrowroot starch (for density), coconut flour and almond flour. I find Paleo cakes made JUST with one flour lack the "glutinous" texture of gluten. The arrowroot keeps the cake moist as well since coconut flour can create a dry, crumbly baked good if not balanced. Almond flour by itself lacks the sponginess cake needs.
I didn't load this cake down with a ton of sugar like you'll see in a lot of "healthier" carrot cakes on the Internet that can contain 2 to 3 cups of powdered sugar in the frosting alone. No thank you! Sugar is sugar to my body and while coconut sugar and maple syrup certainly are as close to real food as you can get with sweetener, my palate and body are still sensitive to too much. You won't find this cake too saccharine or overwhelmingly sweet at all! Bonus: no tummy aches!
The cream cheese frosting is made with Kite Hill Almond Cream Cheese but you can use ANY dairy-free cream cheese I imagine.
I kept it at 2-ingredients to keep this recipe more budget friendly but
adding 1/4 cup palm shortening to the frosting would create a fluffier finish.

It's a tad thicker mouth feel than typical cream cheese frosting – that's my only "warning" when comparing this cake against its traditional counterpart. Adding the palm shortening will ameliorate this. 
What substitutions can I make?
Arrowroot: Tapioca starch can be substituted for the arrowroot starch, if needed. I can't say the same for cassava flour so proceed with caution there.
Nuts: Replace the almond flour with finely milled tigernut flour, if you are nut-free. Replace the pecans (I'll be sad though) with raisins.
Chia Seeds: You should be able to replace the chia seeds with 2 large eggs but I can't vouch for the texture. It'll likely be fluffier. I haven't tried it this way since two of our household members have egg allergies.
Almond Milk Cream Cheese: Use any vegan cream cheese (as long as you like the flavor). There are tons of cream cheese frosting recipes made from cashews on the Internet. I don't do well with cashews myself so I haven't tested any but they look delicious!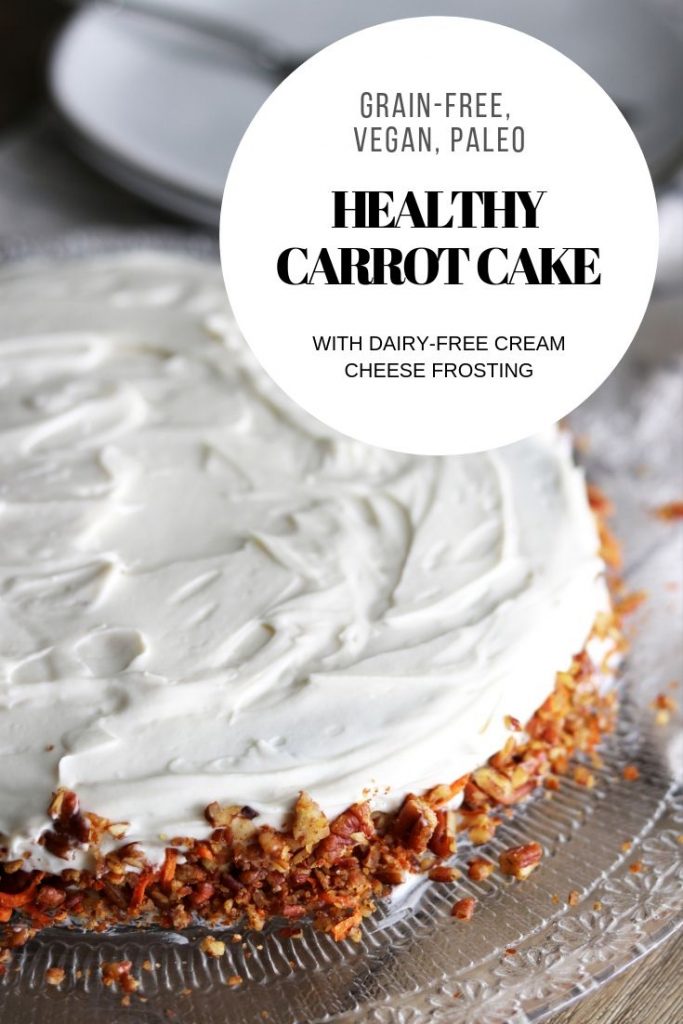 Enjoy this gluten-free carrot cake & let me know what you think in the comments!
Print Carrot Cake with Dairy-Free Cream Cheese Frosting
Author:

Prep Time:

40 min

Cook Time:

25 min

Total Time:

1 hour 5 minutes
---
Description
Moist, dense Paleo, gluten-free carrot cake with a nutty pecan flavor topped with a dairy-free 2-ingredient cream cheese frosting!
---
Scale
Ingredients
Dry ingredients:
100 g almond flour (1 cup)
120 g arrowroot flour (1 cup)
50 g coconut flour (1/2 cup)
½ cup coconut sugar
2 1/2 teaspoons Primal Palate Apple Pie Spice*
1 teaspoon baking powder
1 teaspoon baking soda
½ teaspoon fine salt
Wet ingredients:
½ cup pumpkin puree
¼ cup maple syrup
1/2 cup extra virgin olive oil or avocado oil
½ cup non-dairy milk (I use almond milk)
Chia egg (directions below)
Chia Egg
2 tablespoons chia seeds
½ cup hot water
Mix together in a small bowl. Let sit for 5-10 minutes until a thickened slurry forms before adding into batter as directed below.
2 cups grated carrots (I used my food processor)
1 cup chopped pecans
Dairy-Free Cream Cheese Frosting
2 8-ounce containers Kite Hill Almond Cream Cheese (plain) – or your dairy-free cream cheese of choice**
organic confectioner's sugar
---
Instructions
Bake your cakes:
Preheat oven to 350 degrees and arrange oven rack in center of oven. Prepare two 9-inch cake pans by tracing the bottoms on a sheet of parchment paper and cutting out the circle. Grease bottom and side of pans and lay parchment circle on the bottom.
In a large mixing bowl, whisk together all the dry ingredients until no lumps remain.
In a separate medium bowl, whisk together all the wet ingredients (including the chia egg prepared as directed above) until smooth. Stir into the dry ingredients.
Stir carrots and pecans into cake batter until evenly combined.
Bake for 25 minutes until firm to the touch. Let cool completely.
Make Your Frosting:
In a food processor, combine the dairy-free cream cheese with desired amount of organic confectioner's sugar. I used 1/4 cup but if you'd like a sweeter frosting, you may want to use more.
Frost Your Cakes
Turn one cooled cake onto your serving platter. Frost with 1/3 of the Cream Cheese Frosting.
Carefully turn second cake on top of the frosting. Frost the outside and sides of the cake evenly with the remaining 2/3 of the frosting.
---
Notes
* you can make your own spice mixture using 1 1/2 teaspoons ground cinnamon, 1/2 teaspoon ground ginger and 1/2 teaspoon ground nutmeg. If you like a "spicier" cake, feel free to up the measurements.
** For a thicker frosted cake, use 3 containers of Kite Hill.
** I've tried this with Miyoko's vegan cream cheese made from cashews – it's much tangier but works as well!