This recipe was inspired by the latest AIP product to hit my kitchen, and I've honestly never been so impressed at the quality of a spice line before! Primal Palate, the Paleo power duo, have recently launched their newest product line of high quality dried spices and herbs. After giving the Everyday AIP Pack a good go, I can't imagine a more fresh, flavorful, or vibrant than these spice blends, dried herbs, and sea salts. They have managed to create 3 fantastic spice blends without the use of nightshades, black pepper, or seed-based spices that can turn any Ho-Hum meal into something freakin' fabulous. 

You may have heard of tostones, but have you ever heard of BREAKFAST TOSTONES? Twice fried and smashed green plantains seasoned with a delicious breakfast-inspired seasoning mix and served with Fried Garlic Guacamole. Brunch food – elevated – but somehow still Paleo, Gluten-Free and AIP-Friendly!
Tonight I got home really late from work and *almost* went to Whole Foods to pick us up dinner from the salad bar instead of cooking. Then I remembered I have this spice pack at home that had the potential to turn my empty fridge into a real meal with just a shake. We ended up having crispy chicken thighs seasoned with the Garlic & Herb blend and roasted cauliflower seasoned with Super Gyro.
My husband was like, "What is ON this chicken? It's so good!" and "I actually like this cauliflower – how did you make it taste this way!?" He hates cauliflower and Super Gyro made him a believer. I thank Hayley & Bill for that. Two nights ago I made homemade gyro meat using Super Gyro too, and the smell & taste brought me back to the time I visited Athens & Turkey and ate gyros off the street. Well, not off the street physically. I purchased them from a street vendor. You know what I mean. You guys have to check out the AIP pack below – it's going to seriously change how you do breakfast, lunch, and dinner and save you so much time from having to develop flavor in a dish on your own. Magic.
Super Gyro

Himalayan pink salt, Oregano, Marjoram, Thyme, Garlic

Garlic & Herb

Garlic, Himalayan pink salt, Onion, Oregano, Thyme, Sage

Breakfast Blend

(which I used in this recipe in a really interesting way – to top tostones!)

Himalayan pink salt, Garlic, Onion, Oregano, Cinnamon, Turmeric, Sage
Primal Palate Spices are Certified USDA Organic, Gluten-Free, Kosher, Non-Gmo, Non-Irradiated, Whole30-Approved and guaranted to be the freshest spices you can get! Get in on the action now and check out all of their other packs including the Savory Pack, Broth & Sauces Pack, & Signature Blends!

BEST PARTY FOOD! I make this recipe every time I host a gathering because it is such a crowd pleaser!!
Breakfast Tostones with Fried Garlic Guacamole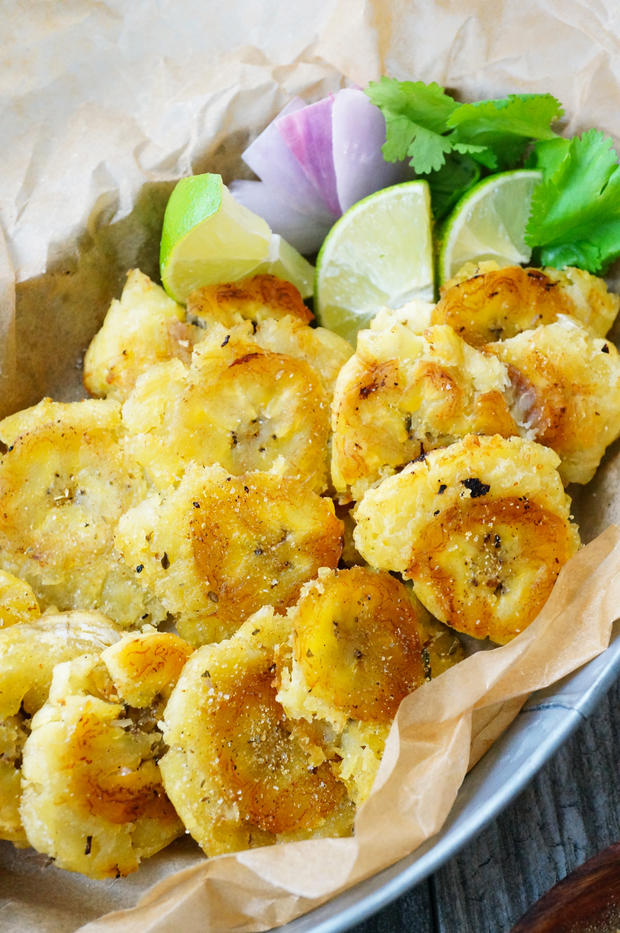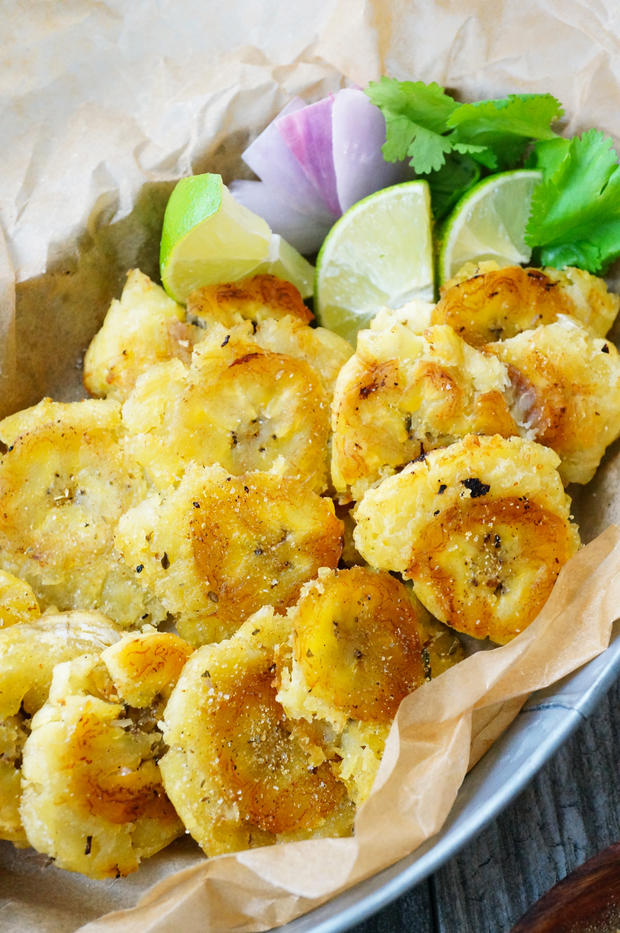 Ingredients
Fried Garlic Guacamole:
1 large Haas avocado, pitted
2 tablespoons minced shallot
2 tablespoons chopped cilantro
1 1/2 tablespoons lime juice
1/4 teaspoon garlic powder
1/4 teaspoon sea salt
2 large garlic cloves or 4 medium garlic cloves
2 tablespoons bacon fat or olive oil
Breakfast Tostones:
2 green plantains (yellow will not work)
2 tablespoons bacon fat or olive oil
1/2 to 3/4 teaspoon Primal Palate AIP Breakfast Blend
pinch sea salt
Directions
For the Guacamole
Peel and pit avocado and place in a medium bowl. Mash with a fork. Stir in shallot, cilantro, lime, garlic powder, and sea salt. Taste and adjust any of the seasonings to your preference.

In a large deep skillet, heat the bacon fat or olive oil over medium-high heat.

Peel the garlic cloves and smash with the flat side of a large knife. Try to ensure each clove stays in one piece. Place smashed garlic cloves in the olive oil and fry on each side until light golden brown, about 60 to 90 seconds per side. Remove garlic to a cutting board before it reach a deep golden brown, which indicates it has turned bitter from over-frying. Keep the bacon fat or olive oil in the skillet because you will use it to fry the tostones!

Chop the fried garlic and stir into your guacamole. Set aside.
For the Tostones
Carefully score the plantain peel from tip to tip with a sharp knife ensuring you do not slice the plantain. Use your fingers to remove the plantain peel. Slice plantain widthwise into 1-inch coin.

Reheat the leftover bacon fat or olive oil that is remaining in your skillet from making the Fried Garlic Guacamole over medium-high heat.

Fry plantain coins on each side until golden brown, about 2 to 3 minutes per side. Quickly remove the plantain to a large cutting board for smashing.

Use the bottom of a heavy, flat-bottomed glass to smash the plantains into ¼-inch thick tostones.

Add the remaining 2 tablespoons fat to the skillet.

In two batches, fry tostones on each side until crispy, about 1 minute per side. Quickly transfer to a serving platter and sprinkle immediately with ¼ teaspoon Breakfast Blend per batch. Sprinkle with sea salt and serve crispy & warm with the guacamole!