I love beverages that don't include the word water unless the words "sparkling mineral" precede it. I drink water all day long – over 100 ounces a day because I'm a thirsty turtle (that's what I call my dog when he goes nutso drinking water). I have to leave him for 5 days tomorrow and I'm depressed about it. Anytime I have to travel without my husband and my dog (more often than I like), I get really sad several days leading up to it. They're my boys! I need my boys! Who else is going to hug me and slobber all over me? 
That was a tangent. So sometimes you just need to drink something besides water or tea or Topo Chico. During one of our cooler winter days I developed this recipe for eggless egg nog on a whim. The first time I tried it, I didn't toast the coconut flakes and the flavor fell flat. I've noticed this with other AIP & Paleo egg nog recipes. Like they're just sort of "blah". When you're missing that spicy rum component, you gotta get creative to make up for flavor loss. By toasting the coconut, you get something reminiscent of that caramel rum flavor without the potential for bad life choices. I promise this beverage will not cause you to make out with your ex-boyfriend at tomorrow night's Christmas party. 
Do you like my red mini tree skirt? It's from Target. Do you like my wire branch & bell garland? It's from Target. Do you like my mug? It's from Target. So is my book shelf, office storage, all of my bathing suits, and all the cute items in my bedroom. Basically Target owns me. Or do I own them? 
That question remains to be answered. Until then, you may as well enjoy this super delicious, fairly nutritious, thick and creamy AIP egg nog that will not make your taste buds go "I'm sorry, what is this thick coconut smoothie with no other distinguishable flavors?"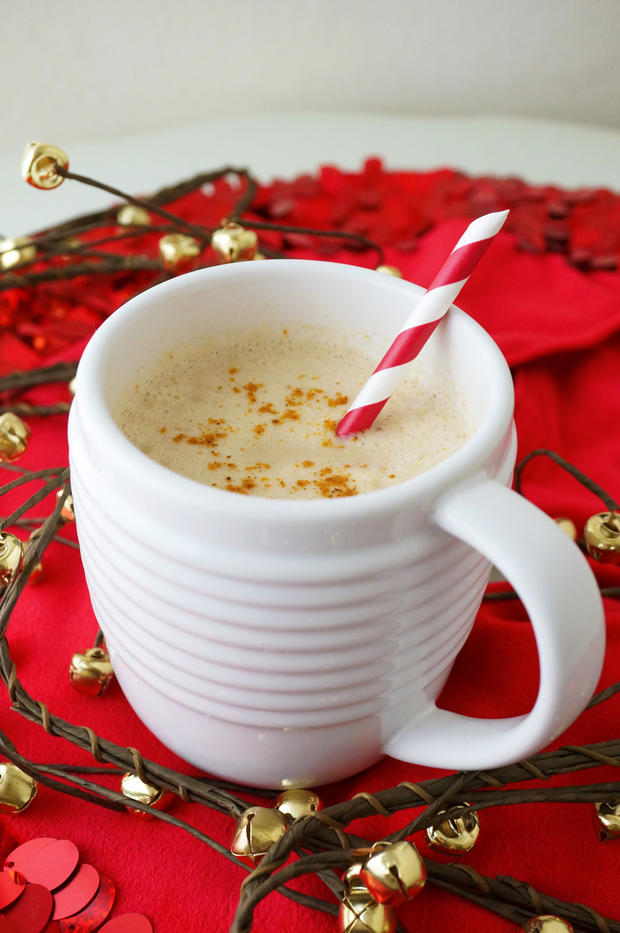 AIP Toasted Coconut "Egg"-Nog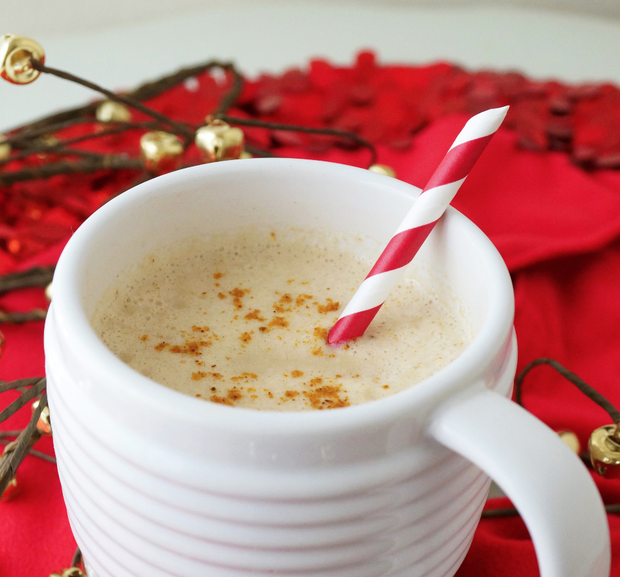 Serves 2 to 3 | Prep Time 20 minutes  
Cook Time 10 minutes | Total Time 20 minutes
2 cups unsweetened shredded or flaked coconut
1 tablespoon coconut sugar
3 cups just-boiled water
2/3 heaping cup peeled and diced white sweet potatoe
2 tablespoons honey or maple syrup
½ teaspoon ground mace
¼ teaspoon ground cinnamon
pinch sea salt
Preheat oven to 350 degrees and arrange an oven rack in the center of the oven. Spread coconut out on rimmed baking sheet in a thin even layer. Sprinkle with coconut sugar. Toast for 5 to 7 minutes, watching carefully so the coconut does not burn, until it is a light golden brown. You may stir halfway through cooking time.

Transfer toasted coconut to a high-powered blender with the just-boiled water. If you do not have a high-powered blender like a Vitamix of Blendtec, let the water cool a few minutes to prevent the lid from releasing while blending. Blend on high speed for 60 seconds.

Strain the coconut milk over the sink by pouring into a fine mesh strainer that has been placed over a glass container. Use a spatula to press all liquid out of the coconut. You should end up with 3 cups coconut milk.

Transfer coconut milk and remaining ingredients to a medium saucepan. Bring to a boil over medium-high heat, reduce to medium heat, and stir constantly for several minutes until the potatoes are tender. Remove from heat and let cool for 5 minutes.

Transfer contents back to the blender and puree on high speed for 30 seconds until smooth. Serve warm sprinkled with mace or refrigerate until chilled for traditional nog.