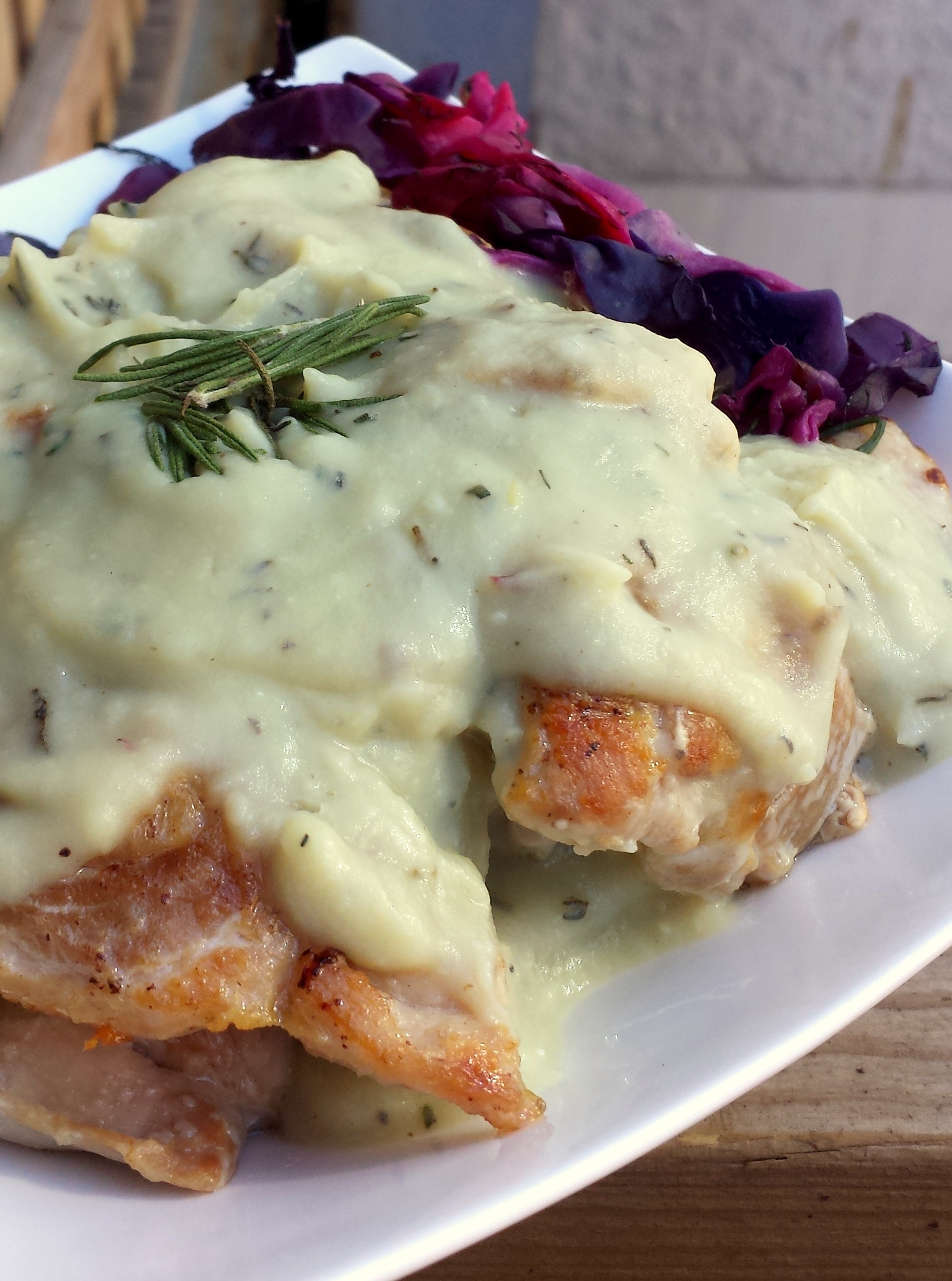 I am so not a comfort food girl, but dang do I like me some gravy. Well, AIP gravy. I have actually never had "white gravy" in my life, so I had to consult my fiance on how it's supposed to taste. He approved, so here we are staring at a picture of bacon-seared chicken thigh and gravy made out of sweet potatoes, bacon fat, broth, and fresh herbs. Yeah all of those things are really awesome on their own, but make for an Anchorman-like team when combined. As in they all complement each other and will make you giddy and gleeful. Lamp. I love lamp.
Ignore me if you don't know what I'm talking about and scoot down to the recipe. I'm sure you do that anyway. Ah, so today I had to take some "professional" looking photos for an upcoming guest post I'm doing on another person's website. I felt like a HUGE tool posing in the middle of a public park. I realized two things 1) I cannot and will not fake a smile (I usually think of something funny, so it makes me look more natural) and 2) My double-jointed arms look downright creepy and contorted.
AIP Chicken n' Gravy
Serves 4-6 | Ready in 30 minutes
1 ½ lb boneless skinless chicken thighs
1 ½ c peeled and diced white sweet potato
4 slices thick-cut AIP-compliant uncured bacon
1 T chopped fresh herbs (I like a mix of thyme, rosemary, and sage)
Salt to taste
½ cup warm broth or water
Time Saving Tip:  Steam the sweet potatoes at the same time as Steps 2 and 3 to save time!
Place sweet potatoes in a steamer basket set over a pot of boiling water. Cover and let cook for 15 minutes until easily pierced with a fork. Add sweet potatoes, herbs, and a pinch of salt to the blender.
In a large saucepan, cook bacon on medium heat until crispy. Pour 4 T of bacon fat in blender/food processor. Leave the remaining bacon fat in the pan to cook the chicken thigh.
Generously salt both sides of the chicken thighs and place in pan with bacon fat. Cook over medium-high heat for 5 minutes each side until cooked through and golden.
Pour ¼ c warm broth or water in blender and puree. Add remaining ¼ cup and blend until pureed into pour-able, smooth gravy. Gravy thickness can be adjusted by adding more broth/water for thinner gravy, but I suggest adding a pinch more salt if you dilute it anymore.
Serve chicken thighs with gravy and a sprinkle of additional herbs for presentation.