I can only think of one thing that American women like more than pumpkin – Channing Tatum's bum. It's sort of shaped like a pumpkin, so I guess this makes sense. This was a fun recipe to make, and it may look intimidating because of the siwrly bits and roll-y part, but if I can do it – the woman who managed to give herself second degree burns with splattering soup, drop butter all over the floor, and flip her cutting board over on top of the butter in a matter of 3 minutes on Sunday night- then you can do it. Definitely make the Cinnamon Molasses Spread to go with the rolls because it provides a light sweetness (since there is no sweetener in the recipe), and more complex flavor. It always bugs me when we go to nice restaurants with well-composed plates with multiple components and my husband eats them all individually. I always softly scream (since we are in public) "That is NOT what the chef intended!! Honor his vision!!"For anyone with a tapioca sensitivity, you can sub the 2 T for arrowroot flour. These taste even better the second day once the flavors have melded, so try to save one for tomorrow.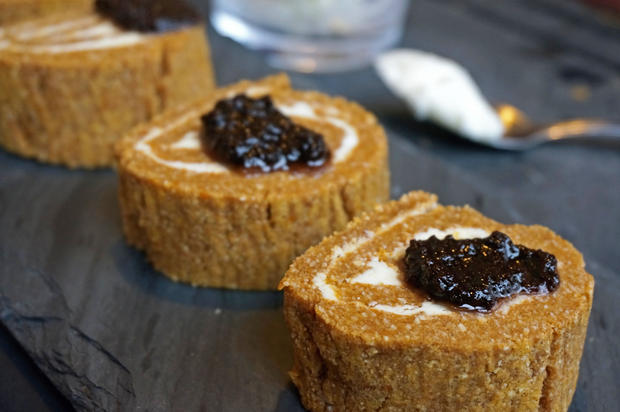 Pumpkin Roll with Cinnamon Molasses SpreadMakes 6-8 servings |Ready in 1 hour 10 minutesPumpkin Cake1 15 oz can organic pumpkin1 T palm shortening, room temperature1/3 cup + 2 T coconut flour2 T tapioca starch2 tsp cinnamon1 tsp ground ginger3/4 tsp ground mace1 tsp baking sodaFrosting½ cup palm shortening2 T orange juice1/2 tsp ground ginger1 vanilla bean, seeds only* (For AIP: Omit the vanilla bean!)Cinnamon Molasses Spread1 T blackstrap molasses1 T coconut oil, melted1 T coconut butter, melted½ tsp cinnamon
For Cake:

Preheat oven to 350 degrees. Line a baking sheet with parchment paper. Whisk together all dry ingredients in a bowl. Add pumpkin and palm shortening to a larger bowl and mix well. Then stir in dry ingredients until evenly mixed.

Place dough onto parchment and using your hands form a rectangle 10 inches long and 7 inches wide, about 1/8 inch thick. Bake for 18 minutes until cooked through. Remove from oven and let cool by placing in refrigerator for 30 minutes. This is an important step to ensure the success of rolling the cake.

For Frosting:

While cake is cooling, whip Frosting ingredients together using a hand mixer in a deep bowl (to prevent splattering) and set aside.

For Spread:

In a separate small bowl, stir Cinnamon Molasses Spread ingredients together. Set aside.

Assemble Roll:

Once cake has cooled, spread frosting evenly over the entire surface using the back of a spoon. It will be a fairly thin layer.

Starting at the short end closest to you, use the parchment paper to assist you in rolling the cake carefully until you reach the other side. Place seam side down. Note: If the cake cracks or breaks at any point, it should be easy to re-seal it with your fingers, since the cake is dense and moist.

Slice into 6-8 pieces and serve with a dollop of Cinnamon Molasses Spread. Served best at room temperature or cold. Exceptionally tasty the next day once the flavors have had time to incorporate. Store covered in the refrigerator for 3-4 days.