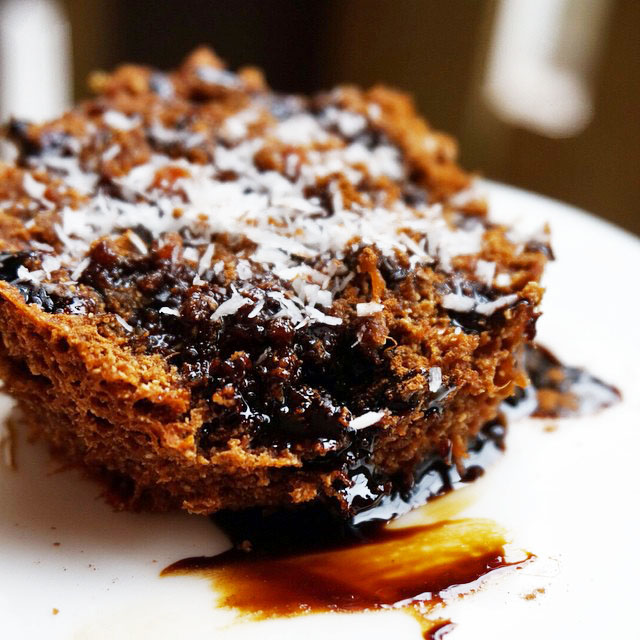 Ugh this mug cake is a game changer. I don't think any diet/lifestyle could take me away from my occasional sweet. They just make me happy, and I think they can belong on your health continuum. For some people, that may mean just at Christmas or Thanksgiving. For others, that may mean a once weekly batch of coconut milk ice cream sweetened with just a tablespoon of raw honey. The Paleo Approach recommends enjoying them seldomly,but in an otherwise high nutrient diet, I find I can have a sugar-free or low-sugar treat 2-3 times a week without reprecussions – one portion that is. It usually is just 1 Medjool date with a tsp of coconut oil and cinnamon, or a small bowl of raisins and coconut flakes. Portion control is so boring.
My mom's in town for 4 days – she is the BEST. I've been missing her so much lately and cannot wait to be closer to Florida this winter. Next spring I'll be spending 3 months there for work too, which coincides perfectly with my sister's wedding! Signing myself up to get bossed around. So selfless.
I bought the Instant Pot on Amazon, and I used it for the first time tonight. I made gelatin-rich bone broth in 40 minutes flat, and it is the best tasting, richest broth to date. I jumpted up & down when I finally was able to open the lid! I am a little terrified of it though – anything with warning stickers all over it freaks me out. But this broth is worth a burned hand or two. Just a casual second degree burn, nothing too serious.
Enjoy this mug cake… it makes me happy and I think it will do the same for you too! Or angry at me because you're going to want to mug cake every dang day until you cannot mug cake anymore.
AIP Sticky Sweet Potato Mug Cake
Makes 1 mug cake | Ready in 6 minutes
1/3 cup mashed sweet potato
1 T gelatin
1 T room temperature water
2 T hot or boiling water*
1 tsp blackstrap molasses
2 T coconut flour
1 T arrowroot flour
½ tsp cinnamon
¼ tsp ginger
1/8 tsp baking soda
Pinch sea salt
½ T melted coconut oil
For serving: ½ tsp molasses, 1 tsp shredded coconut
*I steam my sweet potato prior to mashing it then reserve 2 T of the hot water. It adds extra sweetness!
In a large coffee mug, stir the gelatin and room temperature water together. Add the hot/boiling water and whisk until smooth. Stir in sweet potato and molasses until incorporated.
In a small bowl, whisk together all dry ingredients. Add to the wet ingredients in the mug and stir to combine. Now stir in the melted coconut oil.
Microwave on high for 4 minutes until the cake is cooked through but still moist. You may want to cook it for 3 minutes, then in 20 second increments to prevent overcooking since all microwaves are different. Serve drizzled with molasses and sprinkled with coconut!