Yum. This blog post could end here, but I'll put in more effort than that. I've been playing around with Otto's Cassava Flour – a Paleo and AIP-friendly flour that has been blowing up all over the Paleo Instagram blogging scene. Our other AIP flour friend, Tapioca, is also made from the same root vegetable but processed in a different way. And they behave and taste in completely different ways too. I find that my body tolerates the cassava flour much better than tapioca starch for some reason. Tapioca usually leaves me feeling bloated and a little groggy, but I haven't experienced that with Otto's at all!
Otto's Cassava Flour can be used 1:1 as a wheat flour replacement, which is fantastic if you've been wanting to Paleo-ify some traditional family recipes. It absorbs more moisture than wheat or nut/seed flours I noticed, but that can be easily managed by adding more liquid to the recipe. I cannot wait to keep experimenting with it – it is SO much easier to bake with than any other AIP or Paleo flour that I've tried!
This AIP-friendly no-sugar pie crust is made entirely with the cassava flour. It's light and delicate but sturdy too – almost like a pie crust-shortbread hybrid. You may be able to achieve a flakier crust with coconut oil, but I used palm shortening. I included an option for coconut oil and a coconut-free version in the instructions below. The crust contrasts beautifully with a silky smooth and fluffy "chocolate" cream filling made out of pureed white sweet potatoes, which was inspired by my Silky Sweet Potato Puree. The pie is not overly sweet by any means – less than 1/2 T of honey per serving – and would make for an impressive Easter brunch treat! I served it with a Smoked Sea Salt & Vanilla Whipped Cream (recipe below!)
GIVEAWAY: I will be giving away (1) bag of Otto's Cassava Flour! Head to my Facebook page to enter by Friday, 3/13/15!
AIP Salted "Chocolate" Cream Pie
Serves 6-8 | Cook Time 40 minutes | Sets in fridge 3 hours
1 lb Japanese yam, peeled and chopped into ½ inch cubes*
15 oz Coconut milk (full-fat)
3  T Honey
1 cup Otto's cassava flour
¼ tsp Sea salt
½ tsp Cinnamon
½ cup Spectrum all-vegetable shortening or coconut oil
8 T Ice water
½ cup Carob powder
1 T Coconut oil
½ tsp Sea salt
1 tsp Gelatin
For Serving: 1/2 tsp Flaked sea salt and Smoked Sea Salt & Vanilla Whipped Cream (Vanila reintroduction required)
*Japanese yam is a white flesh sweet potato with purple skin. It has a mild taste and starchier texture than regular yams, which cannot be substitued here. You can try other varieties of white sweet potato, but they may not be as creamy.
1. Preheat oven to 300 degrees.
2. Combine the sweet potatoes and coconut milk in a medium saucepan. Bring to a low boil over medium heat and cook uncovered for 10 minutes. Stir in the honey and continue cooking for 8 more minutes. Remove from heat and set aside.
3. Cut palm shortening or coconut oil into small chunks and freeze on a large plate for 15 minutes while sweet potatoes cook.
4. Place cassava flour, ¼ tsp sea salt, cinnamon, and cold palm shortening or coconut oil in food processor. Pulse 20-30 times until the mixture looks crumbly. Add ice water in 2 T at a time, pulsing 10 times in between each addition, until a moist and crumbly dough forms.
5. Spoon dough into a glass pie dish. Press the dough firmly and evenly into the bottom and up the sides of the pie dish. Poke 10-15 holes into the bottom of the crust with a fork. Bake for 16 minutes. Increase oven temperature to 350 degrees and bake for another 7 minutes. The pie crust will rise slightly and be a light golden brown when finished.
6. Clean food processor and add all of the sweet potatoes and coconut milk from the saucepan along with the carob, coconut oil, ½ tsp sea salt, and gelatin. Process for at least 30-45 seconds until pureed and silky smooth.
7. Pour carob cream filling into baked pie crust and smooth with a rubber spatula. Place in refrigerator at least 3 hours to set.
8. Serve sprinkled with flaked sea salt and dollop of Smoked Vanilla Whipped Cream (or your preferred whipped cream recipe).
Smoked Sea Salt & Vanilla Whipped Cream
7 oz Cocont cream, cold
1 tsp Gelatin
1/4 tsp Smoked sea salt
1/2 tsp Vanilla bean powder (for AIP use vanilla powder)
1. Using a hand mixer, whip coconut cream for 3-4 minutes. Stir in gelatin, smoked sea salt and vanilla, and whip for another 1-2 minutes until fluffy. Keep refrigerated until ready to serve.
Coconut-Free Paleo Version
I promised a reader that I would provide suggestions for a coconut-free version of this pie!  I do not know of a Paleo coconut-free whipped cream though! I have not made this version of the pie, but from my experience with Paleo baking, I believe these suggestions will yield a similar result – possibly even tastier with the use of ghee!
– Replace palm shortening/coconut oil 1:1 with ghee
– Steam sweet potatoes for 15 minutes. Remove water from the pan and toss the cooked sweet potatoes, honey, and 1/4 cup ghee or lard in saucepan until it comes to a low boil. Let simmer for 5 minutes. Proceed with step 8.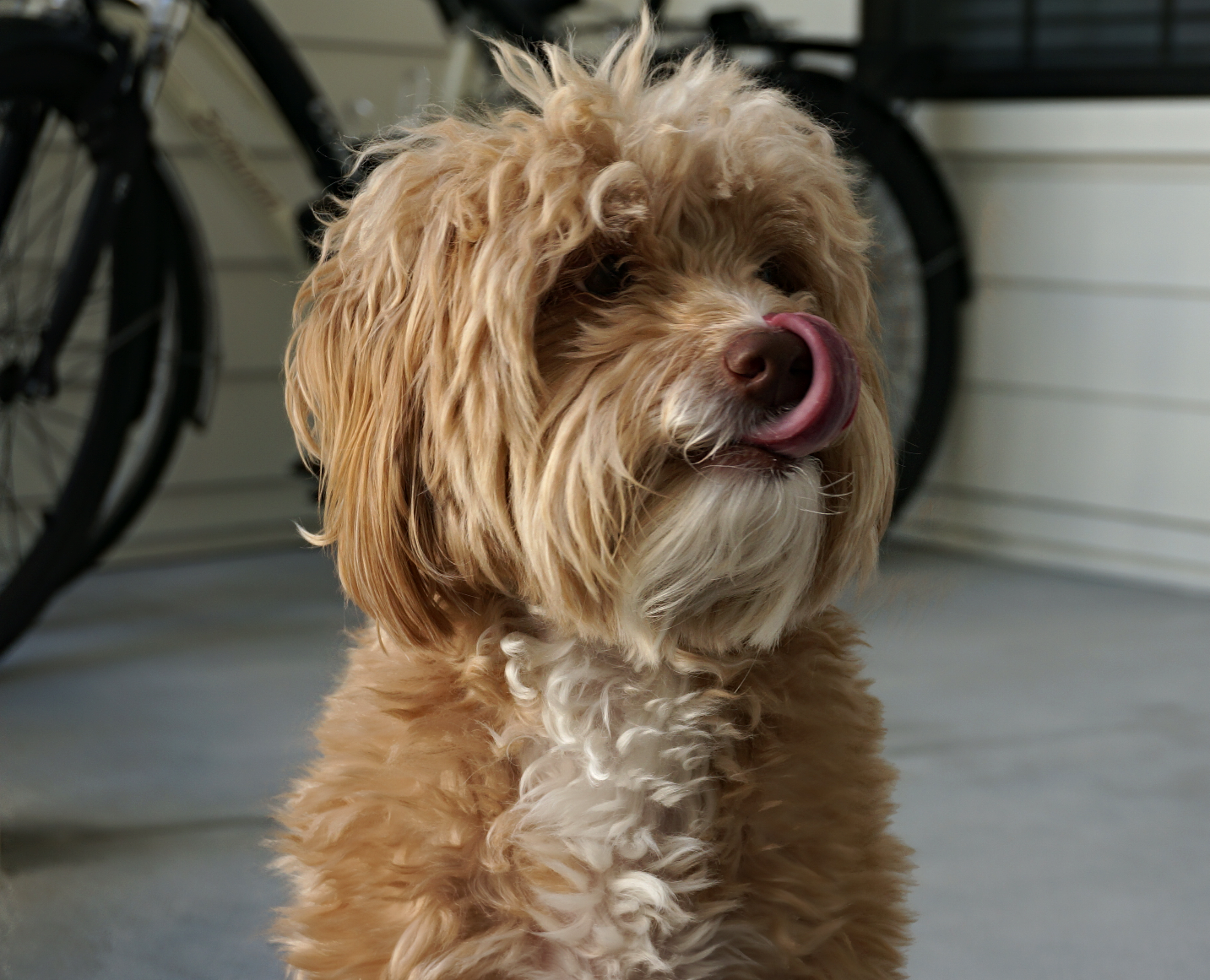 This little guy got to lick my plate … Dude needs a hair brush.