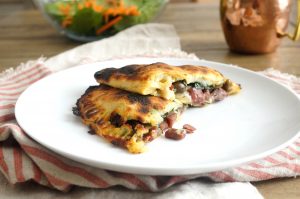 My AIP Stromboli recipe has been such a hit with us pizza-deprived humans that I made an Italian Calzone version for my monthly feature on Autoimmune Wellness! Have you been craving pizza on your grain and dairy-free diet? Look no further than either of these recipes! They have cured many, many, many pizza hankerings in our community. These Stromboli and Calzones may be my life's greatest accomplishment outside of the birth of Grace… because a tummy full of pizza makes for a happy and fulfilled human.
 It's a super flexible recipe:
Replace the arrowroot starch with equal amount of tapioca starch, if desired. 

Add a variety of finely diced vegetables like onion, mushroom and zucchini

Use a variety of starch white-fleshed sweet potato. I've been wondering if this recipe will work with pureed green plantain! Have you tried the Stromboli with plantain? Let us know in the comments!

Use any type of AIP-compliant savory sausage or meat like ham, pancetta, or prosciutto. 
Enjoy, my pizza-craving soulmates!