How often have you heard "the skin is our largest organ" and "everything you put on your skin enters your body"?
And yet we still purchase body products at drugstores, department store or baby stores without really looking into the ingredients. Maybe a loosely-regulated or not-regulated-at-all marketing claim like "all-natural" or "natural ingredients" were convincing enough to toss the product into your shopping cart. Or the label has a pretty little leaf or the color green on it?
Did you know marketers use the color green because we associate it with nature and health? Even if what's inside the bottle didn't come from nature + certainly doesn't promote health. Ugh.  I've fallen for it before too. Until I informed myself about just how dangerous these ingredients are for our bodies.
We put so much effort into the sourcing of our food, yet we forget that what touches the skin often times enters the bloodstream. Why else would nicotine patches, birth control patches, or muscle cream exist if it didn't penetrate the skin?And our babies are not protected from this mechanism. 
More than 10 years ago, the Environmental Working Group published a study called "Body Burden: The Pollution in Newborns". The EWF confirmed that…
More than 275 (287 to be exact) toxic chemicals were detected in the blood of newborn's umbilical cords

180 of those toxins are known

carcinogens

208 of those toxins cause

birth defects and abnormal development

217 of those toxins

damage the brain + nervous system
What a dichotomy. We look at our gorgeous little newborns who look pristine… pure perfection. Yet before they even have taken their first breath of air outside the womb, their cells have encountered almost 300 known toxins. It's incredibly saddening, but the first step in reconciling this hurdle is changing their environment.
Our job as parents is to protect our children and allow them to develop naturally + to their greatest potential. We can only do our best work if we are informed. 
An easy way to decrease the toxic burden of the modern world on our children is to change our bath + skin products to products by brands who do their research too. I don't want this blog post to be about all the toxic chemicals found in brands with the cute + charming TV commercials.
This post is about supporting the companies that are dedicating their mission to protecting our children, advancing the public's knowledge of safer products +/or advocating for legislative change to laws governing consumer product safety. Beautycounter is in partnership with the Environmental Working Group to ensure the safety of their products (their company mission after all). Eco Chic Movement is based out of Canada and run by a naturopath and toxicologist named Dr. Alexis Reid. She is a member of the Paleo community. Badger is a family-run company that has created some of the safest plant-derived skin products on the market. All 3 companies are all about environmental responsibility + consumer advocacy.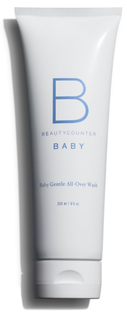 Beautycounter Baby Gentle All-Over Wash is appropriate for infant and toddler bathing. It's gentle formula is tear-free, lightly lathers, and effectively cleans. It leaves my baby's skin with a yummy light baby-fresh scent, soft, and doesn't dry it out at all thanks to coconut-derived fatty acids. BIG plus is Beautycounter was one of the first skincare companies to be EWG Verified, which means they have passed the most rigorous test for skincare safety out there. This body wash also doesn't contain any formaldehyde-releasing chemicals unlike America's most popular baby bath brand. 
Eco Chic Movement Diaper Cream is a super-nourishing emollient made out of a variety of oils and plant extracts that work synergistically to heal your baby's luscious bottom. This cream protects from diaper rash beautifully + I also apply it to my chunk monkey's fabulous and endless rolls and under her chin(s).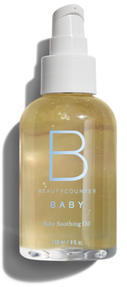 Beautycounter Baby Soothing Oil
It doesn't get more clean + simple than this… 4 ingredients make for the silkiest healing oil for all newborn and older skin concerns. This yummy oil is gluten-free, soy-free, non-gmo, vegan, and made with certified organic oils. Which means it's the perfect baby shower gift for the new mom in your life (even if that's you!) I use this after bath as a massage oil for a heavenly + relaxing baby massage that's good for her insides + outsides too. Best of all? It's fragrance-free which means you won't have to worry about hormone-disrupting chemicals interfering with your nighttime routine.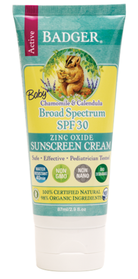 Badger Baby Sunscreen SPF 30This is the only baby sunscreen I will put on my daughter this summer. It's made with non-nano uncoated zinc oxide, EWG's top choice for the safest active ingredient in a consumer sunscreen product. While sun exposure is incredibly healthy for babies, living in Florida means the strong UV rays have the potential to be damaging if we spend more than 30 minutes at the beach. After your baby hits 6 months of age, you can start applying baby sunscreen to their delicate skin. Make sure to do a patch test first (such as the inside of their leg) and wait 48 hours to watch for a reaction before using all over. Other ways to protect? A cotton hat, staying inside between 10 am and 4pm, and wearing a light cotton long-sleeve shirt and pants.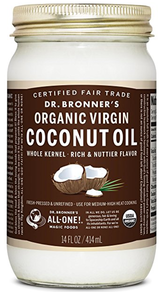 Dr. Bronner's Unrefined Virgin Coconut Oil
Coconut oil isn't what you'd traditionally consider a baby body product, but it certainly has it's place in your caregiving routine. My preferred use for coconut oil is for cradle cap.
Cradle cap is a ubiquitous (most babies have it) scalp condition that causes yellow flakes and scales of dry skin. It is a common condition beginning around 3 months and sometimes lasting longer than 12 months. (It may extend to the ears and eyebrows in more severe cases, but if you find dry scaly skin elsewhere on your baby, please have them evaluated by a doctor for eczema.) 
We have used coconut oil lightly massaged on Grace's scalp to remove any dry skin. Let the coconut oil sit on the scalp from 15 to 30 minutes then using a soft organic wash cloth rinsed in warm water, gently exfoliate the dead skin away. Follow up with a lovely hair wash using the Gentle All-Over Wash.