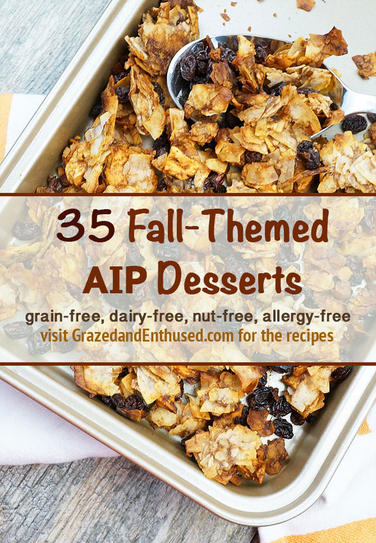 I recently told my husband I am anxiously awaiting the first hint of fall weather in Texas. It may not happen for at least another month but a sweaty girl can dream. I said, "There's nothing a woman doesn't enjoy more than whipping the windows open on the first day of cool weather and just [expletive] baking a pie." Right!? Even if you don't like baking (I don't) that first hint of crispness in the air has me searching for my apron and rolling pin and pretending I'm Julia Child.
It's almost like until that weather hits, I won't be able to make a successful baked goods recipe for you guys. I've tried 3 times in the past 2 weeks to make a fall-themed AIP cookie, and they ain't working out. In fact, they've all gone straight to the garbage. Didn't even need to try them, I could tell they were awful. I figured out it was the fault more of a new brand of coconut flour I am trying from King Arthur. I don't recommend it obviously. It's fine and gritty and terrible for AIP baking. It may be better for traditional baking recipes where you use coconut flour in small amounts and not as a main flour. Fair warning, my friends. 
After my 3 baking fails, I did some searching for existing fall-themed baked goods recipes from my AIP blogging friends and stumbled upon a crap ton. Maybe the world doesn't need one more pumpkin or cinnamon flavored AIP cookie, especially since these lovely ladies have already done all the hard work in providing cookies, panna cotta, fudge, bars, tarts, buns and more!
So, my dears, whether it's cool enough to open up those windows or not, it's pumpkin season and celebrations should not be delayed! These recipes would also double as Thanksgiving and Christmas desserts, so bookmark them or Pin them or print them or take a mental picture because they'll come in handy all season.
And make sure to thank all these ladies for their hard work because a decent AIP baked good is nothing but magical!
Be sure to check out my recommended baking products below. They are trustworthy brands that give a consistent result. I prefer Bob's coconut flour to other varieties I have tried because it's the lightest, fluffiest, and least gritty of them all. Artisana coconut butter is the smoothest, whereas Nutiva is a little more dense and dry. And Spectrum palm shortening is also my favored brand because it can be found in most health food stores and always on Amazon!
BONUS: Perfectly Pumpkin-Spiced Gummies by Joanna Frankham