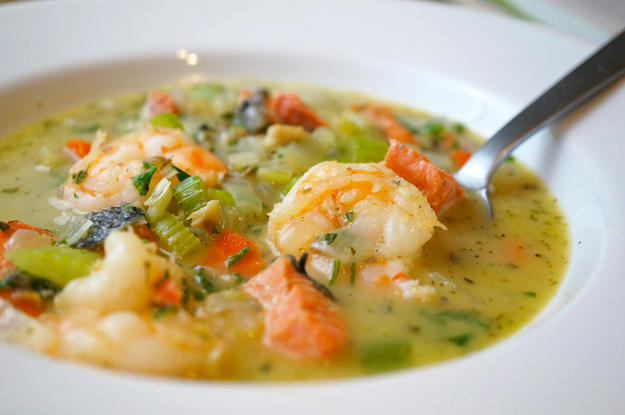 Dinner tonight was a bit of a whim although I had been craving seafood soup after my husband got the most amazing looking bowl of it at Dai Due last night. We were recommended that gem of a restaurant, and it pretty much made my life. At least for the next week.
We went late on a Saturday night around 9:30 pm and still had to wait for seats at the bar because people in Austin know what's up with quality food. We had the best conversation with the bartender who has lived in the same 3 cities as us (and same 4 as my husband). He told us about the splendor that goes on behind the scenes at Dai Due. Zero industrial oils, GMO crops nowhere in sight, and everything sourced locally (down to the grass-fed milk and Gulf coast oysters).
They were incredibly accommodating to my dietary needs and served me one of the best restaurant meals I've ever had: half a sheepshead fish grilled over open flame, seasoned with salt and pepper, and served over grilled broccoli and chopped mei choy with grilled Meyer lemon. Woof.
My husband's seafood soup smelled so incredible (obviously I smell-tasted it like I do everything he eats that I can't) and was served with little housemade toast points and aioli. I didn't go that far tonight, but I did serve ours with white rice cooked in more bone broth and then "buttered" with a combo of olive oil, shortening, and sea salt. It was freakin' fantastic. I'm watching the last episode of Friends right now, and it's making me really sad all over again. I won't bring you guys down. Go eat soup.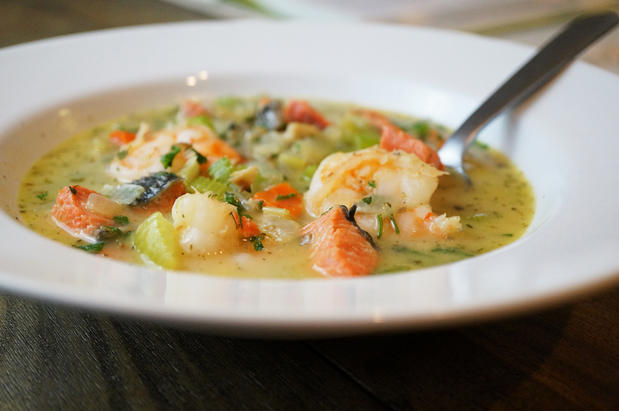 This soup is one of the most popular on my site – for VERY good reason!!
Triple Seafood Chowder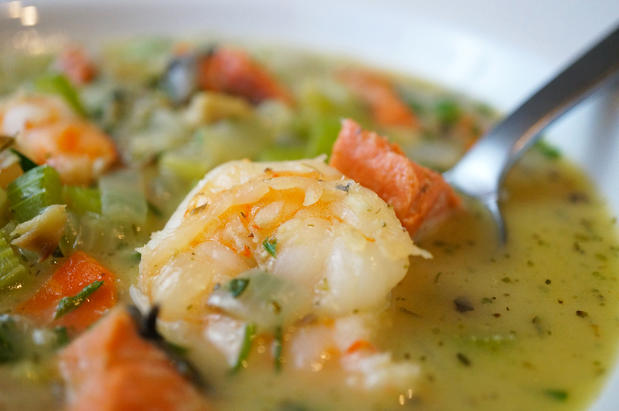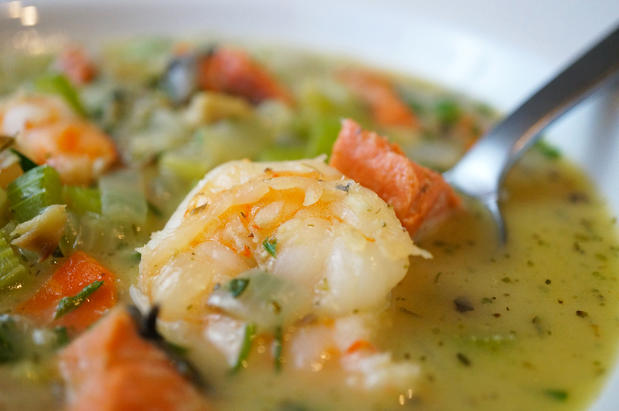 Ingredients
2 tablespoons olive oil
2 cups diced yellow onion
1 1/2 cups peeled and cubed white sweet potato (1/3-inch cubes)
3 ribs celery, finely chopped
2 large carrots, finely chopped
3/4 teaspoon sea salt, divided
1 bay leaf
1 cup coconut cream (see tip)
2 cups Beef, Fish or Pork bone broth
8 ounces wild salmon, cubed
8 ounce pre-cooked shrimp, tails removed
3.5 ounce can smoked kippers
1 teaspoon chopped fresh thyme
1/2 teaspoon dried dill
1/2 teaspoon dried basil
1/3 cup packed finely chopped parsley
1 teaspoon lemon zest
1/2 lemon, juice
Directions
Heat olive oil in a large pot over medium-high heat. Sautee onion, celery, carrots, potatoes, 1/4 teaspoon sea salt, and bay leaf until the vegetables are crisp-tender, 6 to 8 minutes.
Add coconut cream and broth to the pot and bring to a low boil. Stir in salmon, shrimp, kippers, thyme, dill, basil, and remaining 1/2 teaspoon sea salt. Cook for 5 minutes until the salmon is cooked through and the vegetables are to desired tenderness. Remove from heat.
Stir in parsley, lemon zest and lemon juice. Ladle into bowls and serve with a scoop of cauliflower rice or white rice for a hearty meal.
Recipe Notes
Tip: Replace coconut cream with 1/2 cup pureed cooked white sweet potato instead, if desired.