I was hesitant (for about 5 seconds) about posting a Christmas cookie in October, until I shared a photo on Instagram & Facebook. It was demanded I post it immediately. Kindly, frantically demanded. I didn't know what to call these cookies, since they seem to come by many names: Snowball Cookies, Russian Tea Cakes, Italian Wedding Cookies, Mexican Wedding Cookies, Butterball Cookies, and a Chinese New Year cookie called Sugee (thanks Dora!)
I settled on Snowball Cookies because they're the most recognizable, and if I had a hankering for them during Christmastime on AIP, I'd probably Google "AIP Snowball Cookies". SEO, search engine optimization, is this creativity-stunting thing us bloggers have to consider when naming our recipes. Ughs. But whatever they're called, you will be pleased to pop one (or two) into your mouth this holiday season.
They are surprisingly buttery (without the dairy) thanks to the perfect combination of sweet and starchy Japanese yam, coconut oil and honey. They even taste  vanilla-y, even though the no-bake recipe doesn't contain any vanilla extract. But if you tolerate vanilla, then by all means go ahead and add a teaspoon of vanilla powder to the mix! And check out 5 more flavor varieties in the post below!
Note that these aren't as dry/crumbly/dense as the traditional Snowball cookie because that would be near impossible to recreate on AIP since the original recipe calls for an entire cup each of butter and sugar, especially since I like to keep things balanced over here on G&E. This is a much healthier, just as delicious cookie that has a light buttery, vanilla taste. You won't be disappointed! The baked option is lighter/fluffier and tastes like buttery yellow cake. It's divine.
I decided to make these no-bake (although they are traditionally baked, so I included a baked cookie option as well) cookies because once I rolled them out, I realized that they would firm up perfectly in the refrigerator thanks to the coconut oil and cream, and who doesn't love a good no-bake recipe? So much easier to swing during the busy holiday season without adding stress to your day! I can see myself bringing these to many gatherings over the next few months without worrying about people's allergies. They are practically allergy-free (unless you have a coconut allergy which equals sad emoji).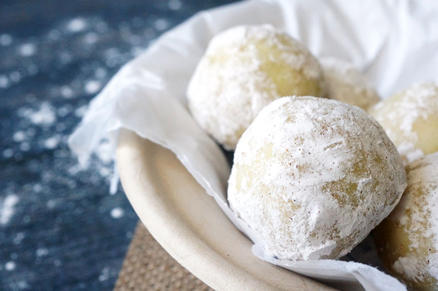 Your questions answered before you even ask them…
Can I use another kind of sweet potato?

I highly suggest using the Japanese yam which is a purple-skinned and white-fleshed sweet potato. It is the starchiest white sweet potato by far and yields a firm no-bake cookie, more so than the Hannah and Jersey varieties. You can try using those varieties if that is all you can find. Let me know how it goes!

Can I use coconut milk instead of cream?

Coconut cream has a higher fat content than coconut milk and solidifies in the refrigerator. This is important for the firm integrity of the cookie, especially since we aren't baking them. Just place a can of coconut milk in the refrigerator and measure out 2 tablespoons of the solid cream that has risen to the top.

Can I use maple syrup instead of honey?

 You could but it will change the flavor and texture of the cookie. Honey is more floral, thick, and sticky than maple syrup. It also is lighter in color. Know that you will get a more maple-tasting cookie that may not be as buttery in flavor or as well-formed of a cookie. Aka Use Honey.

Can I use tapioca instead of arrowroot?

Yes. That was easy.

Can I omit the honey?

You could, but it'll be very un-sweet and more coconut-y. You will want to replace it with 1 tablespoon coconut cream. There's only 1/2 teaspoon honey per cookie which is about 2.5 g of sugar per cookie. Just don't eat the whole batch in one day. 

Can I use coconut flakes instead of shredded coconut?

You will not get as smooth of a batter, and the coconut pieces will make the cookies taste more strongly of coconut, so use finely shredded unsweetened coconut preferably.
Snowball Cookie Flavor Varieties
Citrus

: Add 1 teaspoon grated zest of lime, lemon or orange.

Peppermint Chocolate:

Add 2 tablespoons cocoa powder or carob powder + 1/4 to 1/2 teaspoon peppermint oil

Vanilla

: Add 1/2 to 1 teaspoon vanilla powder.

Cinnamon Sugar Cookie:

Add 1/2 teaspoon ground cinnamon & then use 1 tablespoon Primal Palate Cinnamon Sugar Cookie for the coating. 

Pumpkin Spice:

Add 1/2 to 1 teaspoon

Primal Palate Pumpkin Spice

seasoning (not AIP)
Enjoy this MUCH healthier version of your holiday favorite any time of the year!
No-Bake AIP Snowball Cookies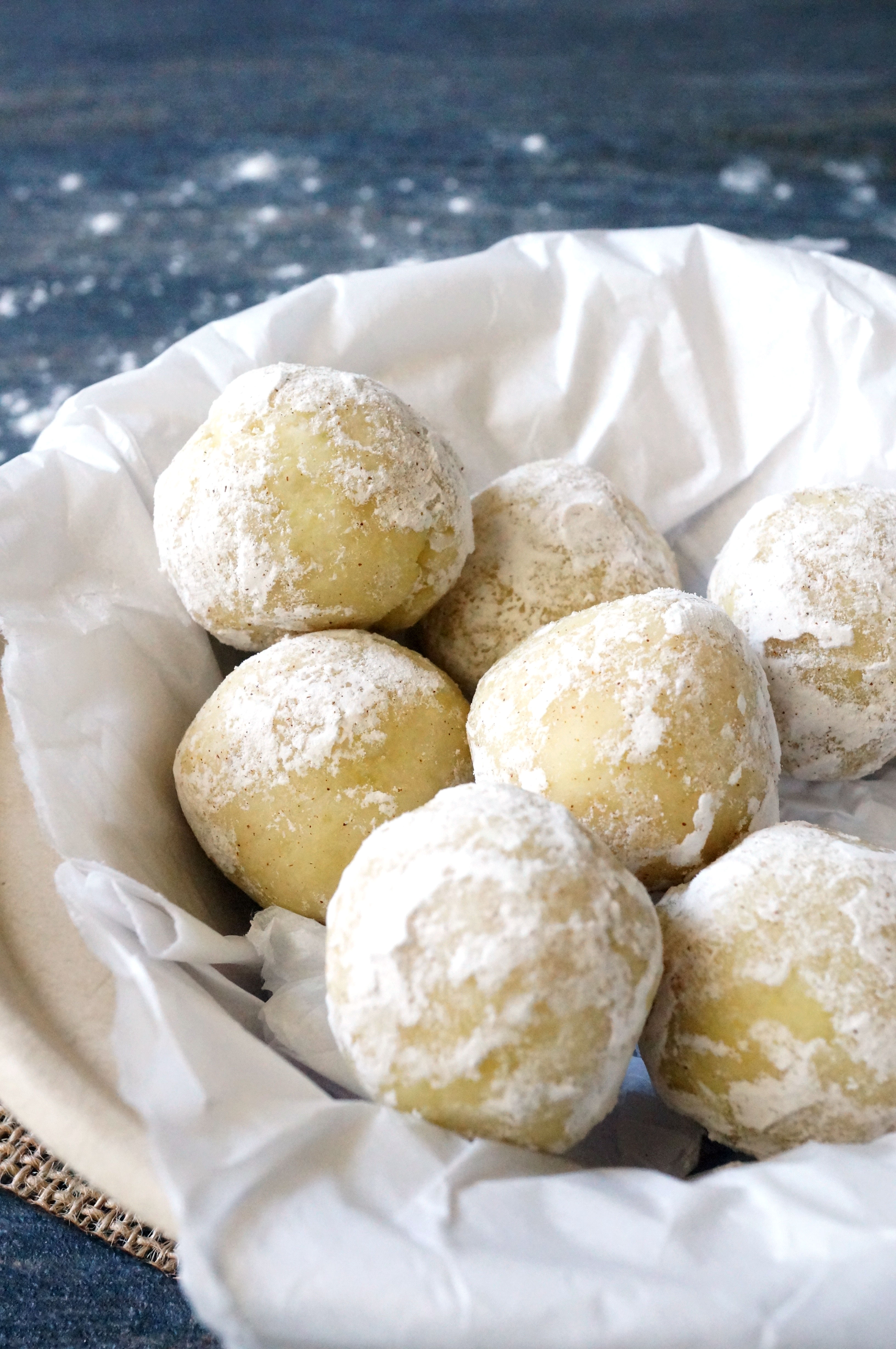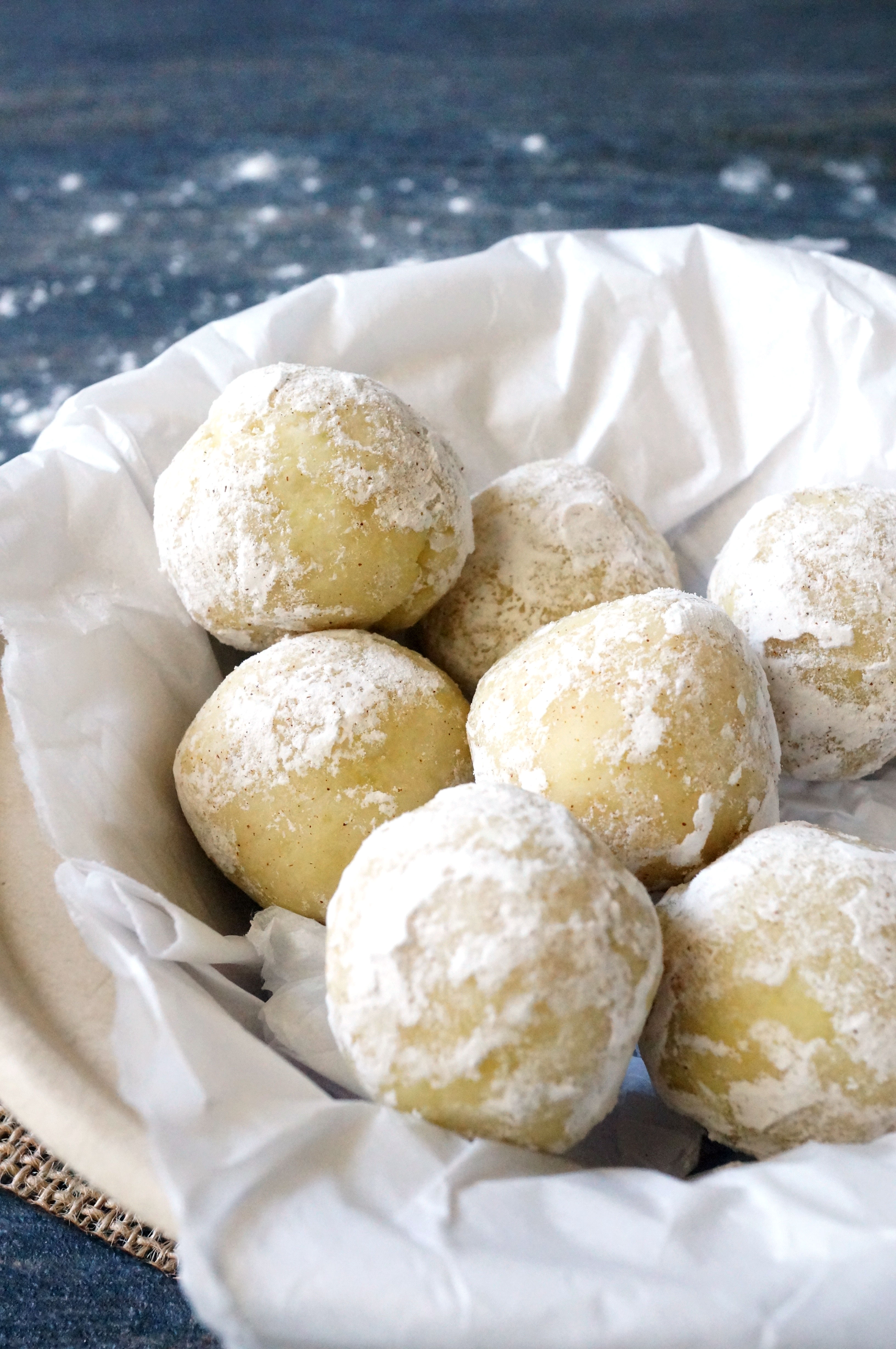 Ingredients
1

cup cooked, cubed and cooled Japanese yam

3

tablespoons coconut oil, room temperature

2

tablespoons coconut cream, refrigerated

2

tablespoons creamed raw honey

1 1/3 cup

unsweetened shredded coconut

1/8

teaspoon sea salt
Instructions
In a food processor, process the cooled yam cubes until fluffy and crumbly. Add in the coconut oil, coconut cream and honey and process until a smooth "batter" forms.

Add shredded coconut and sea salt to food processor and pulse until just combined and until a dough forms.

Using your hands, roll 1-inch balls of cookie dough in between your palms and place on parchment-lined cutting board or flat plate. Continue this step until all the dough is used up.

On a small plate, mix together the arrowroot starch and cinnamon for the sugar-free coating (see note). Lightly coat the balls in the powder by gently rolling through the plate, being sure to maintain the integrity of the ball's roundness. You can gently tap the balls against the plate to tap off excess arrowroot. Just  a light dusting will do!

Place cookies back on parchment-lined surface and refrigerate for 1 hour until firm. Store in the refrigerator for up to 1 week. Best served cold.