This gluten-free and grain-free Breakfast Pizza features a garlic-herb dairy-free cream cheese base with wilted spinach, soft-cooked and fluffy eggs, crispy bacon and melted cheese of choice. It is the PERFECT make ahead gluten-free breakfast and freezes well for meal prep, batch cooking and post-partum breakfasts.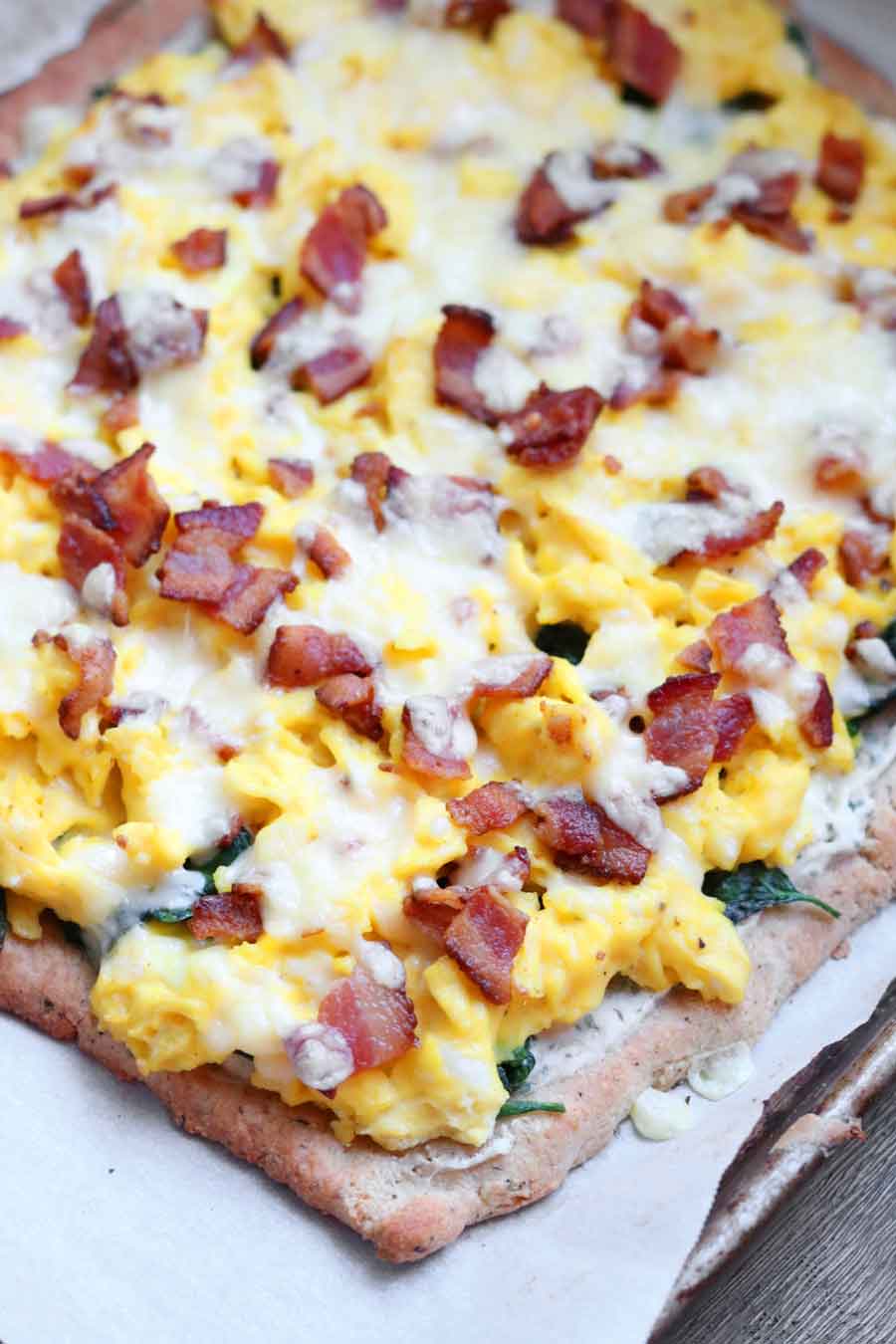 This recipe was born out of my family's financial need to stop buying the gluten-free breakfast pizza 3 times a week from the cafe down the street. Addicted. So I wanted to make a Gluten Free and Grain-Free Breakfast Pizza replica that was as easy to prepare as it was to eat.
Ingredients in Gluten-Free Paleo Breakfast Pizza
Simple Mills Pizza Dough (or your favorite medium-thickness crust pizza dough recipe)

Kite Hill Almond Cream Cheese (or your favorite dairy-free or regular cream cheese)

Soft scrambled and fluffy eggs  – I like Vital Choice Pastured Organic Eggs

Crispy bacon bits  – We buy Butcherbox Bacon which we get delivered every month.

Wilted spinach – use organic since spinach is on the Dirty Dozen list

Cheese of choice – I like grass-fed swiss or sharp cheddar, but you can get fancy with gouda or parmesan

How to make Gluten-Free Breakfast Pizza 
1. You can use any pizza crust recipe of choice, but I prefer the ease and convenience of the Simple Mills Pizza Dough Mix which you can purchase at many grocery stores in the baking aisle.
2. Pre-bake your crust before adding the toppings. In this recipe, I use a thin layer of dairy-free cream cheese, wilted spinach, soft-cooked eggs, crispy bacon bits and melted cheese.
3. Simply pop the assembled pizza back in the oven to get the cheese melted to hold everything together!
4. Slice into 6 to 12 squares and serve warm.
My tips for Simple Mills Pizza Dough
The boxed recipe calls for two tablespoons oil of choice, and I like to use extra virgin olive oil for the flavor.

The boxed recipe calls for baking at 350 degrees for a total of 15 minutes, but you'll see in the recipe how I adapt the oven temperature and cooking time to my preference of a firmer crust.

You can choose to make two smaller pizzas or one regular size pizza. I prefer to make one big square pizza for this breakfast pizza recipe. Slice it in easy-to-pick up pieces with less of a chance of the egg falling off.
Make Ahead Breakfast Pizza Ideas
If you enjoy the below recipe, try these other varieties:
Tomato sauce base with cooked Italian sausage and finely chopped peppers, scrambled eggs, spinach and melted cheese.

Make it dairy-free by topping with Siete Foods Queso and baking as directed below.

Try a potato and broccoli version with cubed roasted potato, roasted broccoli florets, scrambled eggs and parmesan-mozzarella cheese mixture.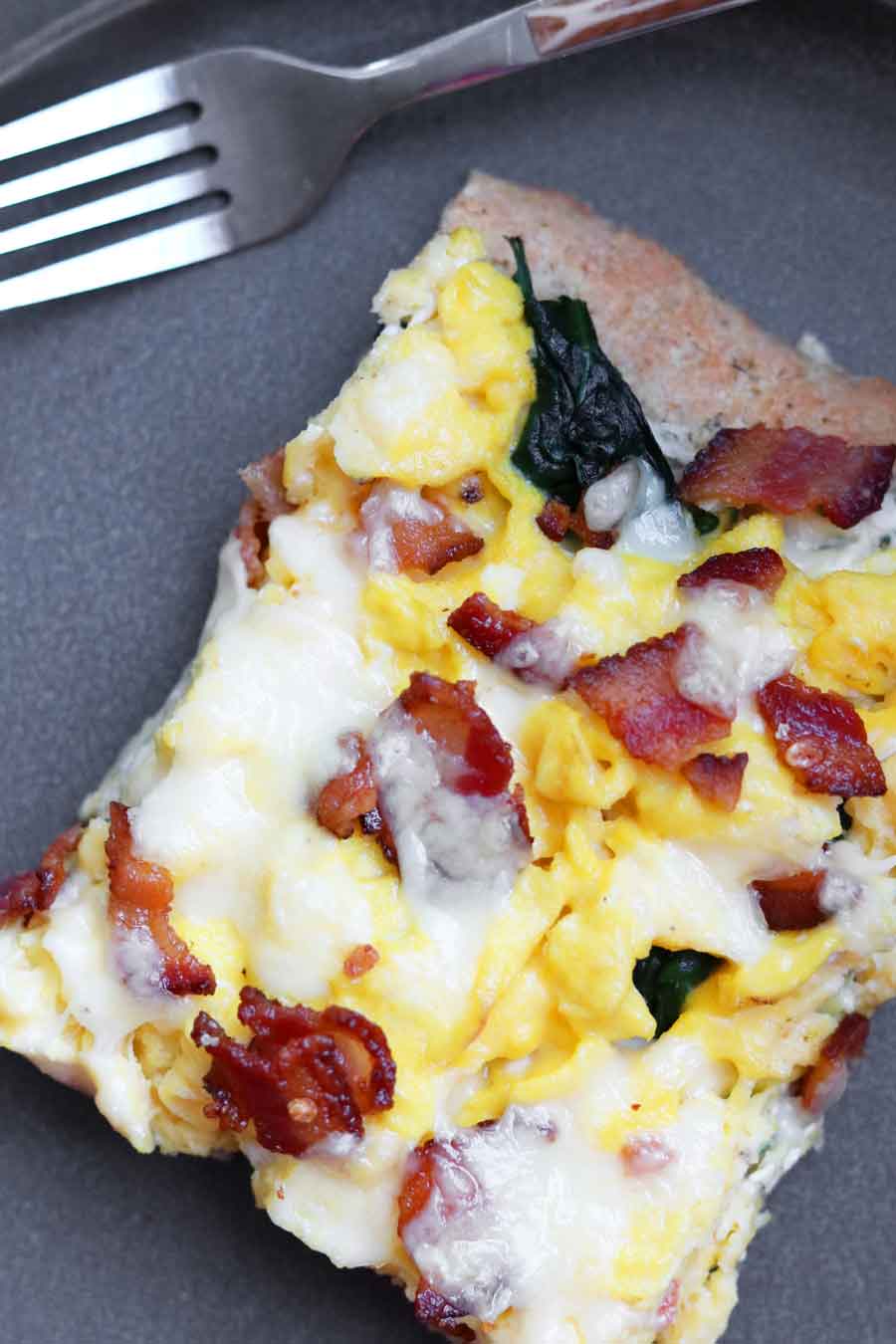 [simple-recipe:8844a]