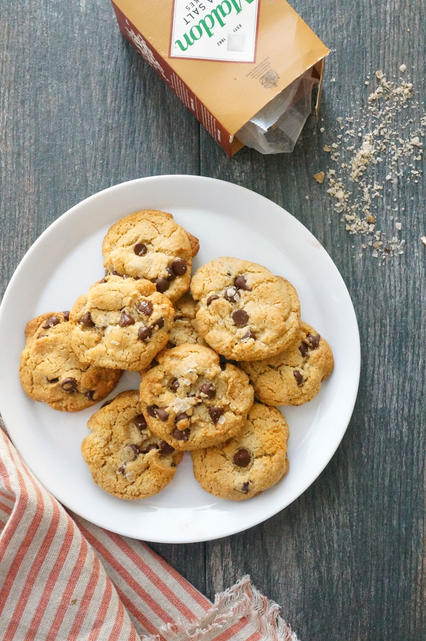 These Paleo Chocolate Chip Cookies are egg-free and dairy-free, chewy in the middle and crisp on the outside! You'll  love the contrast of the dark chocolate and flaky Maldon sea salt.
I have a little (read: huge/out of control) obsession with sea salt. My body craves salt like no other these days. Probably because I spent far too many years avoiding sea salt, fearful it would "bloat me". Thanks, SELF magazine for your always accurate and humbling information.
Naturally, I have a favorite type of sea salt. Don't we all? It's flaky, it's crunchy and it adds an amazing contrast to the sweet dark chocolate in this Paleo Sea Salt Chocolate Chip Cookie recipe!
This gluten-free chocolate chip recipe features lard for the fat, but you could easily replace it with another solid fat like grass-fed butter or palm shortening.
These cookies are so damn good: chewy, moist, vanilla-y, childhood memory-y. I'm not a lover of baking, but I love chocolate chip cookies so much, I really had to nail these.

I tested this recipe three times with different ingredients, baking times and cookies sheets.
HERE ARE MY TIPS FOR GLUTEN-FREE CHOCOLATE CHIP COOKIES:
LARD vs SHORTENING

: If you're using lard for this recipe, expect a cookie with a deeper, richer undertone (a hint of bacon, really), a little denser, and more golden in color. Use softened lard that is at room temperature. You may also need to bake for 9 minutes rather than 8 but just use your eyeballs and nose to make that decision. If you're using palm shortening, expect a thinner (but not thin), chewier, lighter color cookie that tastes more like traditional bakery chocolate chip cookies. Also use palm shortening at room temperature. If you don't love the taste of lard, I would go with the palm shortening. 
LIGHT VS DARK COOKIE SHEET

: I prefer using a light cookie sheet for this recipe. Lighter pans absorb less heat, decreasing the likelihood your cookie will brown too much on the bottom. I find this true even when using parchment paper. Also, don't you dare skip the parchment paper and DO NOT use aluminum foil. Rookie move. 
GAME-TIME DECISION ON THE COCONUT FLOUR:

Every brand of coconut flour I tried has a slightly different absorbency which does affect how the cookie turns out. If after adding the 3 (scooped and leveled, not packed) tablespoons of coconut flour, you find the cookie mixture too dry, add 1 teaspoon extra of coconut oil. I cannot control for all the possibilities of coconut flour out in the universe, so if you find your cookie drier than you like,

blame the coconut flour and not me. Thanks. 
IF YOU INSIST ON USING ALMOND MEAL:

Your cookies will be a little chunkier and grainier most likely. Bob's Red Mill sells both "Almond Meal/Flour" and "Super Fine Almond Flour" <– this is the one you want 
DON'T GO TO THE BATHROOM:

Don't take a bathroom break while they are in the oven, even if you think it's just a quick pee. It may turn into something that requires a longer time commitment and you will bake your cookies 1 or 2 minutes too long. This didn't happen to me (this time) but I did get distracted looking at pictures of

this adorable Asian baby

dressed up in the weirdest, coolest baby costumes ever, and ended up with one particularly crispy batch (still delicious, just not what I was going for). When you start to smell the cookies, take a peek. If the edges are a light golden brown, take them out of the oven NOW. Do not wait until they are a medium or deep golden brown unless you like crunchy, crumbly, messy AF cookies.
 

DON'T USE 100% DARK CHOCOLATE CHIPS

: Ew, I did this for one batch. The cookie portion was awesome, but it was more like chalk-alate rather than chocolate. 

That should cover it, but it probably won't since baked goods recipes open you up to a whole host of new and odd questions from fellow "non-bakers who like to bake". "Hi, my cookies turned out purple and they taste like onions. I'm not sure why. Can you tell me?" 

Throw 'em at me, hopefully I can help! I figured this little guide would be helpful for those who don't really understand the why's and how's of Paleo baking. Because it's a wild, untamed animal. 

Print Paleo Salted Dark Chocolate Chip Cookies
Author:

Prep Time:

20 minutes

Cook Time:

8 minutes

Total Time:

28 minutes

Yield:

1

dozen cookies

1

x
---
Scale
Ingredients
1/4 cup

EPIC lard (room temperature, softened)

1/4 cup

melted coconut oil

3 tablespoons

liquid honey

2 tablespoons

coconut sugar

1 teaspoon

vanilla extract

1 cup

fine almond flour

2 tablespoons

arrowroot starch

3 tablespoons

coconut flour

3 tablespoons

Vital Proteins Collagen (do not use gelatin)

1 teaspoon

baking soda

3/4 teaspoon

cream of tartar

1/8 tsp

sea salt

1/2 cup

dark chocolate chips (70% or higher)
Flaked Sea Salt, for sprinkling
---
Instructions
Preheat oven to 350 degrees. Line a light colored baking sheet with parchment paper.

In a food processor, cream together the lard or palm shortening, coconut oil, honey, coconut sugar, and vanilla for 20 to 30 seconds until smooth. It is okay if the coconut sugar does not dissolve.

Add almond flour, arrowroot, coconut flour, collagen, baking soda, cream of tartar, and 1/8 teaspoon sea salt to the food processor and combine until a smooth ball of cookie dough forms. Be sure to scrape down the bottom and sides of the food processor. Remove the blade and stir in the chocolate chips.

Scoop tablespoon-size rounded mounds onto the cookie sheet, leaving two inches between each cookie. Lightly press down on top of the mound to flatten the top (they should still be at least 3/4-inch tall after doing this, do not flatten!)

Sprinkle with sea salt flakes. Bake on the center rack for 8 minutes, or until the edges are a LIGHT golden brown. Cool slightly until you can safely transfer them to a wire rack on the countertop to finish cooling. 

Store in a sealed container in the refrigerator for up to 5 days or on the countertop for no more than 48 hours. 
---
Notes
NUT FREE: Sub finely ground tigernut flour for the almond flour.
May use palm shortening in place of the lard for slight variation in results.