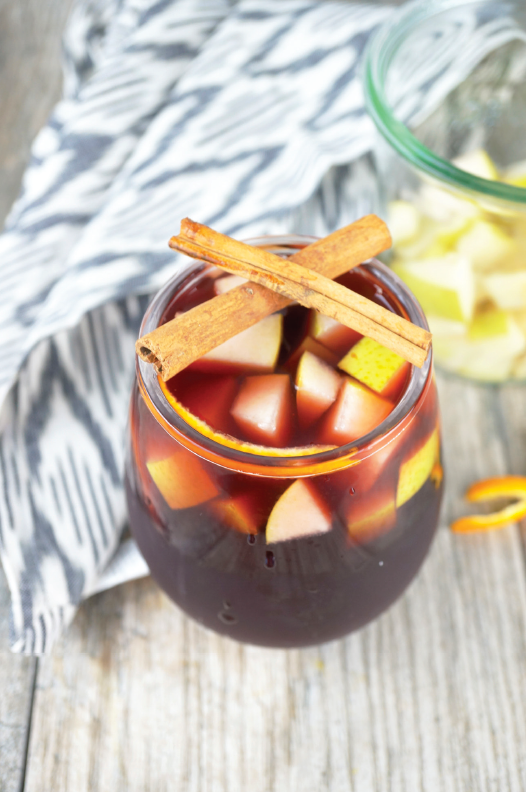 I don't know about you guys, but my family likes to indulge in festive beverages around this time of the year. I mean sangria can be enjoyed year-round, and my sister and mom have really taken to their "wine spritzers" in order to control both alcohol and caloric consumption (we secretly call them The Real Housewives of Some Small City in Florida). That's mixing wine with club soda and some fresh citrus. It's actually really delicious and refreshing, but I'm not drinking at the moment (and likely many of you aren't either), so I developed this DELICIOUS recipe for Red Sangria for the Thirst Quenchers section of The Healing Kitchen.
It seriously tastes like sangria. Like seriously. I'm serious. I've made it with non-AIP star anise in addition as well and that really takes it up a whole other notch of holiday festiveness, but alas that is not AIP. I'm still telling you though in case you have reintroduced anise pods. Just don't leave anything out of this recipe, okay. Everything's in there for a reason. Use pomegranate juice, don't use cranberry, or cran-apple, or pureed applesauce with red food coloring. Because people try all types of recipe variations when you put them on the internet then ask you why your recipe sucked. Because your decisions throughout the cooking process sucked. Harsh reality, I know. Some people are REALLY good at adjusting recipes & making them turn out. And then there's people like me who say "oh 1/2 cup palm shortening for those cookies? i have 3 bananas. we'll just do that instead." and then it's a disaster every single time. 
Thought that just popped into my head about how I am really outdated: 1) I am wearing a long knit skirt a la Jen Anniston circa 1998 sitting Central Perk  2) I still like that Macklmore song "Thrift Shop" (I requested it a year ago in a "cool" NYC club and the DJ legit looked me in the eyes and said "No one likes that song anymore." and then I shuffled away.)  3) Some of my favorite things may remind you of your grandmother: neighborhood power walks, fudge as a snack, fudge as a breakfast item, and free AARP subscriptions. 
Anyone else with me? Where are all my old young people at!?
This Sangria may not get you tipsy, but it sure will make your belly happy!
Print Red Sangria Mocktail
Author:

Prep Time:

10 minutes

Cook Time:

0 minutes

Total Time:

10 minutes

Yield:

4

1

x
---
Scale
Ingredients
1 1/2 cups

pomegranate juice

1

pear, diced

3

strips orange peel

1/2

lemon, thinly sliced

5

whole cloves

1

cinnamon stick

1

16-ounce bottle unflavored kombucha, chilled
ice for serving (optional)
---
Instructions
Combine all ingredients except kombucha in a large glass bottle. Steep in the refrigerator for 8 hours or overnight. When ready to serve, remove the cloves and cinnamon stick and stir in the kombucha. Pour over ice, if desired.
---