It's here, it's here, it's finally here! Our big announcement for The Healing Kitchen. I've been talking about it pretty consistenly the past couple months, but I haven't had the ability to share that much from the book with you guys yet! Well, the time is here and you don't have to continuously re-read the Amazon description over and over again trying to find hidden clues as to what's inside. I know you've been doing that. And I know you'll definitely want to pre-order our labor of love once you see what's in store for you & your kitchen! In fact, it's at it's lowest price yet so do yourself a solid and guarantee yourself The Healing Kitchen in time for the holiday season!
Well, you ask impatiently, WHAT IS INSIDE!?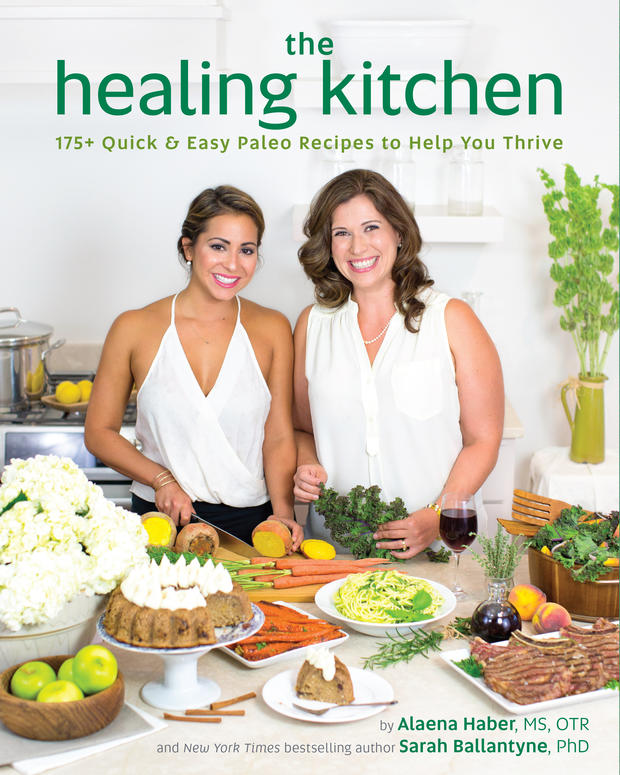 Over 175 autoimmune protocol compliant recipes ranging from

Kitchen Basics, Breakfast Favorites, Soups & Salad, Easy Peasy Mains, Simple Sides, Satisyfing Snacks, Thirst Quenchers, and Timeless Treats! 

​

​
An insane introduction

that includes why you should be eating a nutrient-dense diet to feel better, how to do such a thing, and some really, really awesome infographics, charts, and tables like the ones below. I mean, how cute are those nutrient superheros below!? And did you ever wonder what exactly is so nutritious about spinach or beef or kale or mushrooms!? You'll find out which foods are highest in individual vitamins and minerals so you can customize your healing protocol to the areas you need to focus on most! That's just a tidbit of the knowledge explosions in the intro… there is so much more for you & your loved ones to learn!
12 oustanding meal plans

 

with shopping lists and photos

 that will have you eating super delicious food all week long, with boredom nowhere in sight. There are even ones for people who only have 20 minutes or less, those who want simple recipes with 5 ingredients or less, hate leftovers but don't mind if they're reinvented in a new dish, and who are trying to please kids too!
Time-Saving, Unique, and Crowd-Pleasing Recipes

that won't have you running around town trying to find obscure ingredients or spending $50 on one meal. Break out that slow cooker or Instant Pot for some seriously delicious BBQ Pulled Pork, Mojo Pulled Chicken, Hawaiian Pulled Pork, and Pork & Beef Carnitas that requires less than 15 minutes of hands-on time and will feed you for days and days! Obviously, I really love pulled meat and you soon will share my love for the most economical way of getting your protein each meal! And bored of your current vegetable routine? We've included a wide variety of easy-to-find and affordable veggie dishes that guarantee each meal will be a colorful plate of healing goodness. 
​Tons of sauces and dressings to jazz up a meal such as Pronto Pesto, Cilanto Chimichurri, Sweet Marinara Sauce, Bolognese Sauce, Garlic Sauce, Garlic & Dill Ranch Dressing, Caesar Dressing, and Honey Balsamic Dressing – seriously those are just some of them!

Ethnic meals to open up your palate and keep things interesting at dinner time including Speedy Shangai Stir Fry, Teriyaki Chicken & Fried Rice, Lebanese Beef & Rice Stuffing, Antipasto Salad, and Garlicky Greek Lamb Skillet including ways to put recipes together to make Greek Gyro Wraps and Venezualan Arepas!

Snack time! Snacking doesn't have to be unhealthy. In fact, it can and should include power foods like smoked salmon, liver, granola (two kinds!), snack bars, tapenade, hummus, baba ghanoush, crackers, and gummies galore! That's some seriously delicious snacky hour. 

Desserts, duh. Obviously we didn't leave you hanging in the treat section, but this isn't like your typical Paleo cookbook. Let's face it, baked goods aren't the healthiest, even if they're Paleo, and this book isn't about re-making the chocolate chip cookie so you can eat 5 of them while watching Thursday night television. We are about HEALING, people. And thank goodness you can still do that with treats! Some of my favorites? Warm Bananas with Date Caramel Sauce, Caramelized Figs with Lemon & Vanilla, Ganache-Stuffed Dates, and Friendship Cake with Whipped Cinnamon Honey Frosting! Wowza!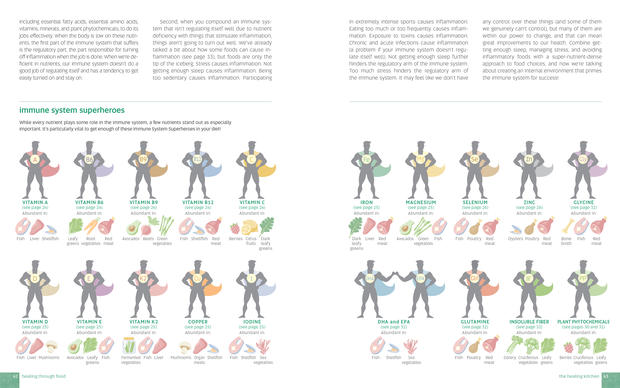 How handsome are our Immune System Superheros? They will save the day, especially if you include their nutrient-packed food recommendations a few times a week! If you're a nutrient nerd like we are, I know you'll be super excited about these guys! And The Healing Kitchen includes recipes for all of those superhero foods!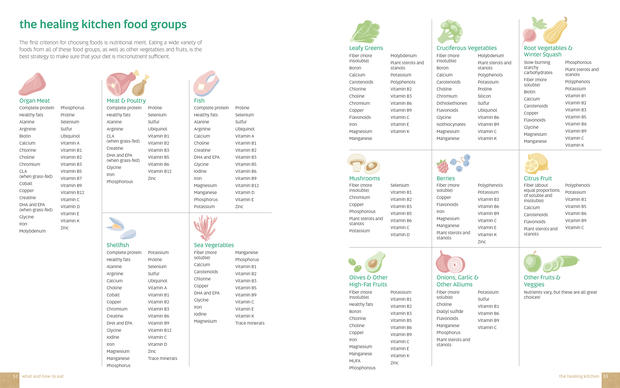 We've redefined "food groups"! Just look at the abundance of goodies you get to enjoy on a healing protocol… when people say it's a restricted diet, obviously they've never seen this infographic. I love how we identified foods under each groups and let you know what nutrients those foods are highest in them too!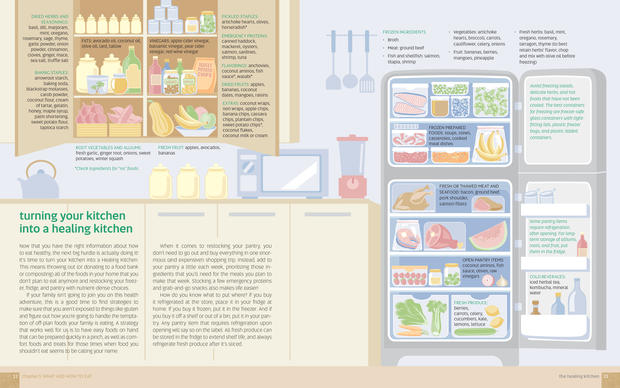 Hey, cutest kitchen in the world. Wondering what a "healing kitchen" really looks like? Well, there's no formula of course but we do give you a run-down on what should be your pantry and fridge staples to ensure you have the ability to eat nutritious foods three times or more a day! This is an excellent resource to help you stock your kitchen easily so tasty meals are always at your fingertips.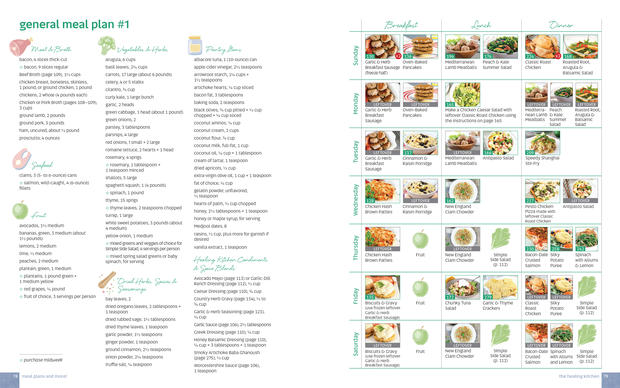 Twelve meal plans are going to get you through 3 months of eating without you giving it a second thought! We've given you the choice of doing a big grocery shopping at the beginning of the week OR you can also follow our guide and head to the store mid-week as well to re-stock on the latter half of the week's fresh food! The meal plans are super varied so you won't be eating the same thing week after week, and while we make use of leftovers, you're also not going to be eating the same thing for lunch and dinner all week. That would have made designing these meals plans for you MUCH easier, but we went the extra mile to make sure they're doable and enjoyable! We'll even have two batch cook videos available for you all before the book releases so you can follow along with us in our own kitchens!
---