Paleo Pecan Crusted Chicken Tenders with Maple Dijon Dipping Sauce made without eggs, gluten & nightshades!
These pecan crusted chicken tenders converted me from nuggets to the tenderest tenders ever! I used the ButcherBox Chicken Tenders from my latest order which are pasture-raised, organic, and certified humanely raised.
Rather than using an egg-wash, I wanted to keep them egg free. To make this recipe successful, I patted the chicken tenders dry before coating in a light dusting of tapioca, salt and pepper, THEN tossed in coconut milk before rolling in the crushed pecans. If you can't do coconut milk, sub a whisked egg, or even buttermilk if you do dairy. Also, you should be able to sub other nuts here as long as you grind them into a fine coating.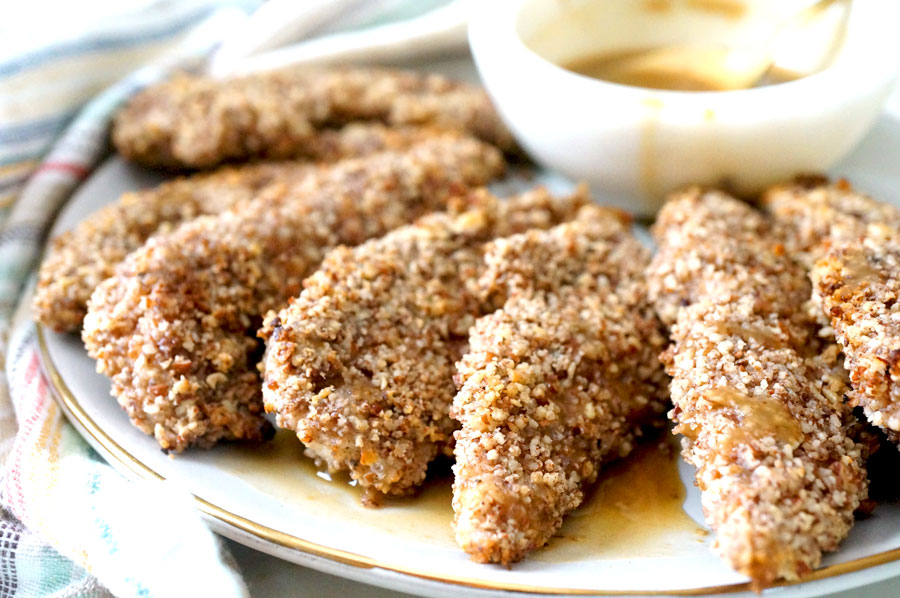 My husband & I loved dipping these hot crunchy (baked crunchy, not fried crunchy!) pecan crusted chicken tenders in a simple Maple-Dijon dipping sauce… a little sweetness, a little vinegar, delish!
The whole family will love this healthier Paleo take on baked chicken tenders. Throw a sheet of julienned or sliced sweet potato or white potato fries in the oven at the same time for a "two pan meal"!
Pecan Crusted Chicken Tenders with Maple Dijon Dipping Sauce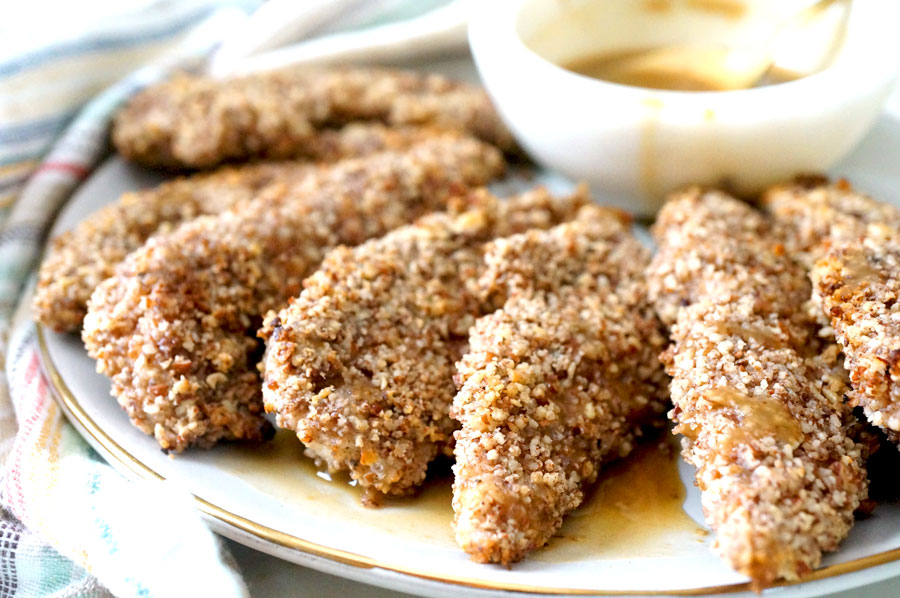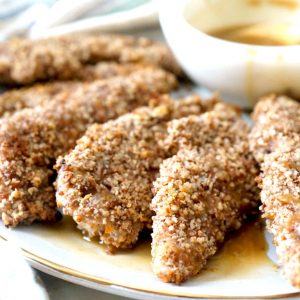 Ingredients
1 pound chicken tender, about 9 to 10 total
3 tablespoons tapioca or arrowroot starch
1 teaspoon sea salt
cracked black pepper
1/4 cup coconut milk (or 1 beaten egg)
1 cup raw pecan halves, finely ground in your food processor or blender
Dipping Sauce
2 tablespoons maple syrup
1 tablespoon + 1 teaspoon Dijon mustard
Directions
Preheat oven to 350 degrees. Line a baking sheet with parchment.
Pat chicken dry with paper towels. In a medium bowl, whisk together tapioca or arrowroot, sea salt and a few grinds of cracked black pepper. Toss chicken with the flour mixture until evenly coated.
Pour coconut milk or beaten egg over chicken and toss until coated.
Spread finely ground pecans on the parchment lined baking sheet.
Roll chicken tenders in the pecans until well coated on all sides. Lay flat on baking sheet, ensuring the tenders do not touch.
Bake for 10 minutes. Remove from oven. Flip carefully with tongs. Increase oven temperature to 400 degrees. Bake for an additional 5 to 7 minutes, or until the tenders are fully cooked.
Whisk together maple and mustard and serve as a dipping sauce with the tenders.