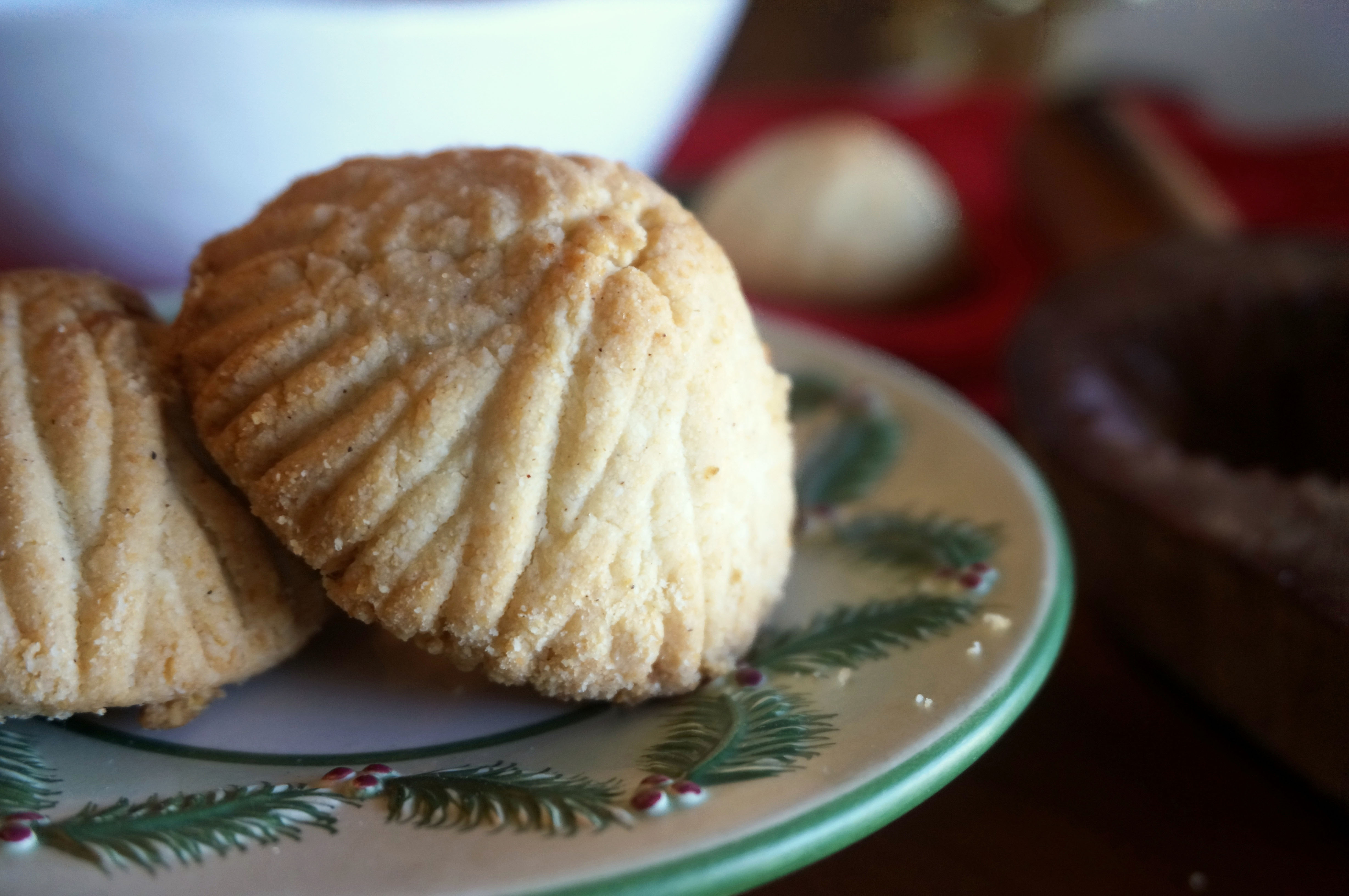 Growing up with a Lebanese father and very traditional Lebanese extended family, our holidays and celebrations were founded on the four major food groups: hummus, tabbouleh, roast chicken, and ma'amoul. Ma'amoul is a very traditional Arabic cookie made from semolina and butter and filled with a variety of sweets like dates, walnuts, and pistachios. The cookie is a dense, crumbly shortbread-like exterior with a sweet, orange-blossom or rose-water scented filling.
Have you tried orange blossom before? It is such a delightful eating experience. The smell of it alone reminds me of sunshine and butterflies but it's unique flowery taste is something to be remembered. You can find it at nice spice stores or at Middle Eastern grocers (or via the Amazon link in the recipe below). My Paleo version of these cookies uses almond flour, coconut flour, and palm shortening, and is less dense and more soft than traditional ma'amoul, but the flavors are still spot-on and bring me back to childhood.
I am so excited to share this recipe with you guys, and especially with my fellow Middle Easterners who don't have to go through another holiday season without their beloved ma'amoul. The decorative cookie is formed using a tabi, a beautiful wooden cookie mold. You can find a similar one on Amazon HERE. If you don't have a cookie mold, you can use the directions below and maybe hand carve some pretty decorations into your molded cookie dough with a butter knife? You know – the ancient art of cookie decorating is making a comeback. Which reminds me: why haven't hipsters made the cookie the new "It" food yet? Poor cookies got beat out by cronuts and waffle sandwiches.
Paleo Date-Filled Arabic Cookies (Ma'amoul)
Makes 8 cookies | Prep Time 20 minutes | Cook Time 17 minutes
Date Filling
12 large Medjool dates, pitted
2 T unsweetened coconut flakes
1 tsp orange zest
1 tsp orange blossom water
1 T water
Pinch sea salt
Cookie
1 ½ c almond flour (I use Honeyville brand)
2 T coconut flour
½ cup palm shortening
1 T gelatin
1 tsp orange blossom water
¼ tsp cinnamon
Pinch sea salt
Preheat oven to 325 degrees. Grease a baking sheet lightly with palm shortening.
Place Date Filling ingredients in a food processor and process until smooth. Spoon into a small bowl and set aside. Wipe the processor clean.
Place Cookie ingredients in the food processor and process until a dough forms, about 20 seconds. Scrape down the sides if needed and process a few seconds longer. Remove dough from processor and form into a large ball.
Divide dough ball into 8 even pieces. Flatten each piece of dough in the palm of your hand into 3-inch circles. Place 1 T date filling in the center and fold the dough over the date mixture. Pinch closed to cover the date filling and gently roll the cookie in your hands to form a ball (the date mixture should stay on the inside).
If using a tabi, press dough ball gentle into mold and tap on counter to transfer it to the baking sheet. If not using a tabi, press dough into an ice cream scoop to form a mound shape and release onto the baking sheet. Repeat with remaining 7 pieces of dough.
Bake 325 degrees for 17 minutes until the bottom is golden brown and the tops of the cookie are lightly browned. Let cool to room temperature completely before serving. Serve at room temperature or cold. I like them straight out of the freezer (they don't freeze solid).