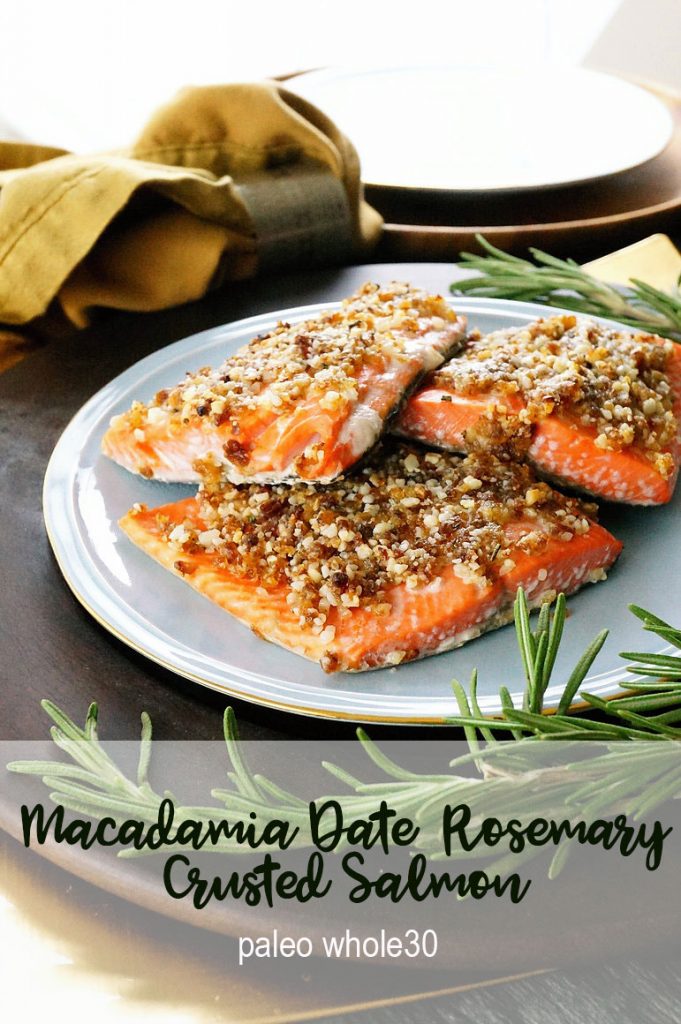 This salmon is absolutely incredible. It is inspired by my popular Bacon-Date Crusted Salmon that you can find here and is also in The Healing Kitchen. It's just a lovely combination of smokey, sweet, garlicky, herby, buttery salmon deliciousness. If you haven't made it yet, please go do so! Especially if you are on the elimination phase of the Autoimmune Protocol. This recipe below for Macadamia, Date & Rosemary Crusted Salmon requires a macadamia reintroduction (der!) and I like it even more than the original bacon version! The topping is like candy (which is why it will be featured in a dessert recipe at a later date)!
Woohoo! I got around to re-photographing this recipe because the picture didn't do it justice. THIS IS THE BEST SALMON DISH I HAVE EVER EATEN – PLEASE MAKE IT! I want everyone to have a foodgasm over this salmon!! The rosemary pops through the crumble but doesn't overpower it, and there's just something so creamy and succulent about macadamia nuts and dates when combined! I almost ate too much of the crumble and didn't have enough to coat the last piece of salmon, so don't do as I did and nibble, nibble. Or do as I did, and have zero regrets over a half-naked crusted salmon.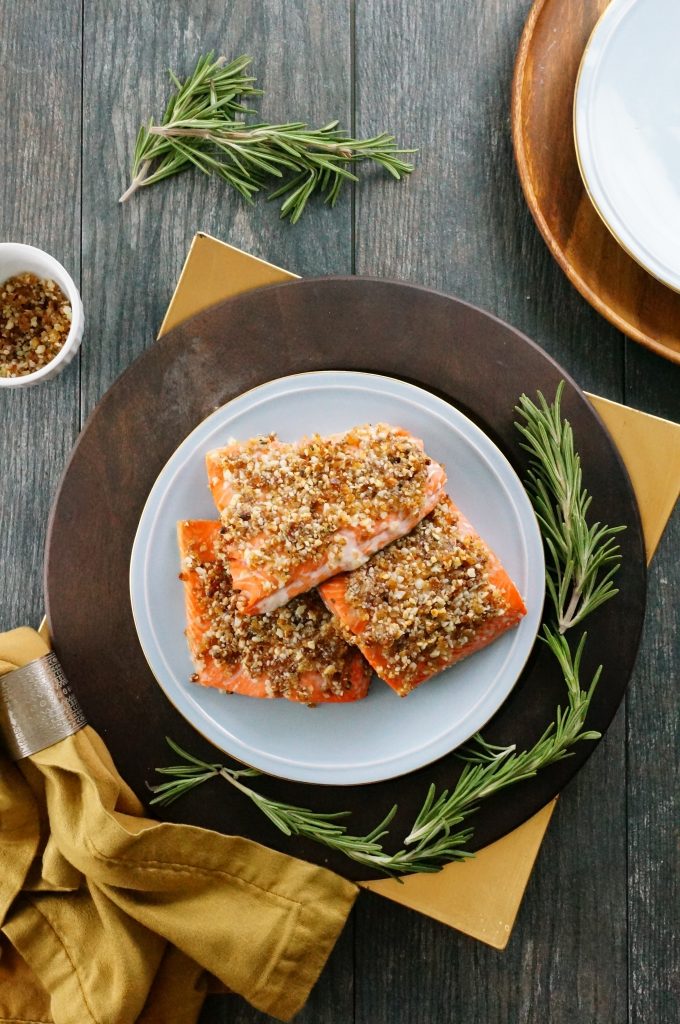 You haven't lived until you've eaten sweet & savory crusted salmon!
Macadamia Date & Rosemary Crusted Salmon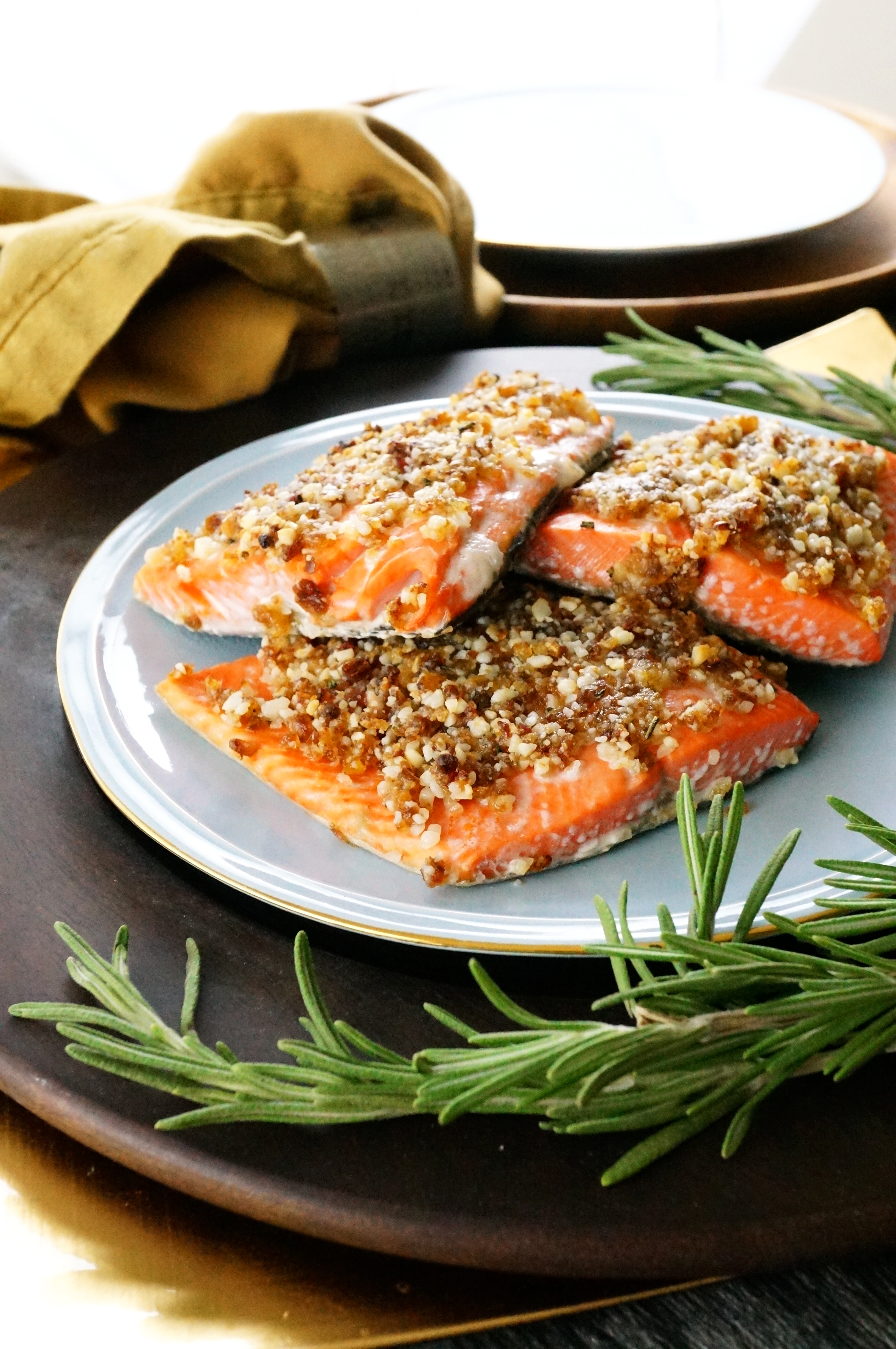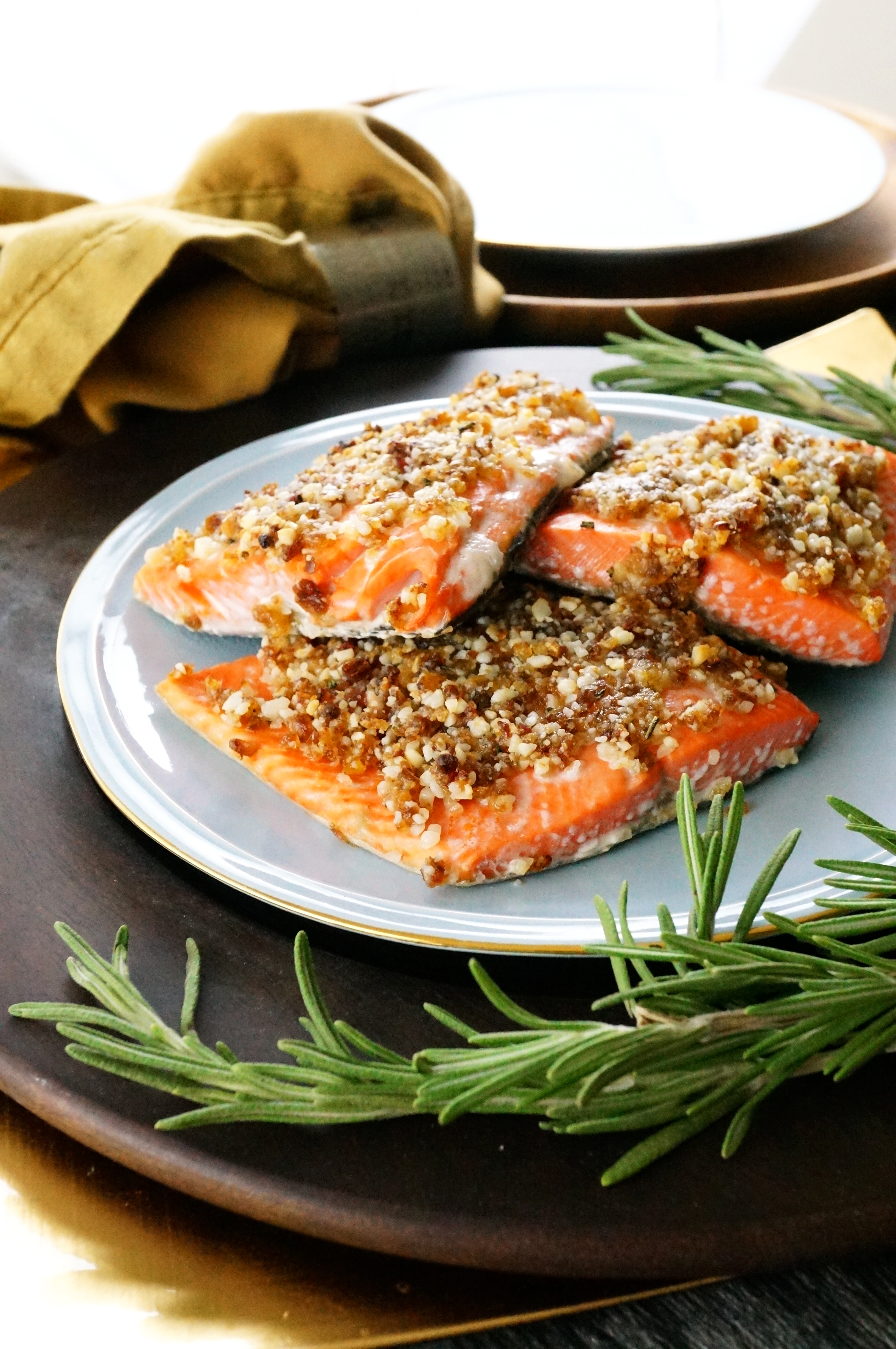 Ingredients
1/2 cup dry roasted and salted macadamia nuts
5 soft Medjool dates, pitted
1 teaspoon finely chopped rosemary
1/4 teaspoon truffle salt or sea salt
4 6-ounce filets of wild-caught salmon, patted dry
Directions
1. Preheat oven to 425 degrees and arrange an oven rack in the center of the oven. Line a rimmed baking sheet with parchment paper.pan>
2. In a food processor, combine nuts, dates, rosemary, and sea salt until chopped to a fine, sticky crumble.pan>
3. Press a couple tablespoons of macadamia crumble onto "meaty" side of salmon to coat. Save extra crumble for a delicious recipe to come later this week!pan>
4. Bake in preheated oven for 8 to 12 minutes (depending on the thickness of your salmon filet) until the center flakes easily with a fork and is a medium pink.  pan>