These organic, healthy, antioxidant-rich frozen Berry Bowls are my best-kept (not really) secret! They are naturally sweet, grain-free, dairy-free and full of flavor and satisfying textures. So dang delicious anytime of the year but I especially love these healthy berry bowls for breakfast, snack and dessert… so basically three times a day. And they're completely customizable!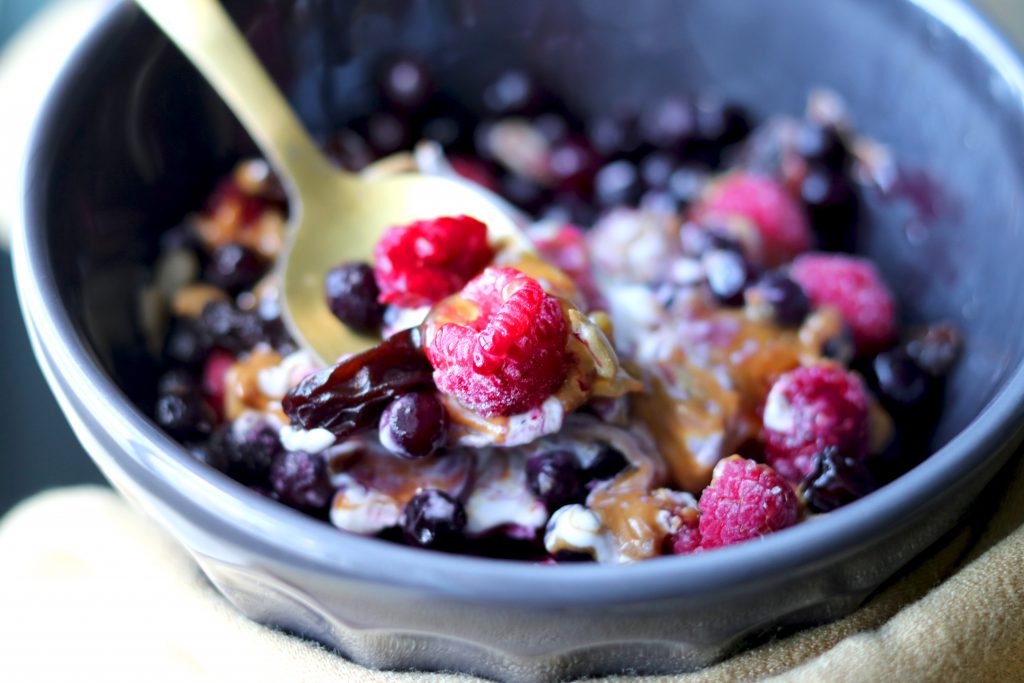 I came up with these Healthy Frozen Berry Bowls during my first pregnancy when I had the WORST morning sickness. I won't get into it here because I'll save you and myself the vivid details, but they saved my butt during endless months of nausea.
I reincorporated them with this last pregnancy and have kept them going post-partum when I need a quick sweet, satisfying snack. Particularly handy during the post-partum sweats. I haven't been able to eat a hot meal in 5 months; I shvitz like nobody's business if my food temp is above 32 degrees Fahrenheit.
These berry bowls couldn't be easier to throw together in 5 minutes or less, and they're completely customizable, although I am giving you some tips below for the best texture balance! What I love about them is that they force you to sit down, savor and CHEW your food. I'm "guilty" of sucking down a smoothie or green juice while feeding the girls and not enjoying my own breakfast or snack.
I don't know… I just really savor these frozen berry bowls and would love to know if I'm crazy or you do too (let me know in the comments!)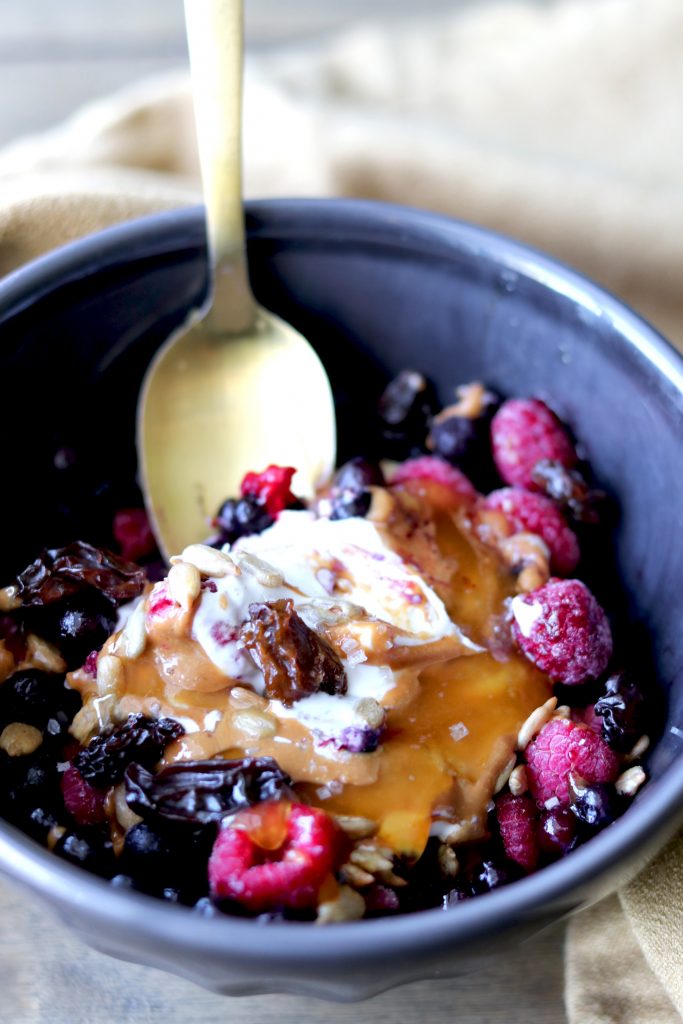 How to Make an Organic Berry Bowl
You need:
Frozen Organic Berries:

I like the affordability of the organic frozen raspberries and blueberries from Trader Joe's (or Publix, if you're in the Southeast like me)
Two or Three Creamy Toppings:

any organic nut or seed butter (the thinner consistency, the better so you can easily stir and swirl), cold coconut cream (the cream scooped off the top of a can of refrigerated coconut milk) or thick raw honey. I don't recommend almond milk here – you need a high fat content creamy plant butter or coconut cream for best eating experience.
Two to Infinity Crunchy Toppings (the more the better):

my favorite combination is jumbo organic raisins, roasted and salted sunflower seeds, sprouted macadamia nuts (get 25% off with this link), toasted coconut flakes, chopped dark chocolate and flaked sea salt
STEP 1

: Add the frozen berries to a single-serve bowl (I do 1 cup mixed raspberries and blueberries).
STEP 2

: Stir in the creamy toppings. Top with your crunchy toppings. DEVOUR. And probably make a second bowl immediately.
That's it! Let me know how you make your own Organic Frozen Berry Bowl in the comments!