Classic pumpkin pie made grain-free and paleo with a buttery cassava crust, vanilla-scented filling and a festive ginger and orange topping.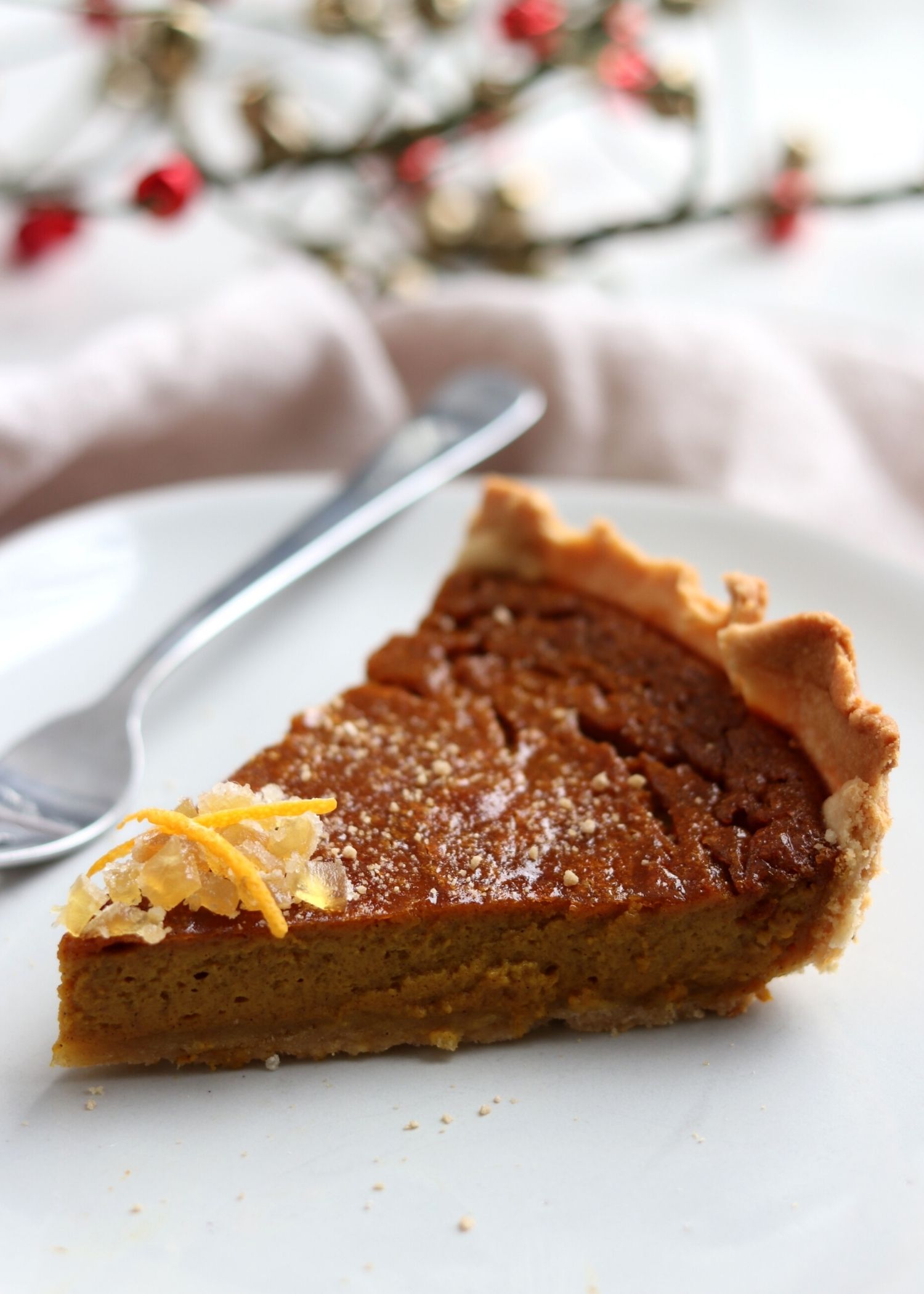 You, me, we cannot celebrate Thanksgiving without pumpkin pie. In fact, I've gone far too many years celebrating without pumpkin pie due to food allergies. I don't recommend it.
This year, your addition to the family table can be this grain-free and Paleo Classic Pumpkin Pie. It's made with a simple ice water cassava flour and butter crust and a flavorful homemade pumpkin pie filling. No underwhelming pumpkin pie flavors here!
Most recipes call for 2 teaspoons of pumpkin pie seasoning. Instead of using store-bought seasoning, you can easily create your own with high-quality and flavorful organic spices like cinnamon, ginger, nutmeg and allspice. This recipe uses over 3 teaspoons of spices to kick up the flavor a bit.
I have also added the seeds of a scraped vanilla bean to this recipe for REAL vanilla flavor. You can find a single vanilla bean in a glass jar in the spice aisle at most grocers. They are worth the price, but if you can't find it, use 1 teaspoon vanilla extract instead. I may cry a little, but you'll never know.
What does homemade Pumpkin Pie filling include?
Canned or homemade pumpkin pie puree
Maple sugar – adds a caramel depth of flavor you won't get elsewhere
Coconut cream – most pies use evaporated milk or heavy cream – scooped from 1 or 2 cans of refrigerated coconut milk
Vanilla bean – for a more authentic vanilla flavor but you can also use 1 teaspoons vanilla extract in it's place
Grated orange zest – for a light citrus hint and something a little different
Salt – helps bring out the sweetness and spices
Spices like cinnamon, ginger, nutmeg and allspice
Eggs – I use both whole eggs and just a yolk for extra creaminess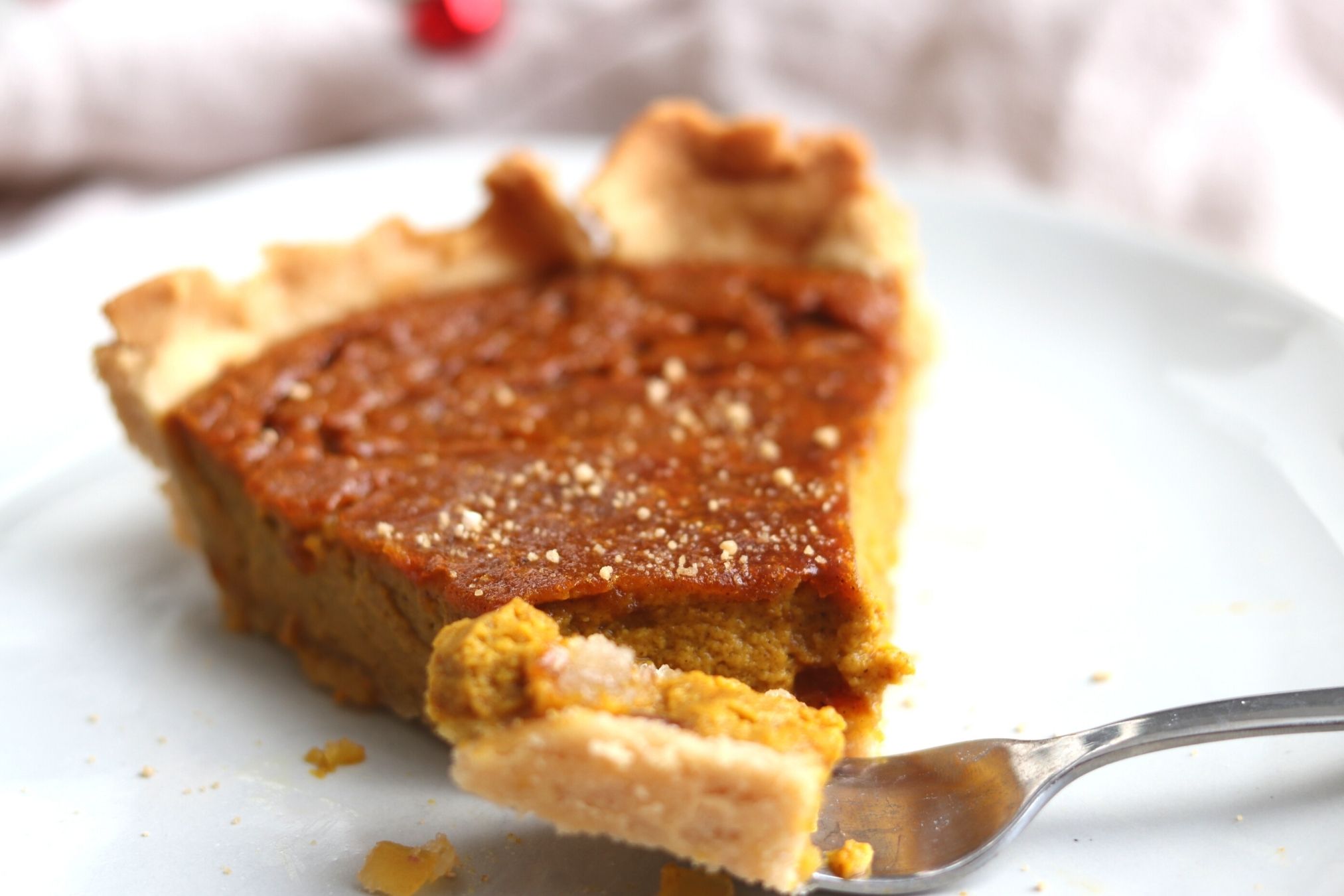 Is it easy to make your own pie crust? 
Yes! It really is! This pie crust contains just a few ingredients: grain-free cassava flour, salt, butter and ice water (a bowl of water with ice in it to keep cold).
Cassava flour performs the closest to gluten flour in pie crusts among the grain-free flours. Hand-rubbing the butter in creates delicate flakes, while the ice water keeps the dough cold for the flakiest crust. The crust won't be as flaky as a traditional gluten pastry crust, but your tummy will be much happier.
You'll need the most finesse and attention to detail when rolling out the crust and flipping it evenly into the pie dish.
If you want enough crust for crimped edges and extra crust to bake into decorative pie toppings, then multiply the crust recipe by 1.5x.

You can see how the maple sugar browns nicely – adding an extra depth of flavor. Maple sugar is sweeter than brown sugar which is why this recipe uses a lower amount compared to traditional pumpkin pie recipes.
How far in advance should you make pumpkin pie?
This recipe takes a little extra time to set because of the extra egg yolk and coconut cream. You'll want to start your pie in the oven at least 6 hours before serving. Pumpkin pie is best served cold or barely room temperature, not warm! If Thanksgiving dinner is at 4 pm, you'll want to get your pie in the oven by 10 am at the latest or simply make it the night before!
What can I top pumpkin pie with?
In this recipe I use finely diced crystallized ginger for a spicy kick and orange zest for decoration. Add a big dollop of homemade or Reddi Whip Coconut Whipped Cream plus a little extra sprinkle of maple sugar for texture and decoration!

[simple-recipe:9765a]