How 2017 am I this week? I wore sneakers with shorts (it's acceptable again for the first time since 4th grade), sitting in a hipster coffee shop with my Mac Book + cold-brew decaf + almond milk, AND I'm wearing make up again. That last one may seem really ridiculous. "You stopped wearing makeup? What are you? A masochist?"
Quite the opposite, I say to you. I stopped wearing makeup every day because everything I had was full of harmful toxins that were getting absorbed in my skin and therefore into my bloodstream. It's about to get really intense here. Please keep reading and hand me a tissue. 
You guys, I struggled with infertility from the age of 20 to 27. I worked my butt off to conceive naturally + went to the end of the world and back to have my baby girl. I know a lot of you have been through this + are going through this. That's why I'm opening up about the most vulnerable moment of my life.
I reversed my infertility diagnosis in a multi-prong approach that took time, work, dedication + becoming a self-informed advocate for me and my future children. Joke's on the doctor and not my ovaries because those bad b*tches are working again. How did I do it? How did I hear my diagnosis over and over again from 10 different doctors in my early twenties + tell them, "No, I'm not going to accept that. I'm going to have the daughter I've always wanted."
I'm going to share something with you today that I've only ever told my husband. It was just last week I told him on one of our nightly walks, through tears in my eyes. 
At my lowest point in my struggle with autoimmune disease and infertility, I was so clinically depressed, I didn't want to go on anymore. This was in Spring 2015 during a severe Hashimoto's flare that last almost a year. I didn't want to wake up the next day. I hoped something would happen to me. I literally prayed a car would jump the sidewalk and hit me. You guys, this is when I was writing The Healing Kitchen + blogging. Those were dark times. On a particularly difficult moment, I laid curled up in a puddle of my own tears, my heart wringing itself out in a painful sorrow I can't even describe.
ALL I WANTED WAS A CHILD. I didn't just want one, I needed one. I had this extreme pull towards motherhood, like I was put on earth to be a mother and that was my God-given purpose. To have your purpose in life denied to you, well I can't really think of anything worse for a purpose-driven individual. 
I was in the fetal position, pounding my fist on the floor out of frustration and sadness, and suddenly a vision popped into my head. An extremely vivid, lucid vision. Almost a daydream. I saw myself (in my early thirties) standing in a grassy field smiling + laughing and staring at a small, brown-haired, brown-eyed little girl with wavy hair, laughing, and running away from me. I was overcome with calm, peace, and a new purpose. That was my daughter. And I needed to do everything in my power to have her. That was my daughter – it was Grace. I saw her. You may not believe me, but I know that was her. Everything changed after that moment. I no longer felt defeated. My baby was almost mine. I was on the right path. I finally knew I had something big to live for. It gives me goose bumps to this day.
 What next? I made a few changes to prepare my body for pregnancy + motherhood. I needed to clean the slate. To protect myself and Grace from the toxic burden of our everyday lives. Some toxins are unavoidable, others (like the ones we bring into our homes) are under our control. I knew that environmental and consumer product toxins caused birth defects + abnormal development + brain damage + nervous system toxicity + hormonal disruption. I was determined to have a healthy pregnancy resulting in a healthy baby who had a fair shot at life. I knew I was passing on my autoimmunity genetics to this girl. I couldn't be the gun that pulled the trigger in her DNA. 
Then I realized these toxins were also worsening my adrenal fatigue, contributing to the inflammation in my body, to my genetic difficulty with detoxing, and my chemical sensitivity.
And my symptoms disappeared when I made the changes. Noticeable, life-changing changes. But something was missing – I didn't have a skincare or a makeup routine anymore, I didn't look forward to getting ready for outings because my routine was so boring. I missed wearing a bright red lip + giving myself at-home facials + cleaning my apartment from door to door. I realized I could lead a life of minimalism and less toxins… and I could have my under eye concealer too. I could really get my clothes clean without Tide. I didn't need Swiffer to make my floors shining and spotless. I switched to safer beauty products, safer body products, safer household cleaners (+ started making my own!) I bought a Berkey water filter + a new mattress.
In terms of diet, I ate copious amounts of wild seafood and healthy fats <– SIDE NOTE: BABY MAKING FOOD, PEOPLE. The headaches went away. The strange little face rashes went away. The constant unquenchable thirst from drinking barely-filtered water went away. And I got my groove back with my beauty  + skincare routine. I stopped looking blah and feeling blah, and I started to look like my old self and feeling pretty again. I missed feeling pretty. I missed getting sexed-up for date nights. I wanted to wear some damn bronzer and foundation again!! Is that so much to ask!? Not anymore.
I found a way to have beauty + reduce my toxin load at the same time. And it really changed my life. I feel so much more confident walking down the street now than when I was in my plain-face, 'fraid of toxins. Beautycounter is one of the companies that changed my world. It helped this recovered Sephora-Addict get her sexy back. Something I'm eternally grateful for now that I get less sleep, less time in the sunshine, and definitely less time for facials. 
Besides eating beauty foods (which I'll be doing an article on soon – turmeric included) … here's been my morning skincare routine for the last 6 months that I wanted to share with you guys today. It's the perfect routine for a busy woman who still wants to look put together + confident, but doesn't want to slather on cancer and infertility-causing products onto her body.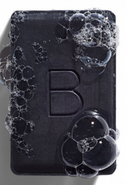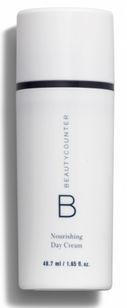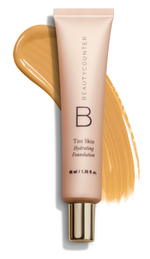 Charcoal Bar + Nourishing Day Cream + Rejuvenating Eye Cream + Tint Skin Foundation in Honey (use as undereye concealer too) + Cream Blusher in Hibiscus (on the apples of my cheeks + on my lips)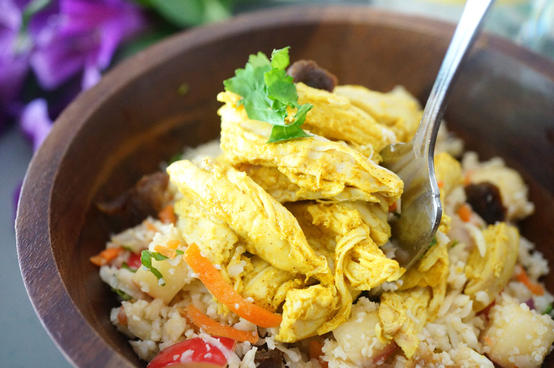 NOW FOR THAT DELICIOUS HEALING RECIPE
Print Turmeric Chicken Cous Cous Bowls
Author:

Prep Time:

15 minutes

Cook Time:

20 minutes

Total Time:

35 minutes

Yield:

3

1

x
---
Scale
Ingredients
Turmeric Chicken:
3 cups

cooked + shredded chicken breast, warm*

3 tbsp

coconut milk

1 tbsp

honey

1 tsp

turmeric

1/2 tsp

garlic powder

1/2

sea salt

1/4 tsp

ground cinnamon
Cous Cous Salad:
1

medium head cauliflower, riced

1/2 cup

shredded carrots

1/2 cup

diced apple

1/4 cup

diced dried apricot

2 tablespoons

chopped cilantro

2 tablespoons

diced red onion

2 tablespoons

olive oil

1 1/2 tablespoons

red wine vinegar

1 teaspoon

grated lemon zest

1/4 tsp

sea salt
---
Instructions
Combine chicken with the coconut milk, honey and seasonings until well coated. Set aside while you make the cous cous bowl.
Dry toast the riced cauliflower, stirring continuously, in a large pan set over medium heat for 3 minutes until crisp-tender. Remove from heat and stir in remaining ingredients. Taste and adjust salt if desired. Serve Turmeric Chicken over Cous-Cous Salad in individual bowls.
---
Notes
*Time saver tip: use shredded plain rotisserie chicken