Before I get into this delicious, easy and fast Paleo & Whole 30 & AIP-adaptable side dish…let's chat about what I've been up to lately!
I have so many ideas swirling through my head for blog content that would provide such value to expecting and new moms, and I want to get it out there! But the irony is being a stay-at-home mom leaves me almost zero time to get any of it done! So I took the advice of many women and hired a nanny just 6 hours a week to start.
It's already made a big difference in my happiness, peace and productivity. I look forward to the two morning a week when I leave the house to go work and run errands baby-free. And Grace doesn't even notice when I leave – she loves her nanny so much! 
This was such a necessary step in our relationship as mother and daughter. It provides us independence from one another so we can continue to pursue our daily interests and explorations. It's wonderful for her to connect with another woman so quickly, and I'm much calmer knowing I have someone to help me during the long weeks.
My husband is gone almost 60 hours a week AND works when he gets home, so I was getting worn down fast trying to juggle the blog, Beautycounter and baby (and a baby who wakes up at least 2x a night to feed). 3 B's I'm super passionate about and there weren't enough hours in the day for all of them.Obviously the human B gets all my attention first!
Now onto this tasty Lebanese-inspired easy side dish! I've been loving pan-toasting or roasting my cauliflower rice lately because it doesn't steam cook and get mushy but instead keeps it's firmer bite. Turning it into couscous is a a no-brainer!
This is necessary if I'm going to call a dish couscous because a true Middle Eastern cous dish is not a mushfest. This "rice" dish is flavored with toasted pinenuts, raisins, parsley, mint and lemon + so addicting. It's so easy to make it could easily become a frequent go-to for your family.
I ALWAYS keep an abundance of fresh herbs in my fridge. Just wash and dry them well and wrap them in paper towels in a sealed bag, and they will last a couple weeks for sure. I have fresh vibrant parsley that is almost 3 weeks old in my fridge using this storage method! Fresh herbs are incredibly dense in minerals, provide bright flavors to your finished dishes and are plain old beautiful to look at!
Wondering what you should serve this with? What about my AIP Beef Shawarma or my Crispy Lebanese Chicken?
This grain-free couscous will get cure your craving for Mediterranean fare!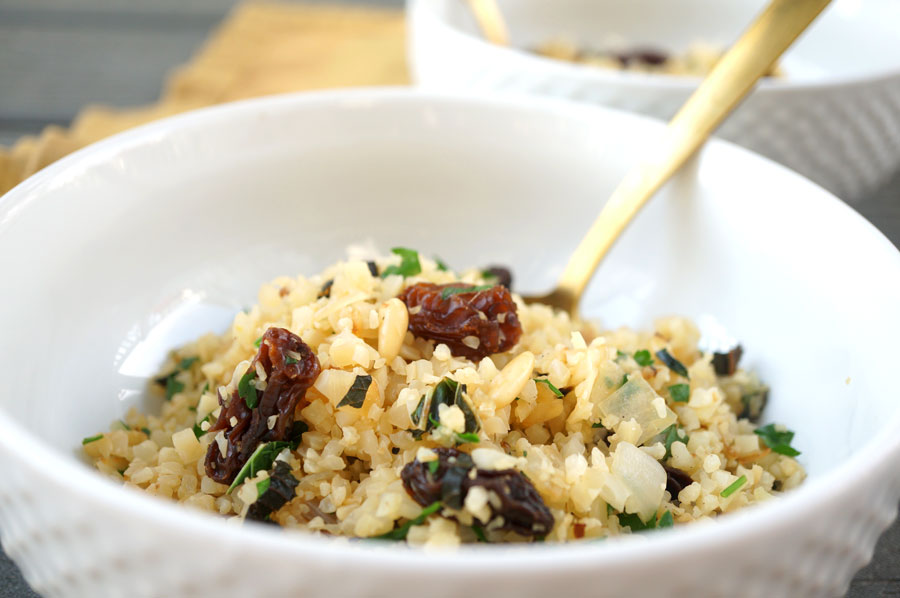 Print Toasted Cauliflower Cous Cous with Pine Nuts & Raisins
Author: Alaena Haber
Prep Time: 7 minutes
Cook Time: 12 minutes
Total Time: 19 minutes
Yield: 4 1x
---
Description
Fragrant Middle Eastern-inspired low carb cauliflower cous cous side dish! Serve with my Beef Shawarma or Crispy Lebanese Chicken linked in the blog post.
---
Scale
Ingredients
1 tbsp olive oil
1 cup finely diced white onion
2 tbsp pine nuts
12 oz Trader Joe's frozen organic cauliflower rice
1/4 cup raisins
2 tbsp finely chopped fresh parsley and mint leaves
1 tbsp lemon juice
1/4 tsp sea salt
---
Instructions
Heat olive oil over medium heat in a large stainless steel skillet. Add white onion and a pinch of sea salt and sautee for 3 to 4 minutes until browned. Add pine nuts and toast for 1 minute until fragrant.

Add cauliflower rice with another pinch of sea salt to the pan and cook, stirring continuously, for 5 to 6 minutes until the cauliflower is crisp tender. No mushy cauliflower rice! Continuously stirring the rice releases the steam so your cauliflower rice toasts rather than steams in the skillet.

Remove skillet from heat and stir in the raisins, herbs, and lemon juice. Taste and add more lemon juice and sea salt, if desired.
---
Notes
I prefer to use jumbo raisins because they are more plump and juicy. You may use 3 cups of homemade riced cauliflower in place of the Trader Joe's rice. For AIP, omit pine nuts and replace with equal amount chopped dried apricots.