Four ingredient Frozen Watermelon Margaritas use real foods like watermelon, lime and sea salt, and they couldn't be easier to blend up for a refreshing summer beverage.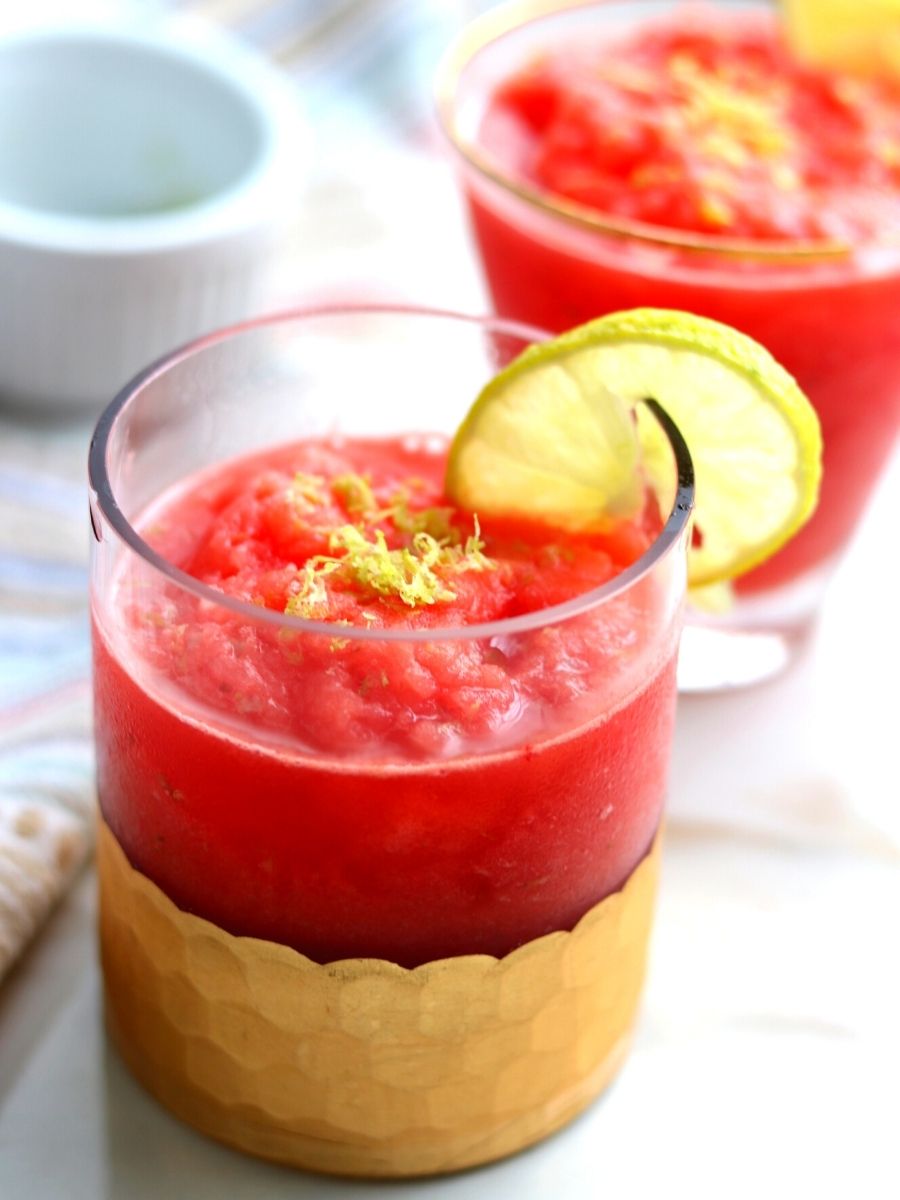 My husband and I went on a quick 2-night trip recently to the Costa D'Este resort in Vero Beach, Florida. It was one of our favorite vacations we've taken in the last 10 years – likely because we have been stuck at home for four months with two kids and limited childcare.
Even if that weren't the case, we would be returning to the resort in the future. It is on the smaller side, with an intimate pool deck, salt water pool and just a few steps from a private beach access. There is beach service – meaning you can order delicious, overly sweetened frozen beverages from the sand, taking sips in between ocean dips. It really was a tiny slice of Heaven for two tired parents who haven't had much alone time this year.
I let my husband choose our drinks, and he kept coming back with these frozen watermelon margarita drinks (made with vodka instead of tequila). They weren't made with fresh watermelon though, and while delicious, they definitely gave me a headache. I'm sensitive to nightshades and since vodka is distilled from potatoes (a nightshade), I don't tolerate most vodkas well. There are some made from grapes (like Ciroc – P.Diddy's brand ha) and even blueberries, but they are hard to find when out and about at restaurants, bars or resorts.
Tequila – especially high quality silver tequila from Casamigos (George Clooney's brand – I guess investing in alcohol companies is a lucrative business? See: Bethenney Frankel) I do quite well with in responsible amounts. What's responsible for me? Usually one drink – on vacation or a special occasion – two drinks over the period of a few hours.
When remaking my own "healthier" version of a frozen watermelon margarita, I wanted to keep the ingredients simple and straightforward. Frozen watermelon when blended creates the PERFECT slushy margarita texture! Who knew a big ol' melon was just nature's Sno Cone in the making?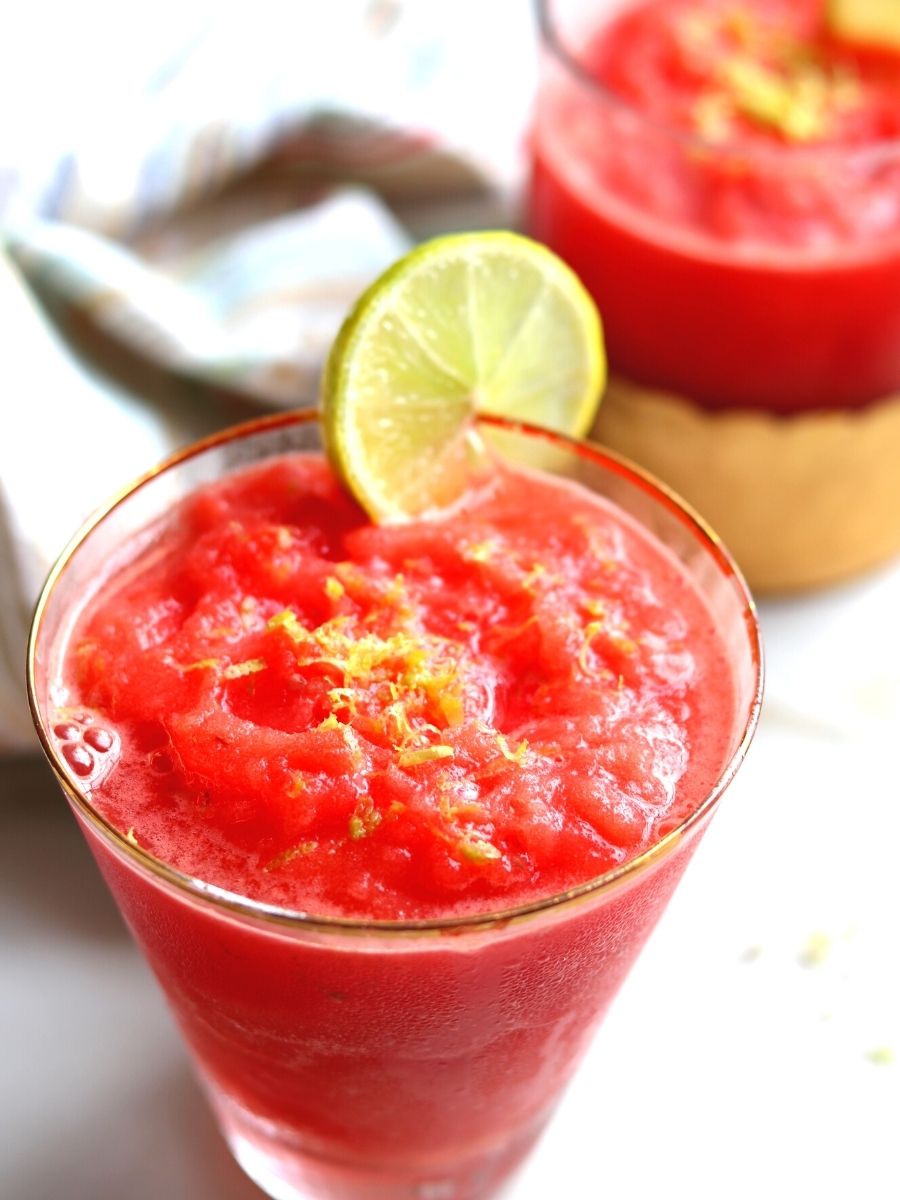 What's in a Frozen Watermelon Margarita?
Fresh watermelon, cubed and then frozen

Silver Tequila

Fresh lime juice

Sea salt or pink salt

Water, if needed to thin.
How to make a Frozen Watermelon Margarita at home?
Prior to making your margaritas, you will want to remove the rind, cut the watermelon in cubes, and then freeze in a single layer on a large parchment-lined plate or cutting board. You'll want to freeze for at least 2 hours or overnight.

In a high-speed blender (I use this one), combine the frozen watermelon, tequila, lime juice and sea salt, using the tamper to keep the mixture going. If the mixture gets stuck, slowly add some of the water, as needed.

To serve, you can create a salt rim by running a lime wedge along the rim and dipping in crushed coarse salt. Sprinkle grated lime zest on top and serve with a straw. It will melt over the next 10 to 15 minutes, so serve immediately.
IMPORTANT NOTE: There is no added sugar in this recipe. You NEED to use a sweet, flavorful, juicy, red watermelon for the best results. Your margarita will only be as flavorful and refreshing as your watermelon is! Here's a great post by Real Simple on How To Choose A Sweet Watermelon.
If you want to turn this into a frozen watermelon margarita mocktail, simply leave out the tequila and include the water. You could even replace the water with GT Kombucha Watermelon flavor – yum! Here's another mocktail recipe: No-Alcohol Red Sangria!
[simple-recipe:9498a]