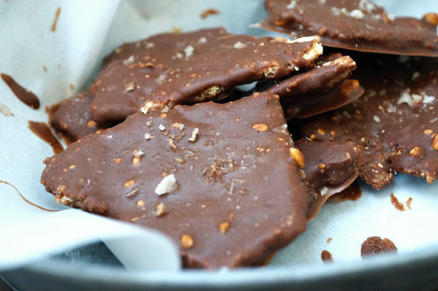 I asked my husband to cook dinner for me tonight and he said Yes! That's better than telling me I'm special or taking me shoe shopping. How many nights a week do I wish I had a personal chef, I cannot tell you. After 2 1/2 years on an elimination diet and cooking 95% of my meals at home, the thought of getting in the kitchen and making dishes loses its appeal. But I must eat, and eat I will. And cook I have to. Such is life. [Side note: Halfway through he took a phone call, and I had to finish cooking dinner.]
I do enjoy cooking and if I go a day without it, I actually crave getting into the kitchen. My favorite days before Grace were the ones where I was home alone for a morning or afternoon and could just play in the kitchen. I must have at least one creative outlet going at all times. Cooking tends to be my main squeeze, but when I was working pre-baby in pediatric occupational therapy, I got to use a ton of creative juice too.
I really enjoyed creating The Healing Kitchen for this reason because it gave me a distraction from my master's program and stressful clinical rotations. Looking back, I took on way too much at one time though, so if I ever do another cookbook, I am for sure going to make it a singular goal. My husband and I have a new goal together at the mo'! We are looking into becoming first-time home buyers on the west coast of Florida come winter of this year. We are moving back there to be closer to my family so we can get some help with Grace, and I can go back to work part-time while her grandmother watches her. Anyone in the Tampa/St.Pete area!? I am going to try to start a monthly AIP dinner when I get settled in there. I have friends there but not in the Paleo community. I also want to start a mommy morning bootcamp. One thing at a time, Alaena, you crazy kid. 
So I made these on day 4 of #cutthesugar . I have been eating a lot more sweet post-partum than I typically do, and I finally reached the point where I promised myself to get back to the basics. I never replace nutrient-dense foods with treats, but I had one too many squares of dark chocolate sprankled throughout my day.
They are such a delish energy boost though! So now I've replaced all my treats/snacks with a fourth meal. It's keeping my energy levels steadier and I'm getting in even more nutrients than usual. Baby Grace noticed because she doubled her weight in just 2 months and I swear her cheeks have tripled in size since I started!
How awesome is that!? I'm planning on doing a 1 to 2 month reset without sugar to promote immune regulation and hormone balance. A recent food allergy exposure unfortunately made my thyroid antibodies flare, so I'm working to get those back down to normal. I've been having broth once or twice a day (which is why there are so many soup recipes up right now even though it's summer!)
This recipe was really only made possible by my generous friend Laura from Sweet Treats. Laura is a trained pastry chef who is not only an incredible baker but also has some of my favorite savory AIP recipes like her popular Turmeric Pork Skillet (I CRAVE IT!)  and Spaghetti Squash Carbonara. She just rocks. Laura brought me chicken soup when I got stitches on my wrist when I was in my third trimester and was one-handed for a couple weeks and couldn't cook, my favorite stuff from Whole Foods after I had Grace, and most recently a bag of Yucan Crunch from Bay Area-based restaurant Mission Heirloom (you can order it online via the link above).
It is absolutely to-die-for smeared with avocado, lemon juice, and truffle salt, and I also had it with sugar-free strawberry preserves and melted coconut butter (very berries n' cream on toast-y). It's so incredibly crispy, crunchy (and 100% AIP, grain-free, etc) , I had to find a way to coat it in sugar-free chocolate and smokey sea salt to make a tasty afternoon snack.
My batch only lasted me two days! If you want more than 8 pieces, simple double the recipe. It would be a fun recipe to make for a party, but if you're making it for non-Paleo people, you may want to try melting some dark chocolate with a teaspoon or two of coconut oil to make little wafers.
Not everyone goes for the bitter, rich taste of true 100% dark chocolate like used in this recipe. I find coconut butter/manna super sweet on it's own so it becomes the "sweetener" in this easy, no-bake treat recipe. Carob powder, if using for AIP, is much sweeter naturally than cocoa powder.
If you have introduced chocolate but still want a sweeter treat, mix in 1 or 2 teaspoons honey or replace 1 tablespoon cocoa with carob powder!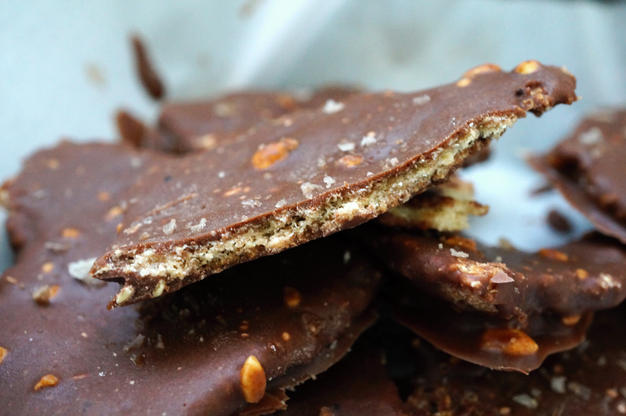 Paleo Sugar-Free Dark Chocolate Covered Wafers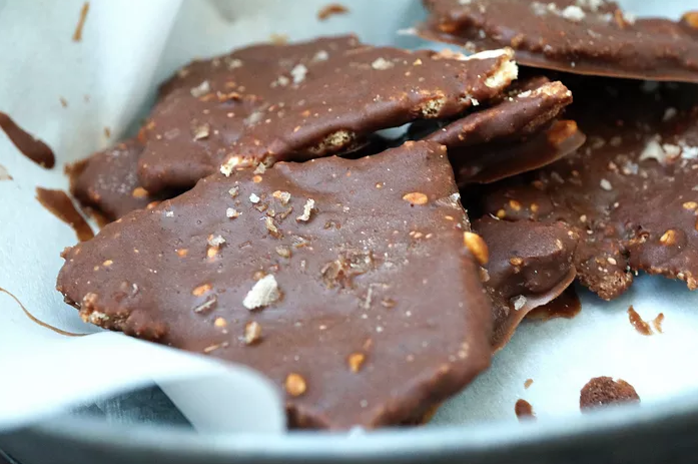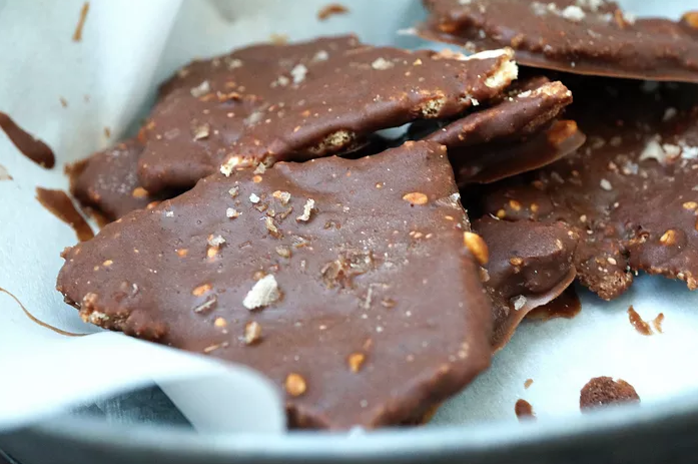 Directions
Line a flat portable surface such as a cutting board or flat plate with parchment paper. pan>

In a medium size bowl, combine coconut butter, cacao/cocoa powder, and melted coconut oil until smooth. pan>

Dip Yucan Crunch pieces into melted dark chocolate one at a time, using a spoon to assist you in coating all sides of the cracker. Let excess chocolate drip off and lay on parchment paper. Continue until all pieces are coated. pan>

Sprinkle lightly with smoked sea salt. pan>

Freeze for 15 to 20 minutes until the chocolate has solidified. Store covered in refrigerator.pan>