​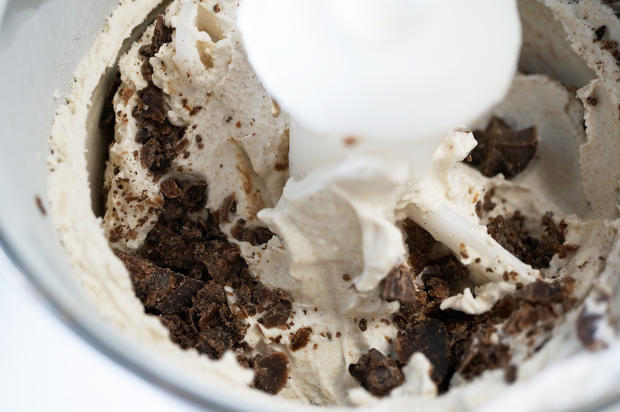 I've been all up in my new ice cream maker's face for the past month since I got it for my birthday. It is SO COOL. I make ice cream for everyone that comes over and make them watch it churn with me. It's very mesmerizing and also doubles as a white noise machine. Sometimes I even turn it on when I want to nap, so when I wake up I am refreshed AND have coconut milk ice cream waiting for me. After a few batches using dates or honey, I quickly realized I needed to chill the fudge out on making ice cream all the time. I don't do well on sugar. Even small amounts!  But I do love making and eating treats (not ashamed) so that's why I have a ton of sugar-free 21dsd-friendly treats on my site for others like me.
This banana ice cream isn't overly sweet at all. In fact it's a little tarty because I used just-ripened bananas. If you use riper bananas, you will get an awesome natural caramelized flavor. If you would like to replace the vanilla with cinnamon, try adding 1/2 tsp cinnamon to the flaked "chocolate" instead. I like running this in my machine until it's the texture of a firm soft serve, since there aren't any thickeners or emulsifiers in homemade ice cream (it can get a little hard).
Have you guys caught on to the adult coloring book trend? I bought Enchanted Forest when I was visiting Austin in July and I'm still working on a very intricate 2-page picture. It's becoming popularized as a stress-reducing activity that reminds adults how to relax like children again. I still feel like a chld. I turned 27 last month, and I still feel 22. Although I have come a long way since then and a lot of people tell me I am "mature for my age" (hence why I call myself an 80-year-old stuck in a 20 year old's body). At 22 I was working in advertising, going to bars with friends 3 nights a week, and eating bean salads every day for lunch. Now I am finishing up my master's in a health-related field, get tipsy off 3 sips of wine, and can't think of anything more disgusting than a can of beans for lunch. How times change. I was probably more fun back then though… and bloated.
What do you do for fun while following a whole foods lifestyle? My most fun activities include walking my dog in parks, traveling with my husband, cooking dinner for friends, and coloring in said coloring book. Oh and sprinting. I've taken that up again and love it!
Banana Ice Cream with Flaked "Chocolate"
Sweetener-Free & Dairy-Free
Serves 3-4 | Prep Time 5 minutes | Cook Time varies depending on machine
2 medium bananas, sliced into coins
15 oz coconut milk
½ tsp truffle salt or ¼ tsp sea salt
¼ cup coconut oil, melted
2 tbsp carob powder
½ tsp vanilla bean powder (omit for AIP)
Cook the bananas using your method of choice: 1) sautéing until caramelized in 1 tbsp coconut oil in a pan 2) microwaving for 1-2 minutes until the sugars have broken down or 3) baking in a 350 degree oven until caramelized.
Blend cooked bananas, coconut milk and sea salt together until  smooth.
Pour into ice cream maker and churn per manufacturer's instructions until you get a firm soft serve texture. This took about 45 minutes in my Whynter Stainless Steel Ice Cream Maker.
Meanwhile, whisk together coconut oil, carob, and vanilla until smooth. Pour into a small 3-4 inch bowl and place in freezer until solid. Use the edge of a spoon with force to break up the hardened "chocolate" into small pieces.
Stir in "chocolate" pieces into soft serve ice cream and serve immediately.