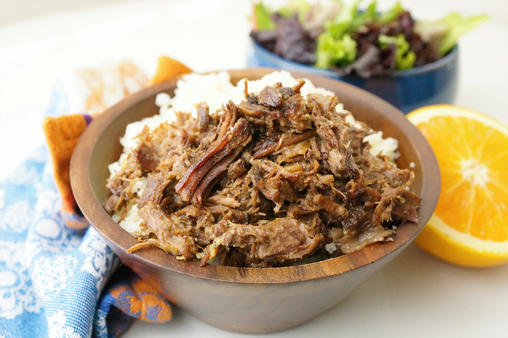 Cuban food is up there for me for some of my favorite flavors. Maybe it's because I grew up in Florida, or maybe it's because they love their meat and rice just like I do. Either way I couldn't wait to take my husband to my hometown's best Cuban restaurant which is only a 5 minute walk from my parents. You need at least a 45 minute walk post-meal to make enough space in your diaphragm to breathe again, but hey. We went right before we left to come back to Austin after the holidays.
I am very careful about what types of oils I consume at restaurants and always ask what type is used to fry, saute, or dress the foods. If it's not olive oil (highly unlikely) or canola oil (more likely) I don't touch it. I'd rather go hungry than deal with the wrath of soybean oil or corn oil on my body. This restaurant unfortunately used a vegetable oil mix that included soybean so I had a homemade limeade (water, sugar, lime juice) and boiled yucca without the mojo sauce. I seasoned it with salt and lime juice and it was quite filling since yucca may be the starchiest food on the planet.
My hub on the other hand had my favorite food in the world at the moment (the crispiest, thinnest tostones) and fried shredded pork with rice and beans. It looked amazing but I didn't have any food envy since I know I can recreate that type of meal at home within the Paleo framework without the use of dairy, gluten or nightshades.
This recipe uses my favorite appliance: The

INSTANT POT

! 
I've been making tostones at least 3 times per week. My favorite method is using my recipe in The Healing Kitchen but frying in bacon fat and topping with truffle salt. This Vaca Frita, which means "fried cow" quite literally, would be amazing with tostones and a green salad on the side and sure to please any meat-loving man or woman in your life. It's absolutely delicious! Imagine slow-cooked (well, in a pressure cooker… but you could use a slow cooker and just adjust the cooking time to 4 to 6 hours) tender beef roast, shredded, then lightly pan-fried until crispy but still moist.
Add savory onion and garlic and brighten things up with orange juice and apple cider vinegar, and this is a meaty dish that is well-balanced, flavor-driven, and oh-so-versatile. 

[simple-recipe:1953a]