This fall-inspired Cinnamon Coffee Cake Baked Oatmeal includes lightly sweetened gluten-free cinnamon baked oatmeal base topped with an easy coffee cake crumble. Nutritious enough for breakfast and yummy enough for a treat! Dairy-free option.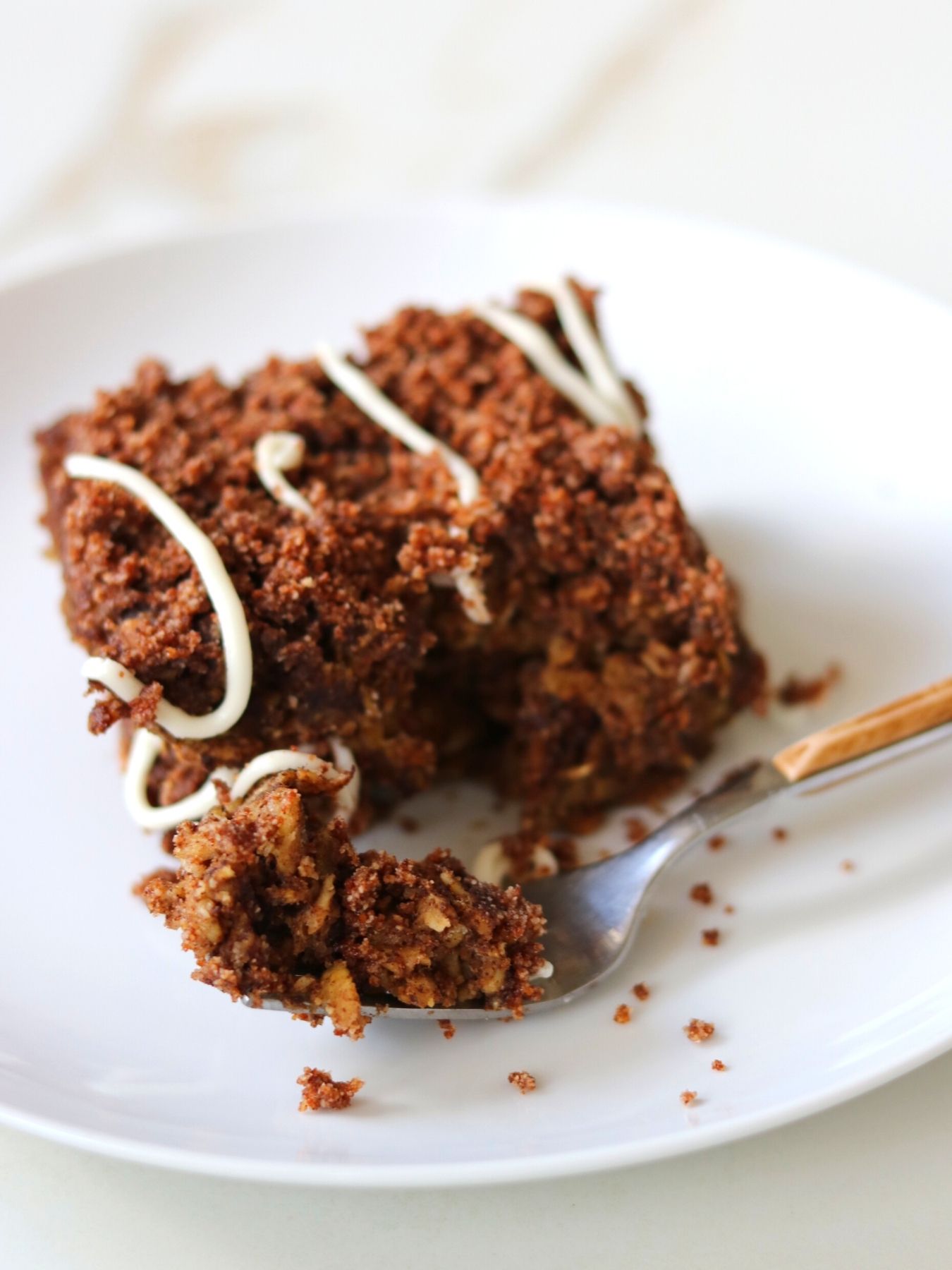 As we head into everyone's favorite baking season, I wanted to create a comfy, cozy recipe that the whole family could dive into at anytime of the day. This Gluten-Free Cinnamon Coffee Cake Baked Oatmeal is sweetened just enough that it could be served as a special occasion breakfast or brunch or even as a holiday dessert.
This recipe combines the flavors and crumble topping of Coffee Cake with a traditional baked oatmeal base. I chose to use Bob's Red Mill Gluten-Free Rolled Oats as oats can be cross-contaminated with gluten. These rolled oats are desired for this recipe versus steel cut or quick cooking oats – and you can get a big bag for under $10 at most grocery stores!
I've been recently able to tolerate gluten-free oats here and there without the headaches I used to get from them! Another example of how bodies are constantly changing and healing when treated with care and attention – even if it takes years to be able to eat a bowl of oatmeal again!

What's in Baked Oatmeal?
Rolled Oats: can't make traditional baked oatmeal without these!
Ground Flaxseeds: extra nutrients but can be left out
Eggs: holds it all together and helps it rise slightly
Almond Milk: my dairy-free milk of choice
Vanilla Extract
Baking Soda
Sea Salt
Cinnamon
Nutmeg
If you haven't noticed – I try to make all of my recipes as pantry-friendly as possible. If I have the ingredients on hand in my minimalist kitchen, my hope is you do too (or at least most of them!)
Be sure to source gluten-free oats if you are gluten-free. It will say it on the bag. I like this big bag of gluten-free rolled oats from Bob's Red Mill.
How do you make Cinnamon Coffee Cake Baked Oatmeal?
It's easy! You'll combine the dry baked oatmeal ingredients in a bowl and then mix with the wet ingredients. Let it soak for 10 minutes then transfer to a greased glass baking dish.
While the oatmeal is par-baking, you'll make the simple gluten-free Coffee Cake crumble out of almond flour, coconut sugar, cinnamon, sea salt and ghee, coconut oil or butter.
Sprinkle the Coffee Cake crumble evenly over the par-baked oatmeal and return it to the oven to finish baking.
Drizzle with a little piped vanilla frosting for a fun breakfast, brunch of mid-afternoon treat!
If you're looking for a grain-free take on baked oatmeal, I highly recommend my Baked Carrot Banana Bread N'Oatmeal from my cookbook The Healing Kitchen (page 138) or you can find the recipe as a guest post on Autoimmune Wellness.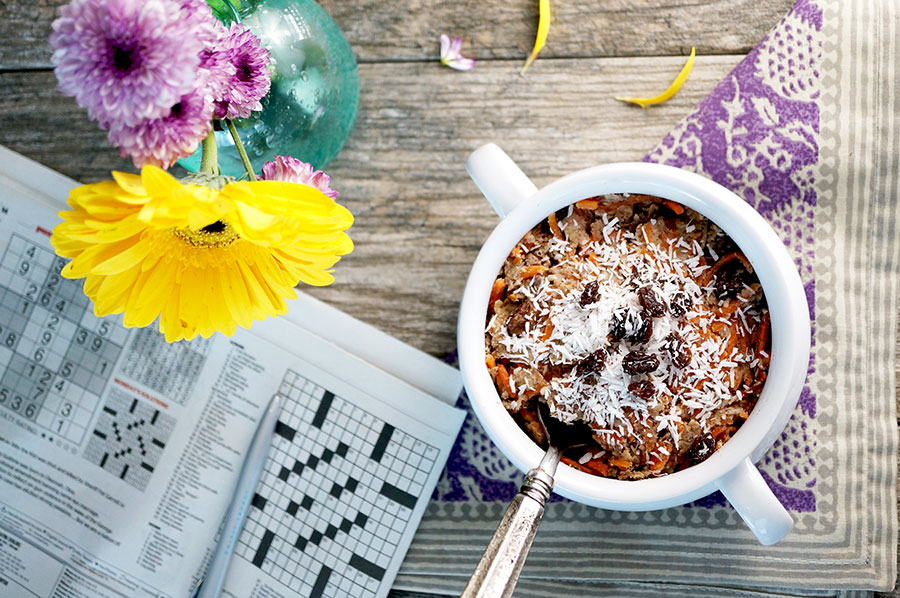 Carrot Banana Baked N'Oatmeal (page 138 The Healing Kitchen) if you're looking for a grain-free baked "oatmeal" recipe!
If you're looking for other gluten-free breakfast ideas, check out:

[simple-recipe:9637a]