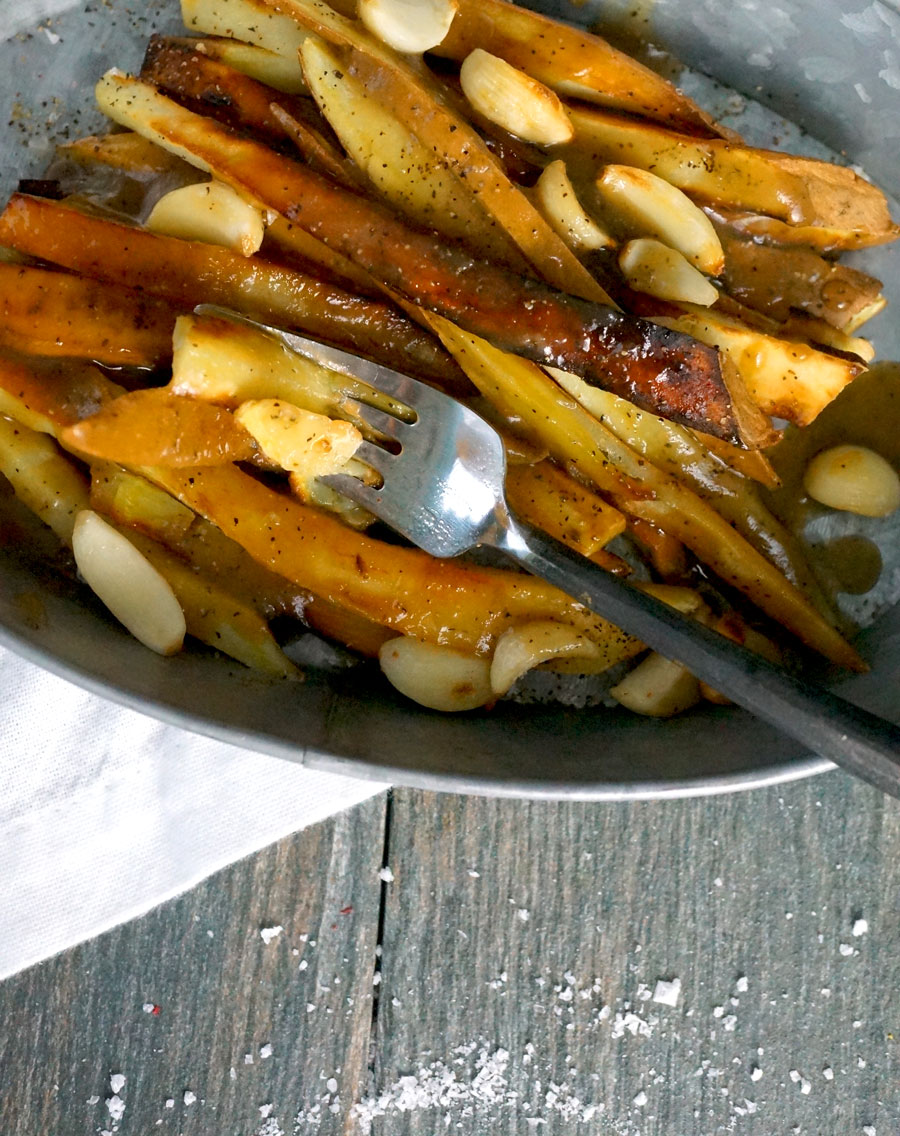 This Paleo Poutine is made with white sweet potato fries, bone broth gravy and tender, sweet roasted garlic in place of the cheese curds. It's dairy-free, Whole30 and gluten-free. This has to be the healthiest poutine you could eat!
Poutine is one of the national dishes of Canada. Canadians hold it near and dear to their hearts much like Americans do the cheeseburger. So I just had to bring a little piece of my childhood to this blog with some legit Paleo Poutine.
While I was born in Montreal, I've spent the majority of my life in the states. That's over two decades of being deprived of true Canadian poutine (okay I used to visit at least once a year, so that's a lie). Although poutine is making a debut in America these days as trendy bar food.
Classic poutine costs no more than $5 and is eaten at 2 in the morning after you've had more than your fair share of nightlife.
But if you live outside of Canada, cannot eat nightshades, dairy or gluten, then you likely live a poutine-less life. I'm here to remediate that.
WHAT YOU NEED FOR PALEO POUTINE: 
White sweet potatoes: I like to use the Hannah variety, but you can use russet potatoes in this recipe too.

Bone Broth: You can use any homemade or good quality store-bought beef bone broth.

Garlic and Onion: Flavors and thickens the bone broth gravy.

Tallow: To fry the potatoes. They'll taste even better than traditional fast-food fries (which used to be fried in tallow before the 90s!)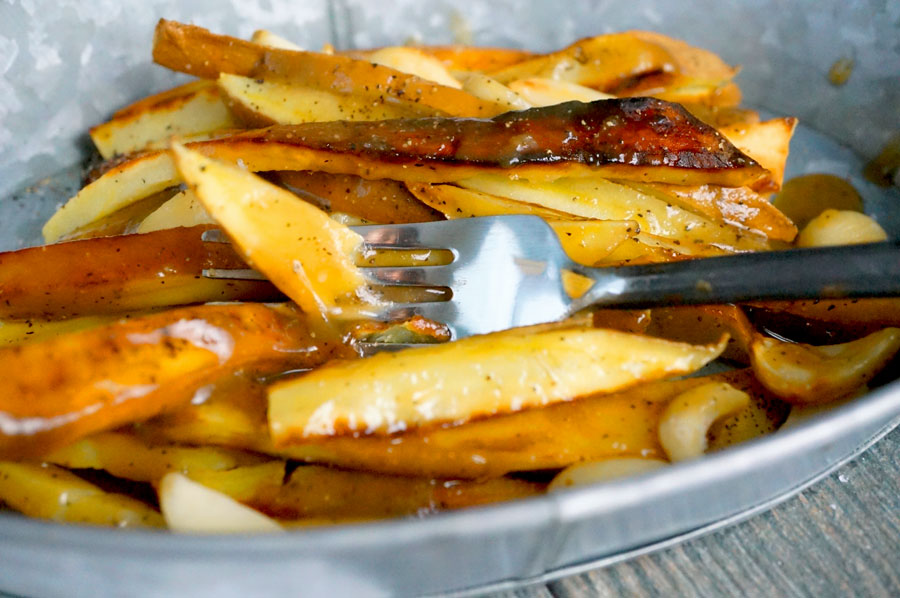 Now I have another poutine recipe on my site called Triple Meat Poutine (ugly pic, sorry) but it is far from the classic dish. This recipe on the other hand sings all the right notes. Classic tallow fries made from white sweet potatoes. If you eat white potatoes, you can certainly sub a large russet in its place.
HOW TO MAKE PALEO POUTINE: 
Make the tallow fries in a cast iron skillet on the stovetop until crispy and cooked through.

In a small saucepan, make the gluten-free gravy. Simmer the broth, garlic and onion for 25 to 30 minutes. Blend in a high-speed blender until smooth.Transfer back to the saucepan and simmer until reduced and thickened.

Roast the garlic cloves in a 400 degree oven for 15 to 20 minutes until lightly browned. Set aside.

Serve the tallow sweet potato fries with the bone broth gravy poured on top.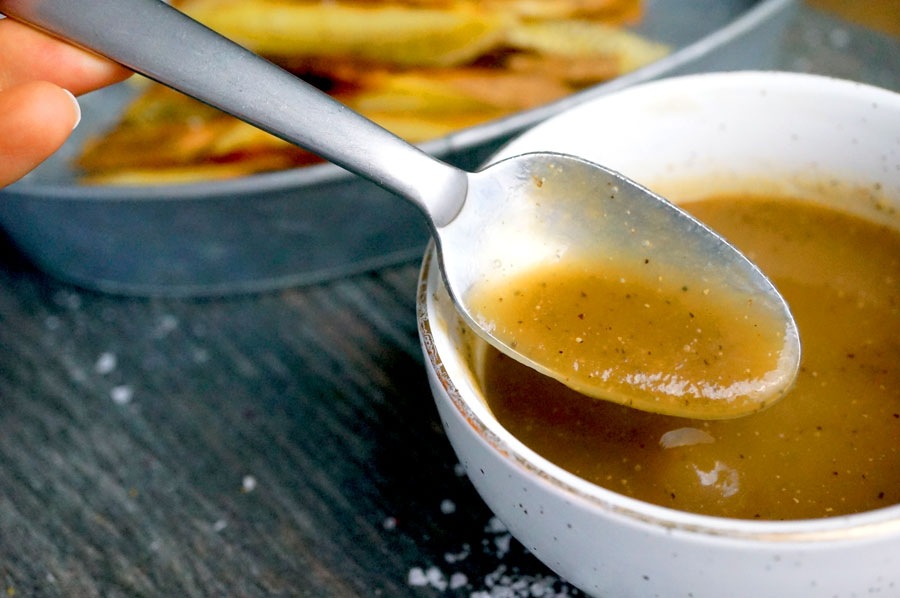 If you've never had poutine before, I hope this recipe converts you! And if you are a seasoned poutine eater, I hope this recipe is close enough to the original but made healthier.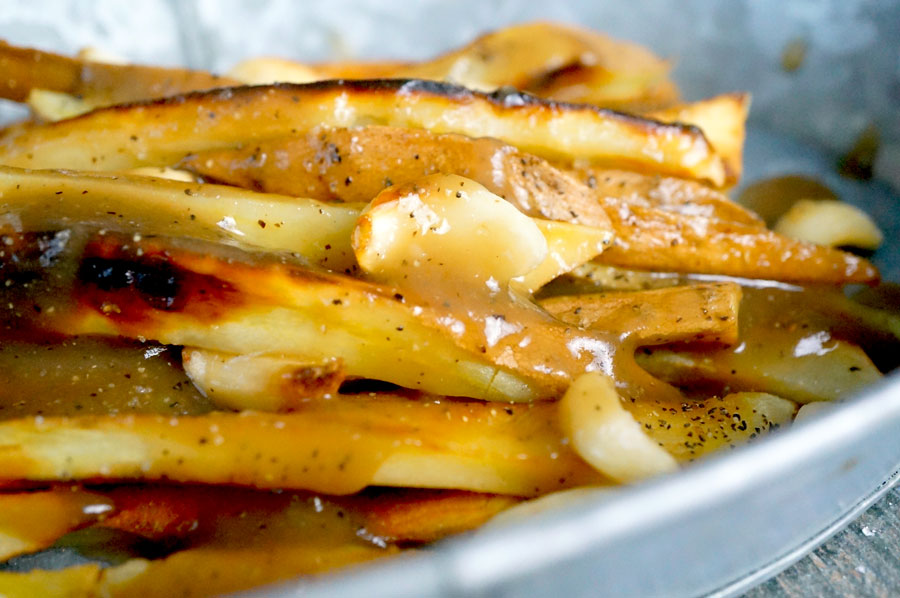 Beef tallow fries drizzled with bone broth gravy makes this the ultimate Paleo & Whole30 comfort food!
Paleo Poutine with Bone Broth Gravy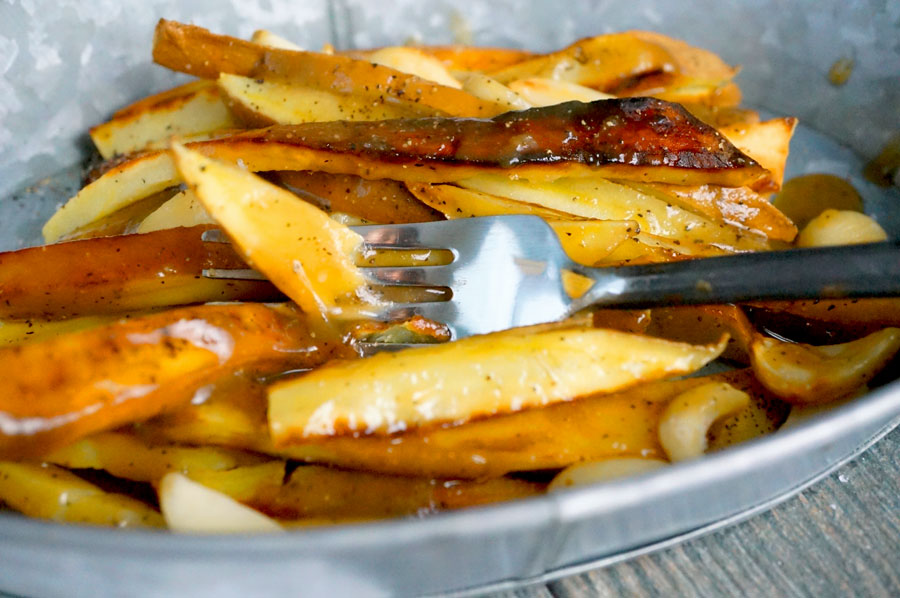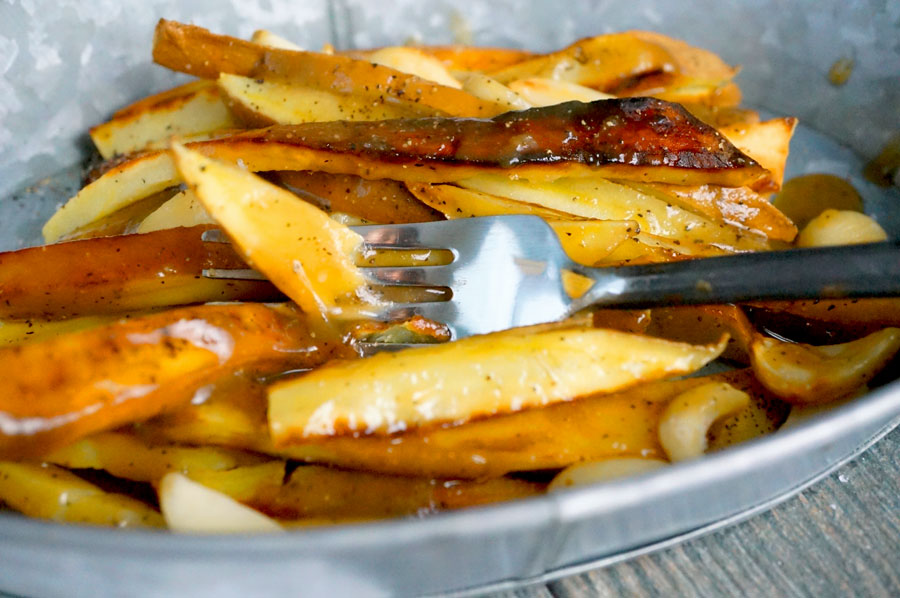 Ingredients
Beef Tallow Fries:
1 large white sweet potato
3 tablespoons beef tallow
flaked sea salt
black pepper, to taste
Bone Broth Gravy:
1 16.9 ounce carton Kettle & Fire Beef Bone Broth
1 cup chopped white onion
4 garlic cloves
Roasted Garlic:
1/4 cup peeled garlic cloves
1 tsp olive oil
pinch sea salt
Directions
For the Tallow Fries:
Wash and dry sweet potato. Leaving the skin on, slice sweet potato into long French fry thick slices about 5 inches long and no more than ½-inch wide.
Heat beef tallow in a large cast iron skillet over medium heat until hot. Lay sweet potato slices in the skillet in a single layer avoiding overcrowding by cooking in two batches if needed.
Fry sweet potatoes until golden, crispy and cooked through, flipping halfway through, for about 10 minutes. Keep warm.
For the Bone Broth Gravy:
In a small saucepan, bring broth, onion and garlic to a boil over medium-high heat. Reduce heat to medium-low and fit lid loosely on saucepan to allow steam to escape.
Simmer for 25 to 30 minutes until onion and garlic are tender. Transfer to a high-powered blender and blend until smooth.
Transfer gravy back to the saucepan and bring to a boil again over medium-high heat. Reduce heat to medium-low, leave uncovered, and reduce gravy for about 15 minutes until its thick enough to coat a spoon. Keep warm.
For the Roasted Garlic:
Preheat oven to 400 degrees. Line baking sheet with parchment paper. Toss garlic cloves with olive and sea salt and spread evenly on prepared sheet.
Roast for 15 to 20 minutes until golden and tender. Set aside.
Assemble the Poutine:
Assemble poutine by layering fries in serving dish with gravy drizzled on top and garnished with roasted garlic. Serve immediately.