Feeling nostalgic? Try these Healthy Star Crunch cookies – a nourishing and gluten-free, dairy-free take on everyone's favorite chewy caramel chocolate covered cookie!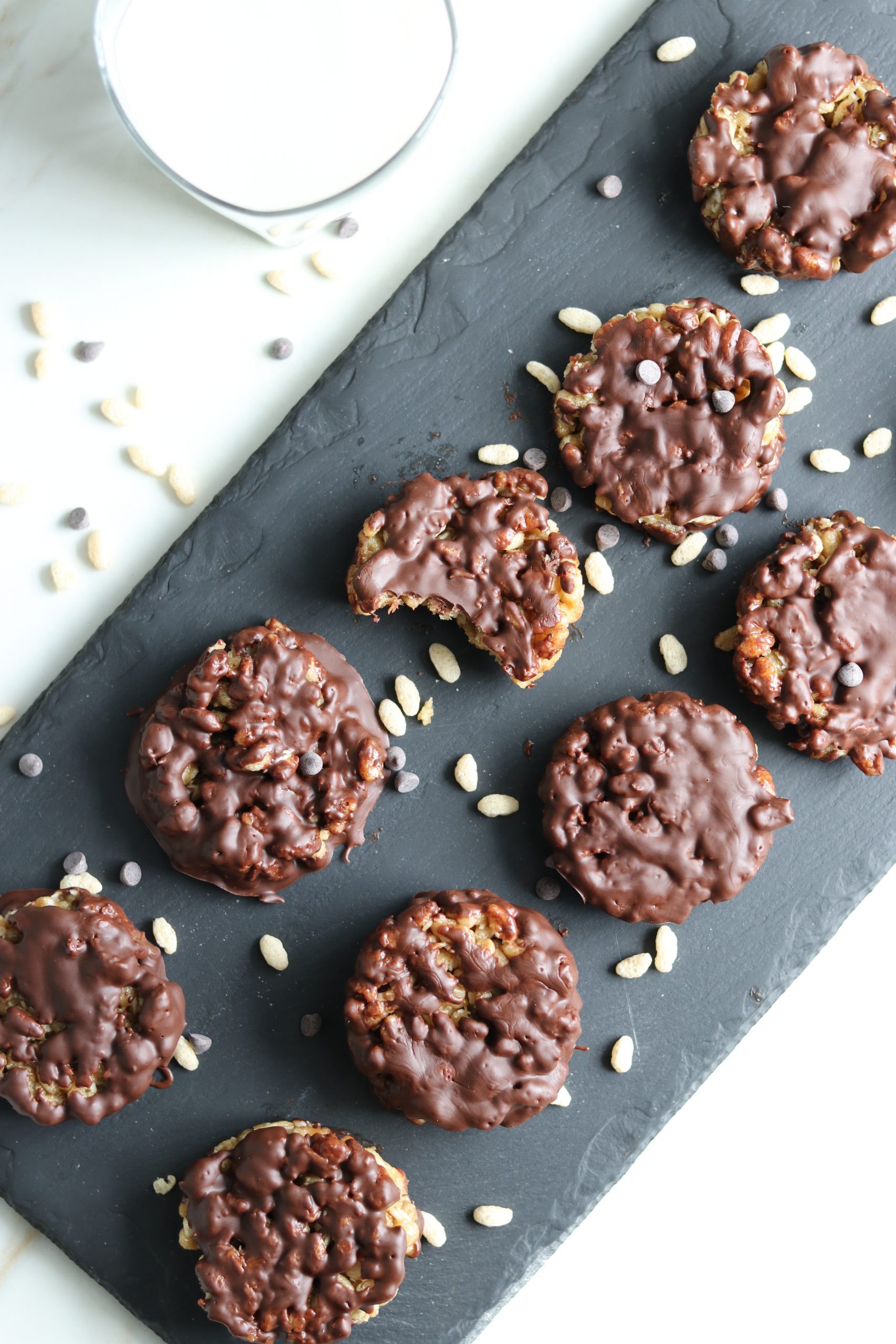 I recently asked on Instagram what Little Debbies nostalgic 90s treat everyone missed the most. An overwhelming majority said Star Crunch, so I had to get to work to create a gluten-free, dairy-free Healthy Star Crunch Cookie everyone could enjoy.
Before I got started attempting this recipe, I checked out the ingredient list for the boxed Star Crunch Cookies. Oh em gee – not surprisingly – a lot of processed, nutrient poor chemicals stuffed into one delicious little chocolate caramel cookie.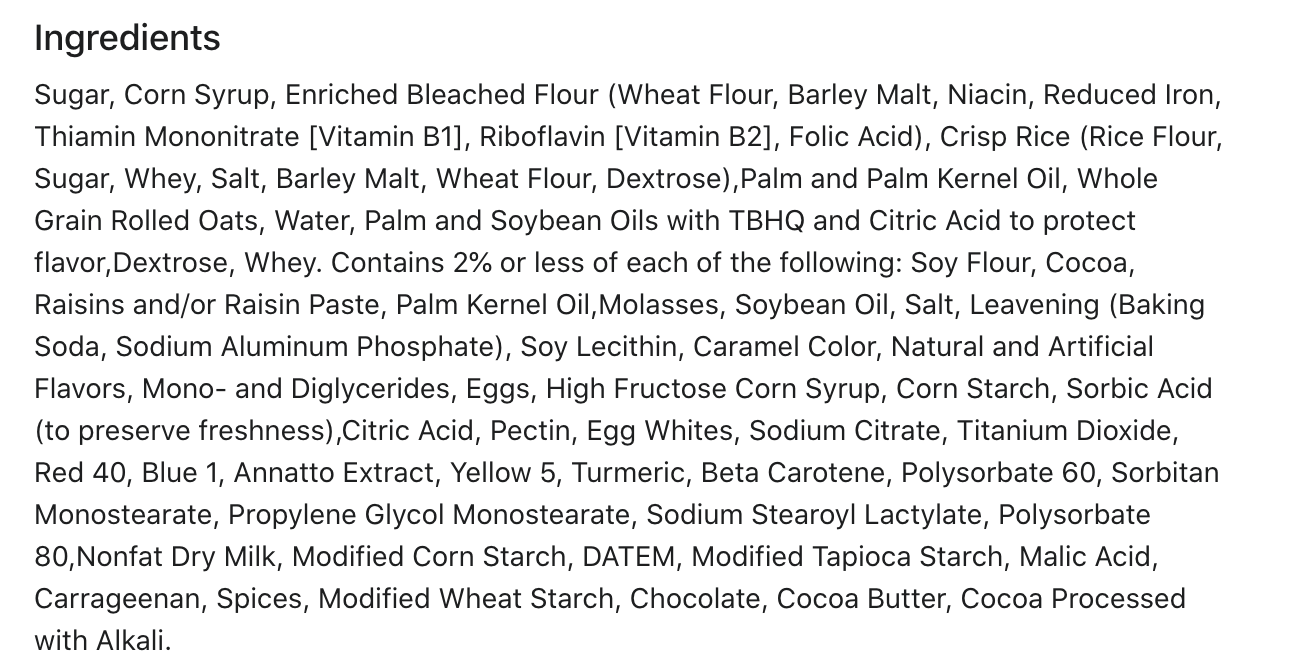 I just can't get behind about 97% of those ingredients – especially polysorbate, high fructose corn syrup, soybean oil, soy flour and the first ingredient being SUGAR. Ha! No wonder they taste so good.

I adapted my Healthy Rice Krispie Treats recipe for this Star Crunch Cookie recipe but changed up a couple ingredients and the ratios. The end result is a dense, chewy, no-bake chocolate-coated caramel rice cookie, and I seriously couldn't stop going back for more bites.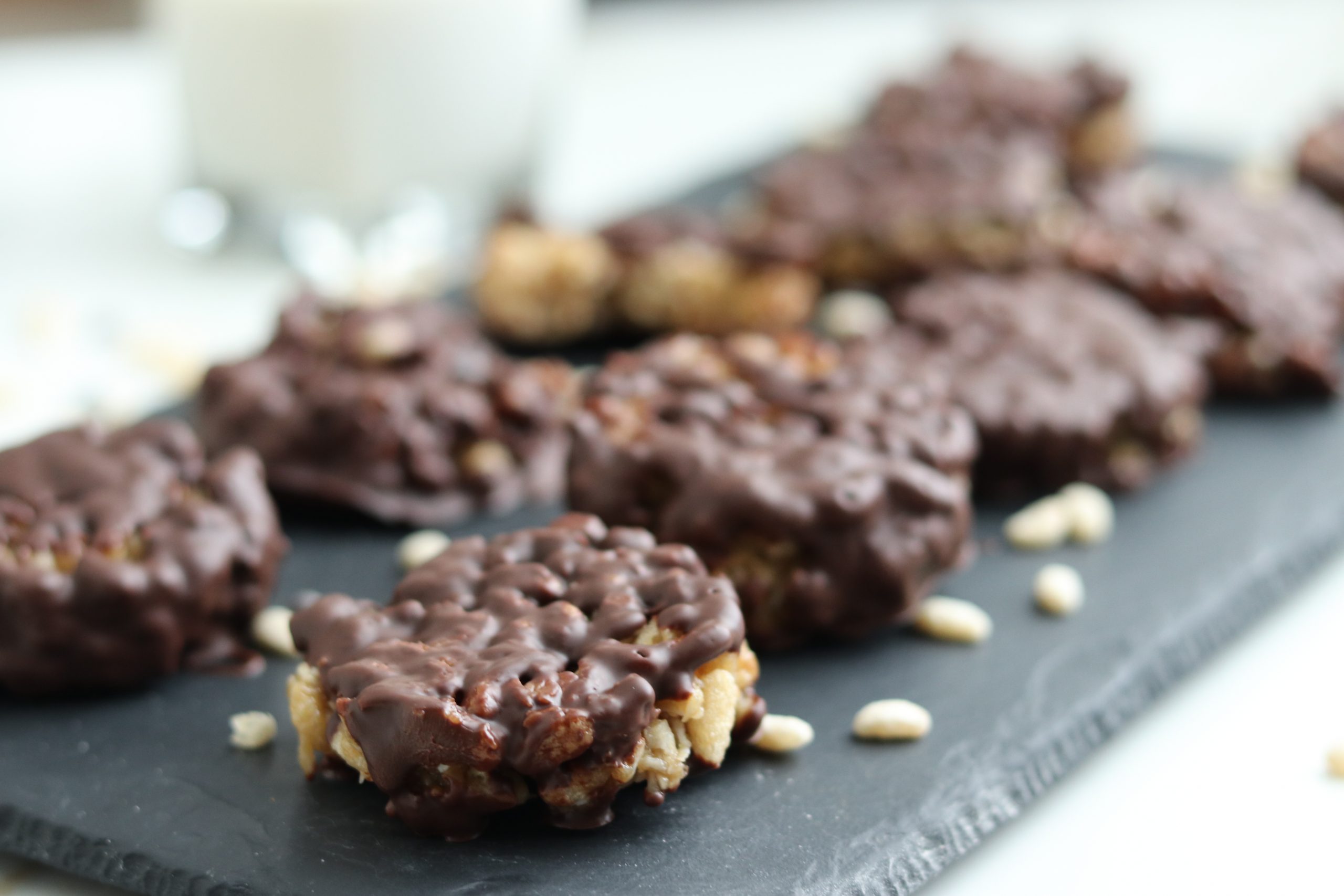 Ingredients in Healthy Star Crunch Cookies:
Organic, sprouted crisp rice cereal: I use the One Degree Organics brand which has less than 1 g of sugar per serving and uses organic, sprouted rice. It's quite possibly the most consciously made cereal I can find.

Unsalted tahini: the neutral tasting base for the quick caramel. You can sub cashew butter, if needed.

Maple syrup: I choose organic maple syrup which is quite rich in minerals and has a natural golden caramel taste. Quality matters here!

Coconut oil: Helps the cookies firm up in the fridge and replaces the rancid oils in the original recipe.

Collagen peptides: Collagen adds to the stickiness and thickness of the caramel, so do not leave it out. You can grab collagen peptides at many healthy grocery stores or on Amazon or Thrive Market.

Semi-sweet chocolate chips: I use Enjoy Life Semi-Sweet Mini Chips for this recipe. You could use dark chocolate, but they won't be as reminiscent of your childhood favorite (which uses milk chocolate).

Shredded Coconut: This gives the cookies more of that chewy texture. I prefer unsweetened since the maple and chocolate provides plenty of sweetness.

Vanilla extract and sea salt
The only cooking materials you need for this recipe are a small saucepan, a mixing bowl and a parchment lined cookie sheet. To create perfectly round Star Crunch Cookies without a sticky mess, I highly recommend using a 2-inch Biscuit Cutter. I use to make my yummy Gluten Free Protein Breakfast Cookies as well.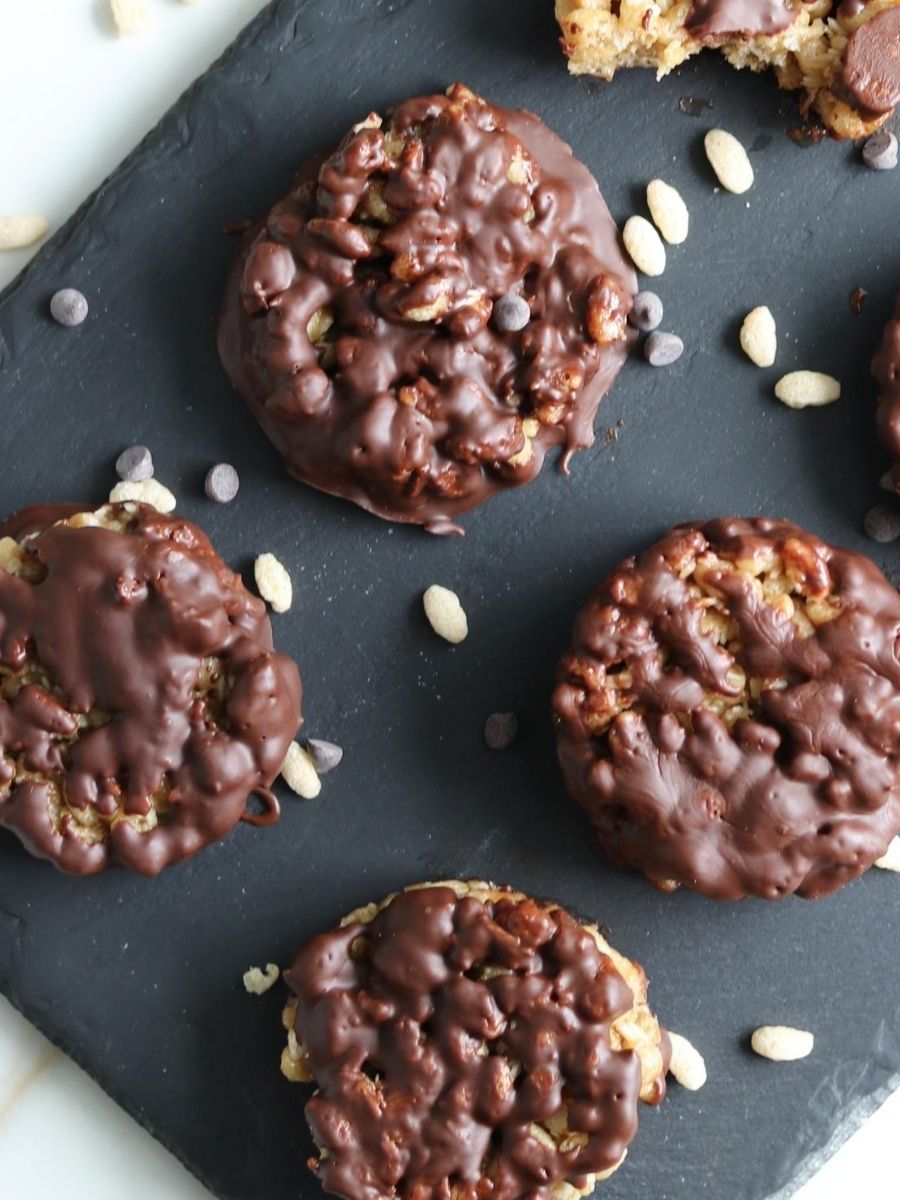 Tips for making Homemade Star Crunch Cookies:
Use a stainless steel saucepan for even and quick heating and continuously stir your tahini caramel mixture so it does not have a chance to burn.

Remove your caramel from the heat if it starts to foam or separate. You don't want the fats separating prior to mixing in your crisp rice cereal.

Use a rubber spatula to scrape every last bit of caramel from the saucepan. This is a smart way to make sure you get all your wet ingredients (tahini, maple and coconut oil) out of their measuring cups too.

When forming the cookies, use the back of a spoon or clean hands to firmly compact the mixture together in the biscuit cutter. This is how you'll get denser, chewier cookies.

Make sure your cookies have set completely before gently dipping in the melted chocolate, or they could fall apart.

Melt your chocolate in a double boiler or in the microwave – just make sure when you're dipping the cookies that you're using a shallow bowl.
I hope this recipe satisfies those nostalgic cravings for an after school 90s treat. Maybe you can throw on a little Animaniacs while listening to 98 Degrees and really take a journey back into a much simpler time. We all need that right now.

[simple-recipe:9542a]