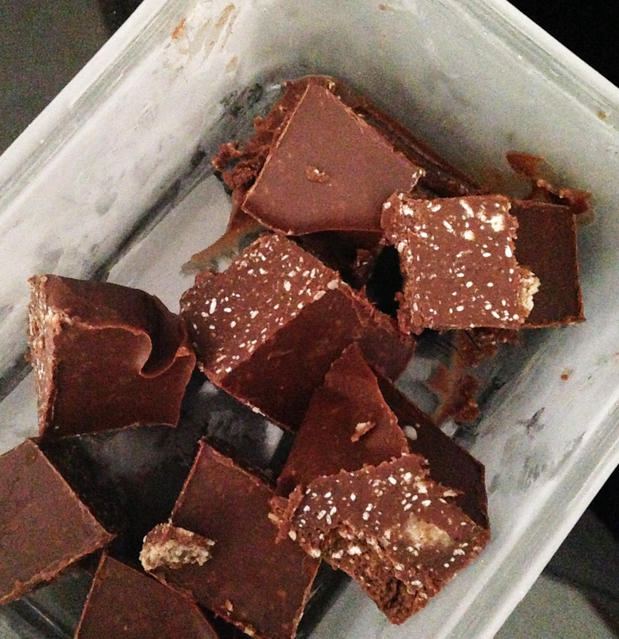 I am more than just a little obsessed with this freezer fudge. It never lasts me more than 24 hours. I don't suggest eating the whole batch in that short of a time frame, but I also will not judge you if you do. I despise baking (that's why a lot of my treats here are no-bake) because it's messy, expensive, and I don't need a whole tray of cookies. I need a whole small personal-sized container of crispy freezer fudge that reminds me of Crunch bars though. Are you thinking that many chocolate chips does not constitute a recipe as personal-sized? I think I will change your mind. 
So, I had an emotional  affair between the years 1994 and 1997 with Crunch bars. Halloween we especially became close, and my greedy little fingers often dug through candy baskets for the last remaining royal blue package that fit perfectly in my pocket, so my mother never knew I was carrying chocolate contraband with me at all times. I haven't thought much of candy bars in the last decade of my life especially because the majority of my teenage years and twenties were spent being incredibly annoying about my food choices and I missed out on way too many years of eating good food just so I could keep my figure. Well, screw that, I say. It's time to eat chocolate and make up for years of chicken breast, lettuce, and low-fat cheese. Chocolate > Chicken.
So the trick with this stupid easy recipe is to use a high quality raw sunflower seed butter that has been lightly sweetened. The butter needs to be finely chunky, almost like wet sand. I know, appetizing. I have terrible analogies. Sunbutter is NOT going to cut it here, unless you want some second-rate yuckfest in your freezer. Frankie V's is a company in Dallas, Texas that makes the best sunflower seed butter you can find anywhere. You can buy it on Amazon and stores around Texas (not sure if they sell outside of Texas).
If you are unwilling to place such an order through Amazon, then you will have to make your own sunflower seed butter. Here is a picture of Frankie V from his website. Poodles are my favorite dog, so obviously I really like Frankie due to his poodle hair do and delicious products. So, if you want to make your own chunky sunflower seed butter, get out your food processor. Grind up several cups of raw sunflower seeds in your food processor with a tablespoon of coconut oil and 2 tablespoons coconut sugar. Keep that puppy running until you get a wet sandy sunflower seed butter. Puts me in the mood for the beach!
​I made this fudge when I was pregnant ALL THE TIME. Enough said!
Crunch Bar Freezer Fudge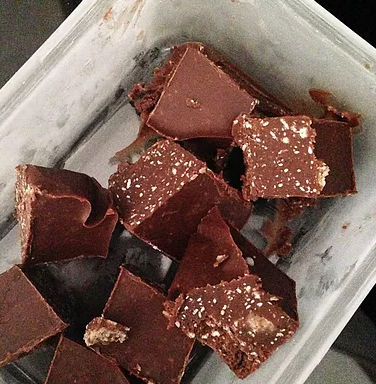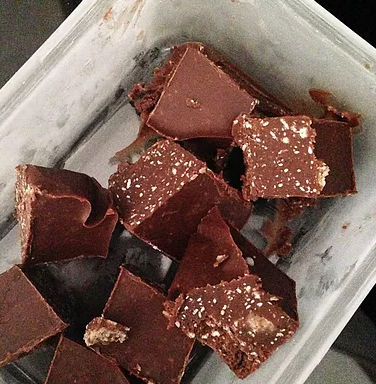 Ingredients
1 heaping cup dark chocolate chips
6 ounces lightly sweetened raw sunflower seed butter (chunky version for
2 tablespoons melted coconut oil
Directions
1. Melt chocolate chips in the microwave in 30 second intervals, stirring until smooth and shiny. pan>
2. Stir in sunflower seed butter and coconut oil until a chunky mixture forms. The chunky sunflower seed butter should clump up into small pieces throughout the mixture and once frozen will create delicious crispy pieces in the fudge. pan>
3. Pour into a 3''x6'' glass tupperware container that has been lined with parchment paper. pan>
4. Freeze until solid, about 30 to 60 minutes. Slice into chunks and keep in the freezer until ready to serve. pan>