The best of both worlds collide here: Garlic Bread and Pizza made gluten-free and healthified with kale, shredded chicken and a delicious raw garlic spread.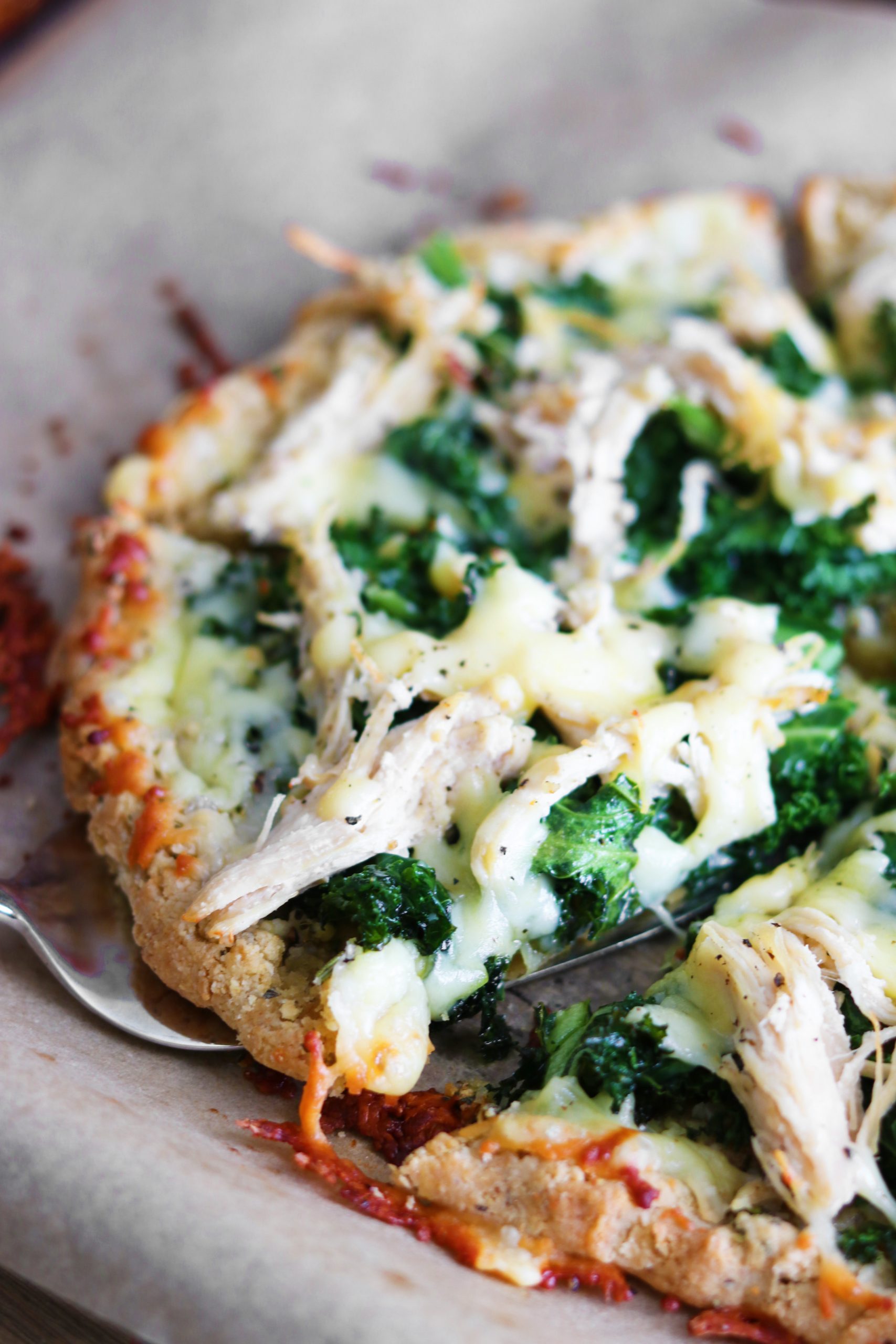 I first shared this delicious grain-free Garlic Bread Pizza recipe on Instagram a few weeks ago. It took me a hot minute to get it up on the blog because of obvious reasons (i.e. deep into the trenches of parenting from 6:30 am until 8:30 pm every day, day after day). This was during the point of staying at home where I was like, "Oh look at me being a successful and fun homemaker cooking my family a fresh, new recipe every night". That quickly turned into "Who wants Breakfast for Dinner again?"
Thankfully my 4-year-old will never tire of Breakfast for Dinner. We've been doing the Paleo Birch Benders Pancake and Waffle Mix, maple baked Niman Ranch Applewood Smoked Bacon, and roasted potatoes or fresh fruit or a smoothie. Honestly, these last two months have both gone by in a blue while also at record slow speeds. I can't tell which.
If you've never experienced Groundhog's Day before, now you have. Well, thankfully weeks ago this broke up the monotony (it took me far too many attempts to spell that correctly) with this grain-free Garlic Bread crusted Chicken and Kale Pizza made with Simple Mill's boxed grain-free Pizza Dough.
I'm a big fan of their products for when I need convenience – although they are not organic – I'm sure that would be cost prohibitive and at least double the cost of their mixes. I'll be using their Vanilla Cake box this weekend to make my daughter's birthday cupcakes with a homemade Strawberry Buttercream Frosting.
The ingredients for this DIY Pizza Night recipe are simple: 
Simple Mills Pizza Dough (or use your preferred box, crust or recipe)
Fresh crushed garlic
Dried Oregano, Coarse Salt and Pepper
Pre-cooked shredded chicken
Curly kale
Parmesan Cheese
Shredded Cheese of Choice: I like using an organic four cheese blend of provolone, asiago, parmesan and pecorino)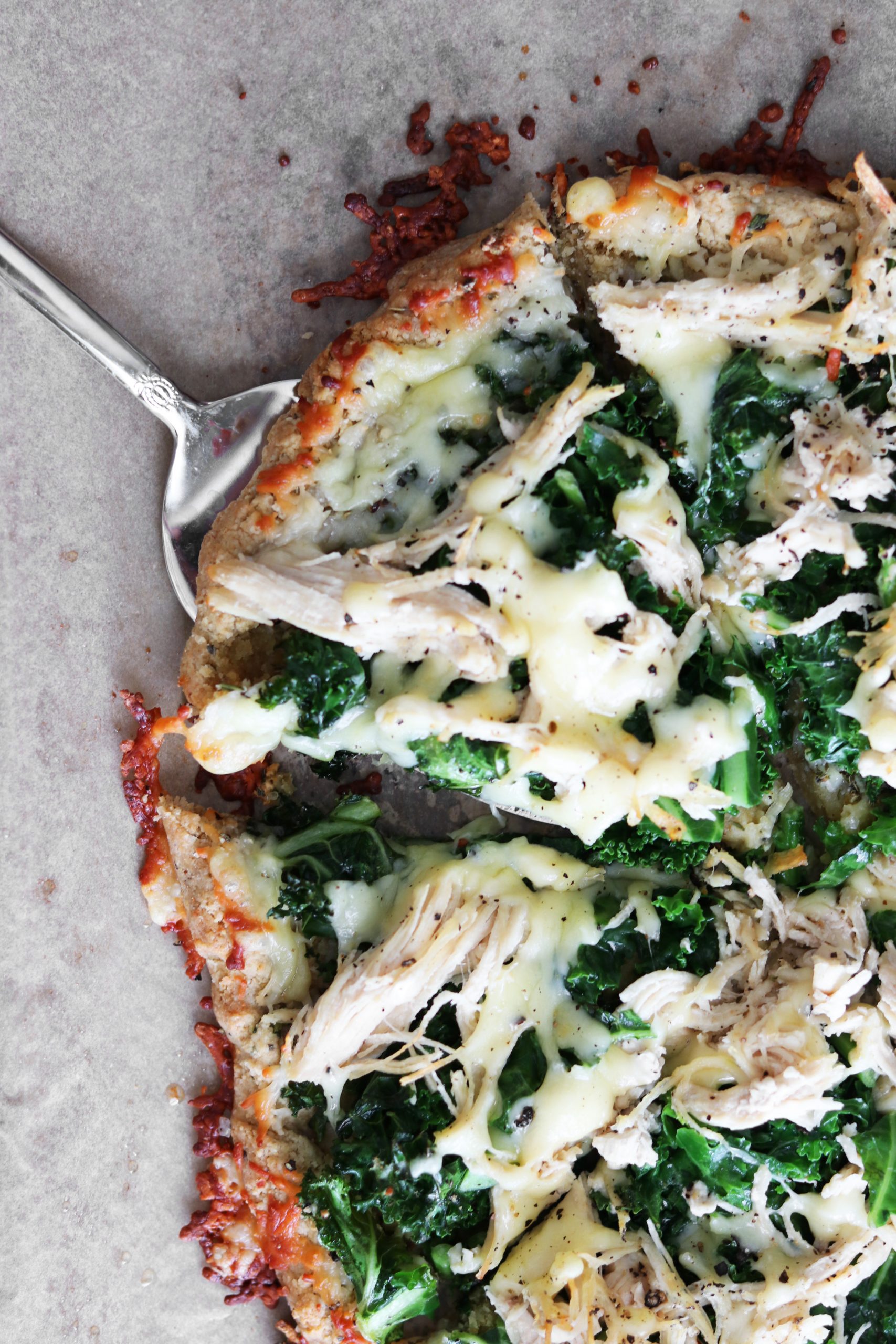 How to make the Simple Mills Pizza Dough:
1. Mix the dry mix with two tablespoons organic apple cider vinegar, two tablespoons of extra virgin olive oil, and 6 tablespoons of water.
2. Roll out between two sheets of parchment paper to prevent sticking. I find it easiest to roll out directly on my baking sheet or aerated pizza pan.
3. I find this crust to dry out pretty easily so don't skimp on the vinegar, oil or water and be sure not to overbake.
4. Prebake the crust according to my instructions below. Top with toppings and then return to oven to finish baking.
If you're looking for a nut-free pizza crust, you can try my AIP Thin Crust Pizza made with arrowroot starch, coconut flour, extra virgin olive oil and warm water.
And if you're in the mood for pizza, pizza, pizza, check out these gluten-free and grain-free versions:
[simple-recipe:9271a]