Paleo Pecan Crusted Chicken Tenders with Maple Dijon Dipping Sauce made without eggs, gluten & nightshades!
These pecan crusted chicken tenders converted me from nuggets to the tenderest tenders ever! I used the ButcherBox Chicken Tenders from my latest order which are pasture-raised, organic, and certified humanely raised.
Rather than using an egg-wash, I wanted to keep them egg free. To make this recipe successful, I patted the chicken tenders dry before coating in a light dusting of tapioca, salt and pepper, THEN tossed in coconut milk before rolling in the crushed pecans. If you can't do coconut milk, sub a whisked egg, or even buttermilk if you do dairy. Also, you should be able to sub other nuts here as long as you grind them into a fine coating.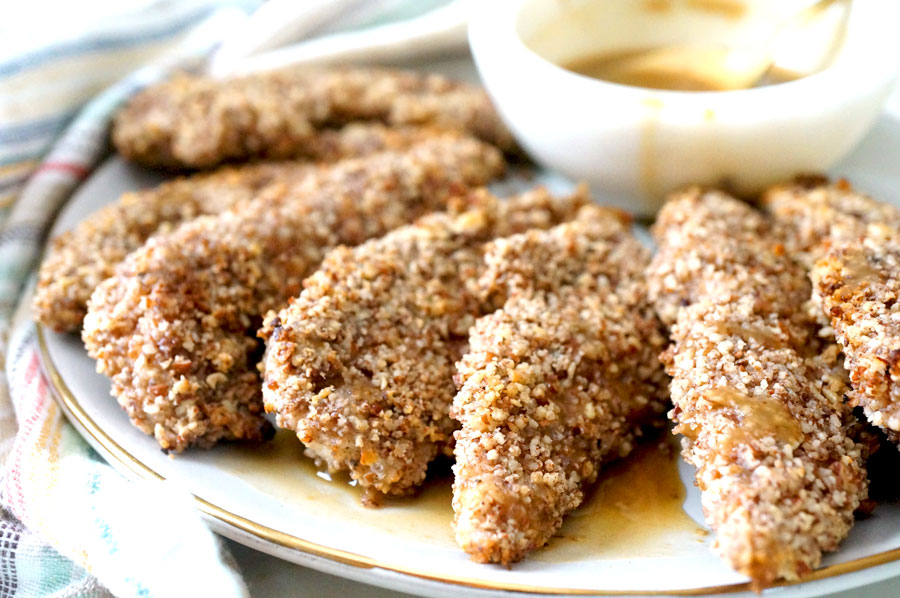 My husband & I loved dipping these hot crunchy (baked crunchy, not fried crunchy!) pecan crusted chicken tenders in a simple Maple-Dijon dipping sauce… a little sweetness, a little vinegar, delish!
The whole family will love this healthier Paleo take on baked chicken tenders. Throw a sheet of julienned or sliced sweet potato or white potato fries in the oven at the same time for a "two pan meal"!

[simple-recipe:7166a]