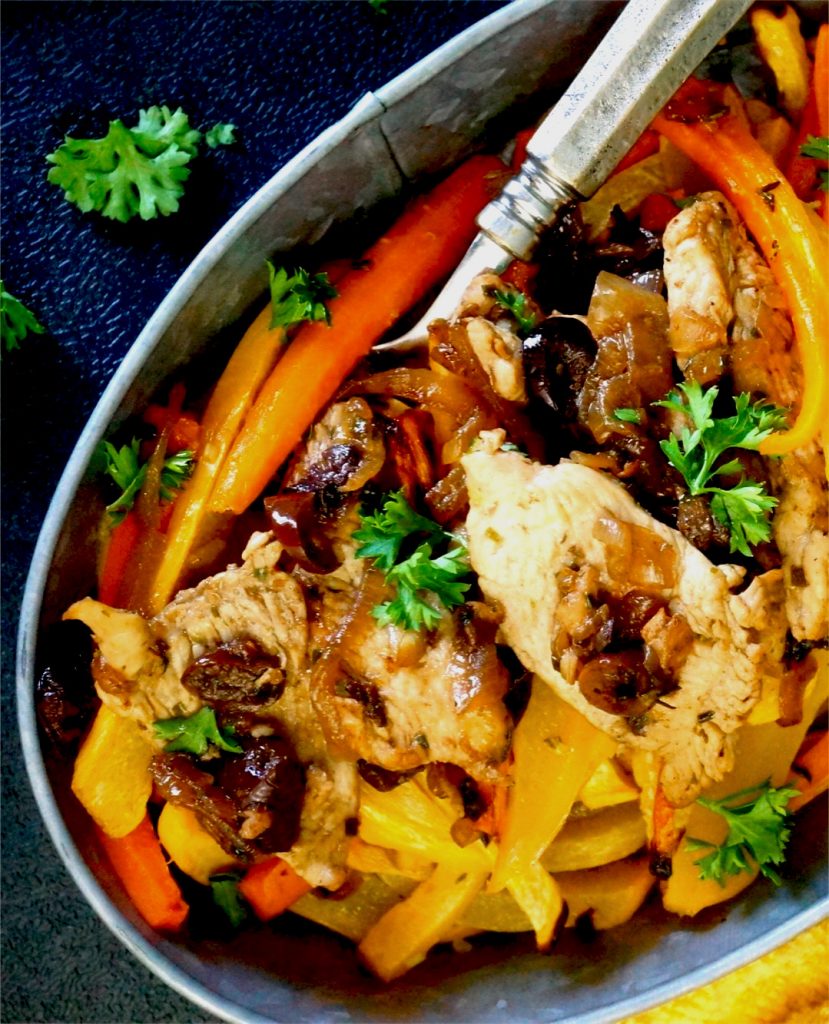 To a Paleo girl, Pan-Fried Chicken with salty olives & crisp shallots over garlic & herb roasted vegetables is pure comfort food!
I actually first made this recipe in the middle of summer, and it has been sitting on my desktop awaiting the first signs of Fall. Well, in Florida we don't really get a Fall… and if we do it's more like 3-days of 60's in November. But I know most of you are lucky enough to get a change of weather!
Seasonal jealousy over here. It washes away when I'm laying out on January 20th while most people are digging their cars out of snow though.
As we prepare for Hurricane Irma, I am sitting on my couch watching Real Housewives of Orange County and typing up this recipe for you guys. I need a break from the local news. I had major insomnia last night and am EXHAUSTED today. I could hang with a 4-hour sleep when Grace was first born. For some reason, these days if I don't get a solid 7 or 8, I am a monster.
Okay, let's talk food. If you love roasted chicken & vegetables as much as me, you'll love this dish even more. When you slice up rutabaga and carrots and coat them in a garlic & herb mixture, you get magic fries. And when you top those magic fries with pan-fried chicken breast dancing with salty kalamatas (my favorite recipe addition of all time) and fried shallots, you get chicken boobie addiction.
Pan-Fried Chicken, Olives & Shallot with Garlic & Herb Roasted Roots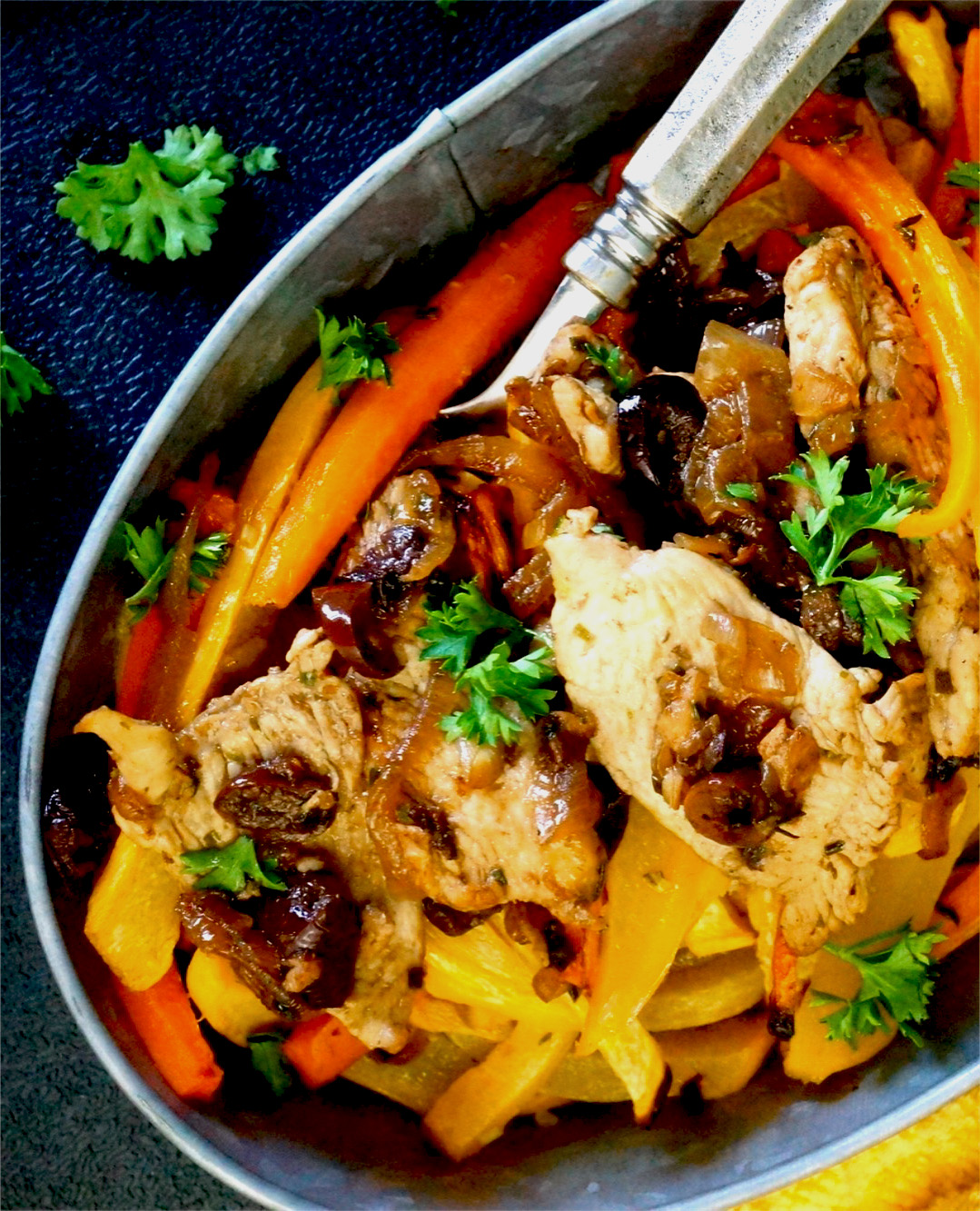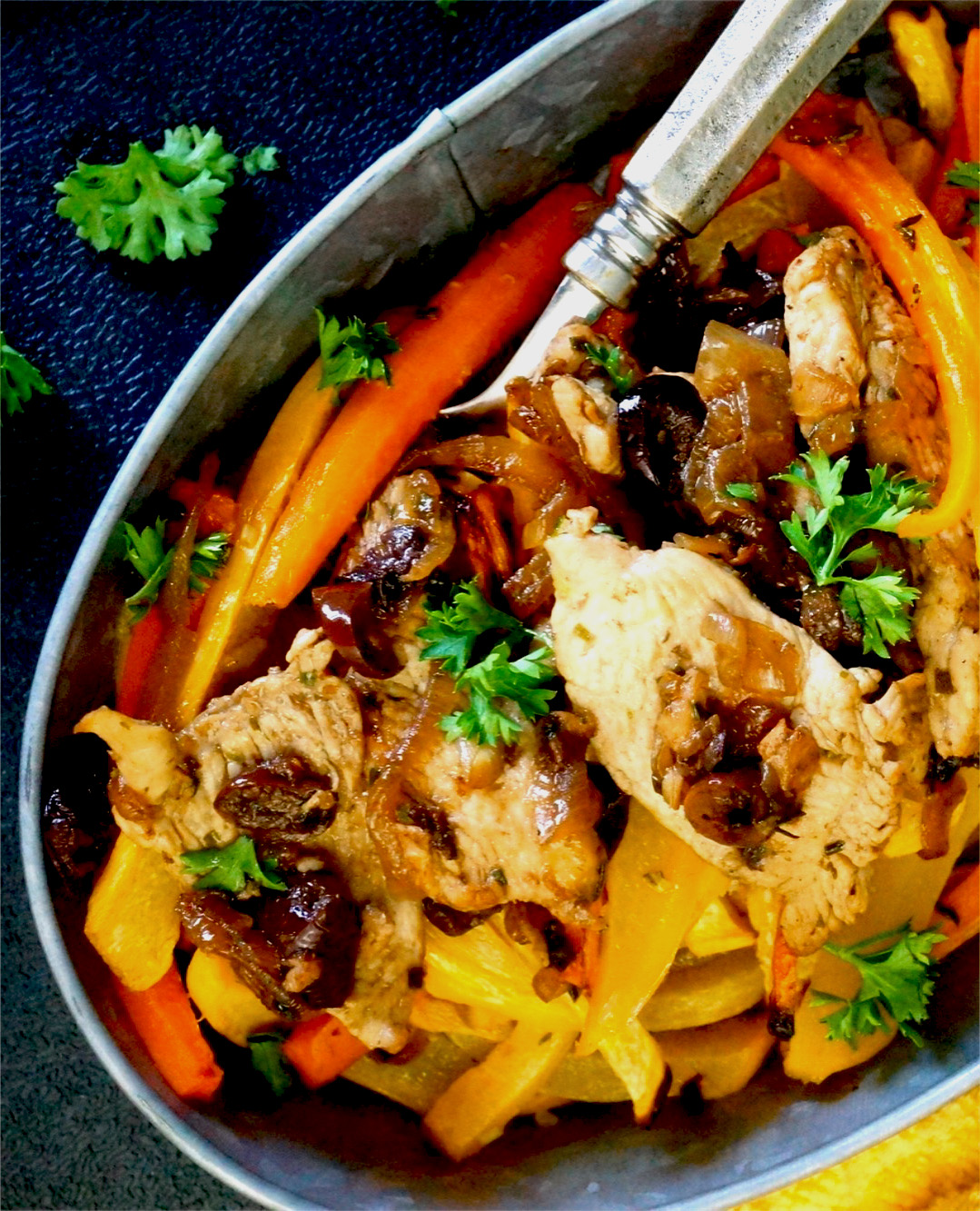 Ingredients
Garlic & Herb Roasted Roots:
1 tablespoon olive oil
1 tablespoon minced garlic
2 teaspoons fresh thyme leaves
1 teaspoon minced fresh rosemary
1/2 teaspoon sea salt
1 medium rutabaga
5 medium carrots
2 tablespoons olive oil, divided
1 cup sliced shallots
1/2 cup sliced kalamata olives
1 pound chicken breast, cut into 1/3-inch thick slices
1 teaspoon balsamic vinegar
1/4 teaspoon sea salt
Directions
Garlic & Herb Roasted Roots

Preheat oven to 425 degrees. If you have a Convection option on your oven, use it for the crispest fries. Line a baking sheet with parchment paper.
Slice rutabaga and carrots into long, thin fries, no more than 1/3-inch wide. Toss vegetables with the herb mixture until evenly coated. Spread in a single layer on prepared baking hseet.
Roast for 25 minutes until browned. Meanwhile, prepare the Shallot Chicken.
Pan-Fried Chicken, Olives & Shallot

While the vegetables roast, heat the olive oil in a large skillet over medium-high heat.
Add shallots to the pan and fry for 3 to 4 minutes until browned. Add olives and sliced chicken and toss with shallots. Fry chicken on each side for 2 to 3 minutes until cooked through. Stir in balsamic and sea salt and simmer for 1 minute to thicken the sauce, scraping any browned bites off the pan.
Serve Shallot Chicken and juices over roasted vegetables and serve warm.
Recipe Notes